Sonodrum Steel Tongue Drum "Standard" - Handmade - (5.5″ / 8″) - 8 Tongues – C Major
Regular price
$159.95
Sale price
$79.95
Unit price
per
Sale
Sold out
Offer extended until today
Liked by Lisa and 4.763+ others
● In stock
SOOTHING SOUNDS – EASY TO PLAY
Enjoy the beautiful and relaxing sounds of the Sonodrum. It is easy to master and the perfect gift for young and old.
The Sonodrum Standard Edition is a 5,5" or 8″ steel tongue drum with 8 laser-cut tongues, tuned in C major. The sound is clean, crystal clear and extremely soothing.
The unobtrusive, spherical sound is suitable for simple relaxation, deep meditation, music therapy, as a supplement to the percussion set-up or as the first simple instrument for early musical education.
Even absolute beginners – who may think they have no musical talent or sense of rhythm – will quickly and safely be able to play beautiful melodies with the Sonodrum.
Suitable for all ages, the Sonodrum is just the right instrument for you. No matter if you want to meditate deeply, explore your inner self, let your thoughts drift or just relax.
Try it out, you will be surprised by the effect!


Convince yourself of the sound of the Sonodrum
The Sonodrum can be played with the included mallets, the finger sticks or simply with your fingers. In both cases, the result is a pleasantly clear, bell-like sound. If you play with your fingers, the basic sound becomes a bit warmer and more organic, if you play with mallets, the sound is a bit louder and more static.
The 14 tongues sound loud and very clean thanks to a precise laser cutting technique, without producing unpleasant interfering frequencies. The tongues are labelled with numbers, so you can play more complex tone sequences quickly and easily. 
The Sonodrum is finished in each of the 6 beautiful colors with an elegant matt and scratch-resistant coating, so the Sonodrum offers you a pleasant feel and precise playing experience.
Due to the precisely cut steel reeds, the basic sound is pleasantly assertive, without impairing the meditative character.
Each Sonodrum comes with two mallets, 4 finger sticks, a small music book with many songs to play and a nice and practical protection bag.
Answers to frequently asked questions:
Question: How long will shipping take?
Answer: We ship worldwide within 48 hours!
Question: Is the Sonodrum easy to play?
Answer: Absolutely! Our Sonodrums are beginner-friendly and are perfect for all ages and skill levels.
Question: What is included with every order?
Answer: Each Sonodrum comes with two mallets, a beginner's book with 23 songs and a stylish premium carrying case.
Question: What key is the drum tuned to?
Answer: Our Sonodrums are tuned to standard C major.
Question: Where do you deliver to?
Answer: We are happy to offer free worldwide shipping on all orders.
Specifications
Colors: Gold / Green / Purple / Black / Dark Blue / Red / White / Pink / Yellow / Lilac / Bronze / Light Blue.
Material: Alloy steel with powder coating
Pitch/Frequency: 440 Hz
Scale: Diatonic (heptatonic)
Dimensions: 5.5" x 3.14" / 14x8 cm / 8" x 3.93" / 20x10 cm
Weight: 0.92 lbs / 418 g / 1.37 lbs / 623 g
Included in the package:
1 * Sonodrum
2 * mallets
1 * protective bag
1 * Music book with sheet music and instructions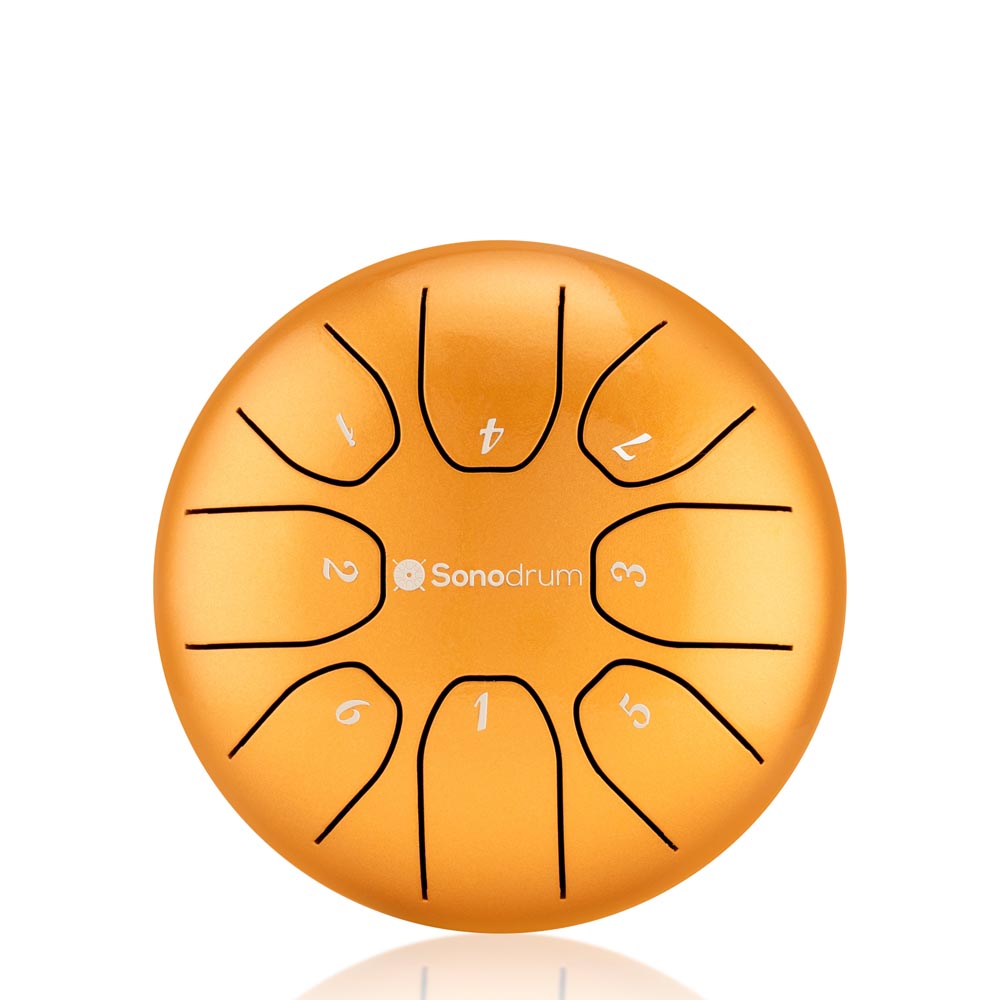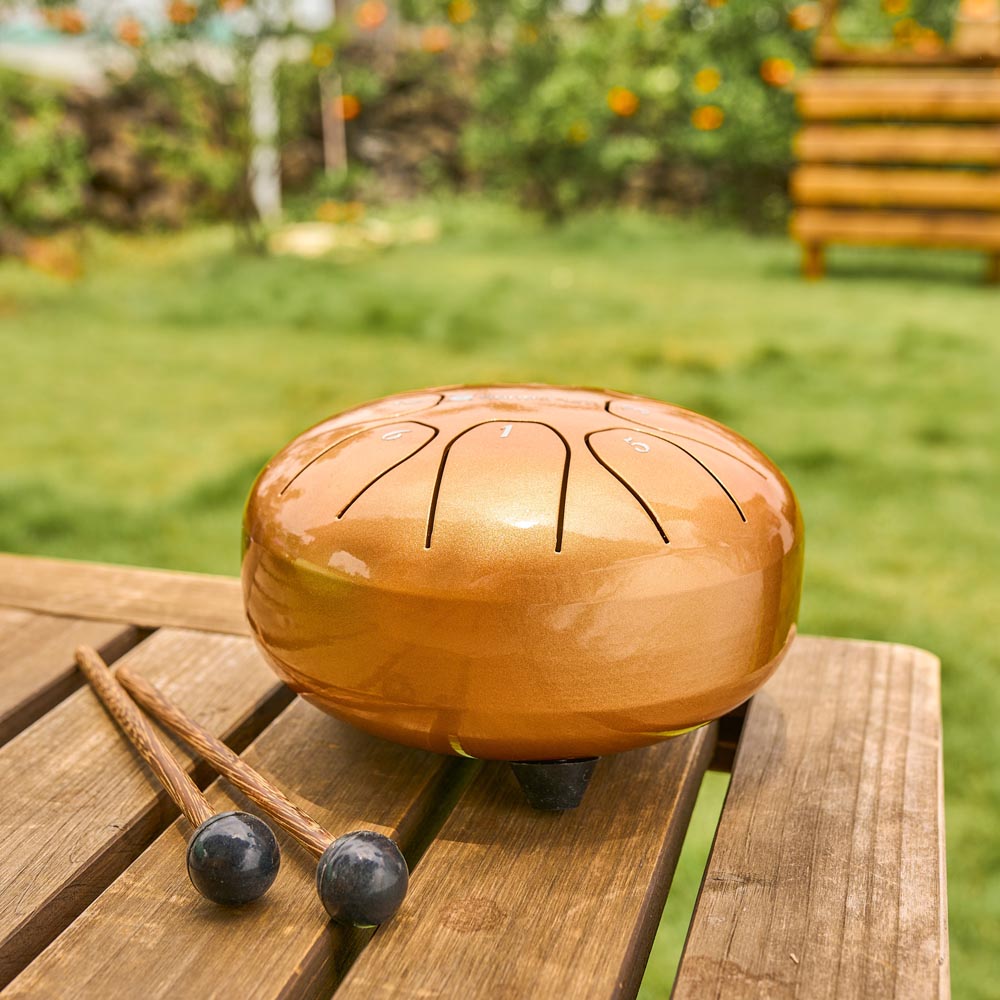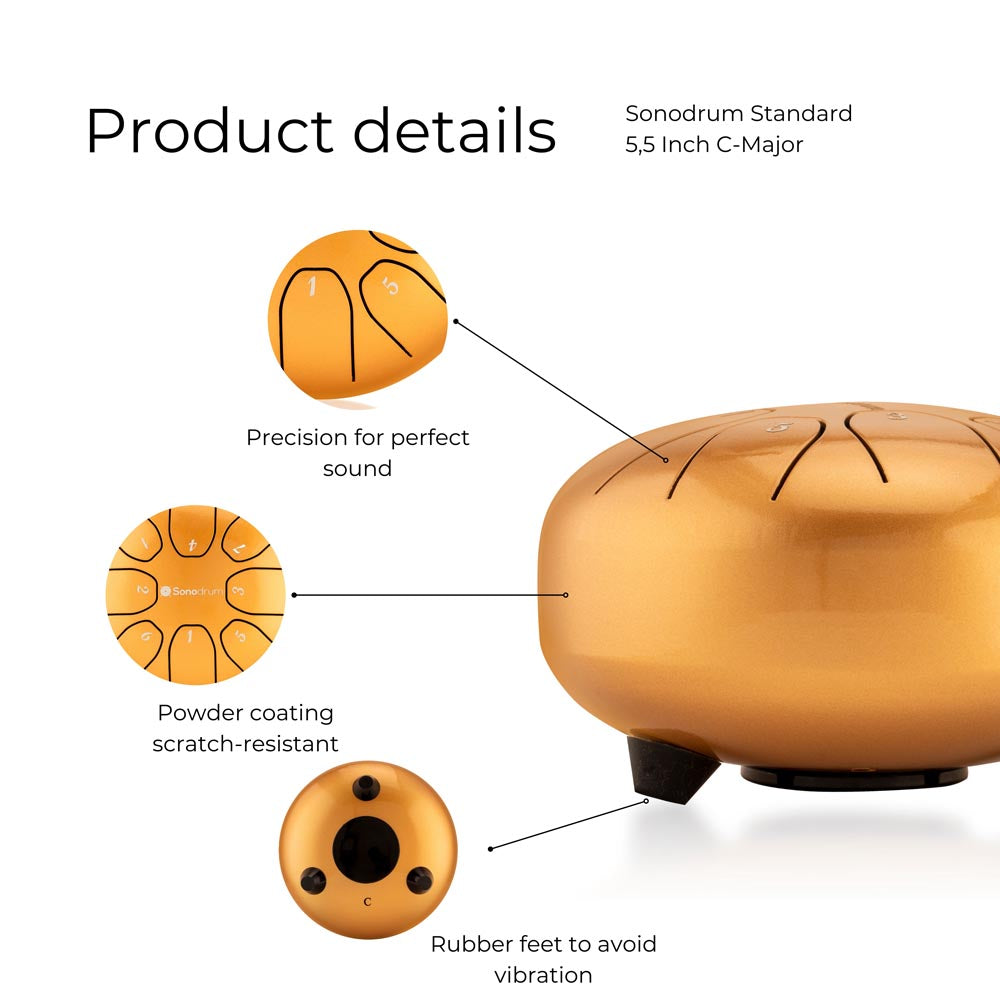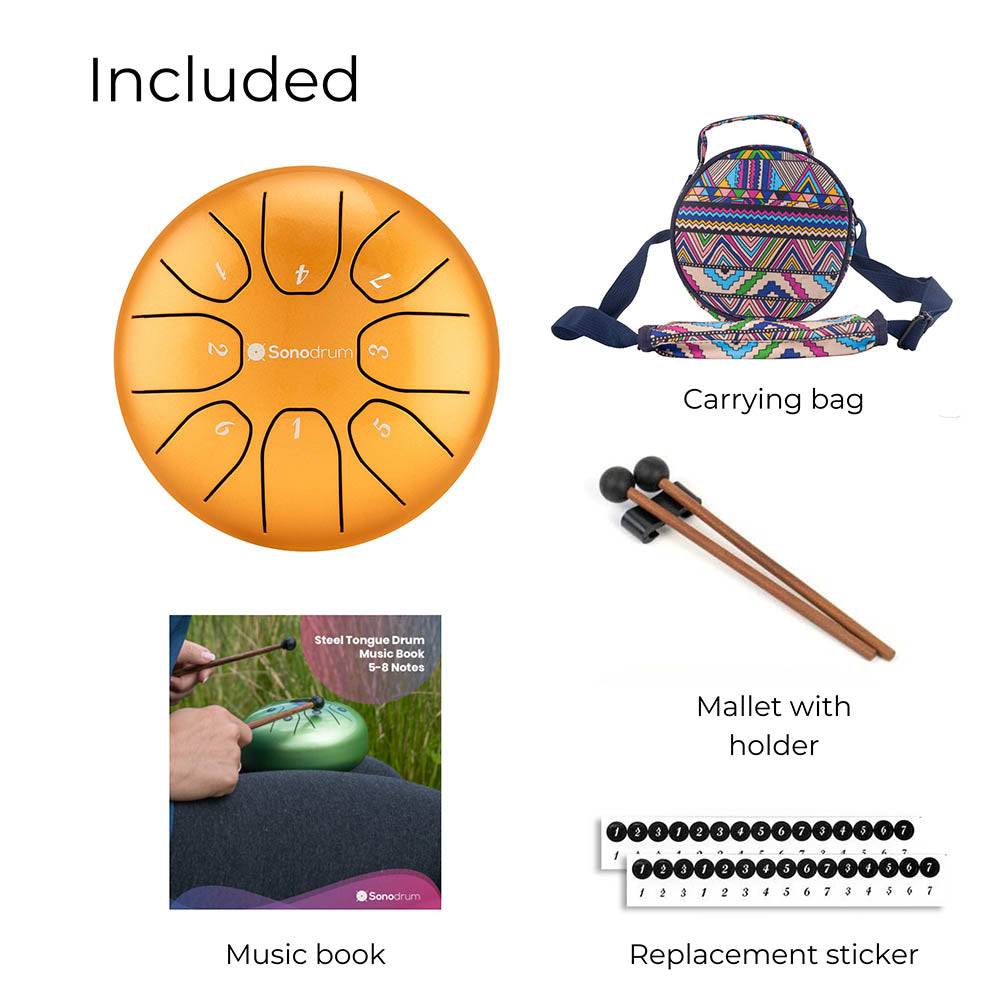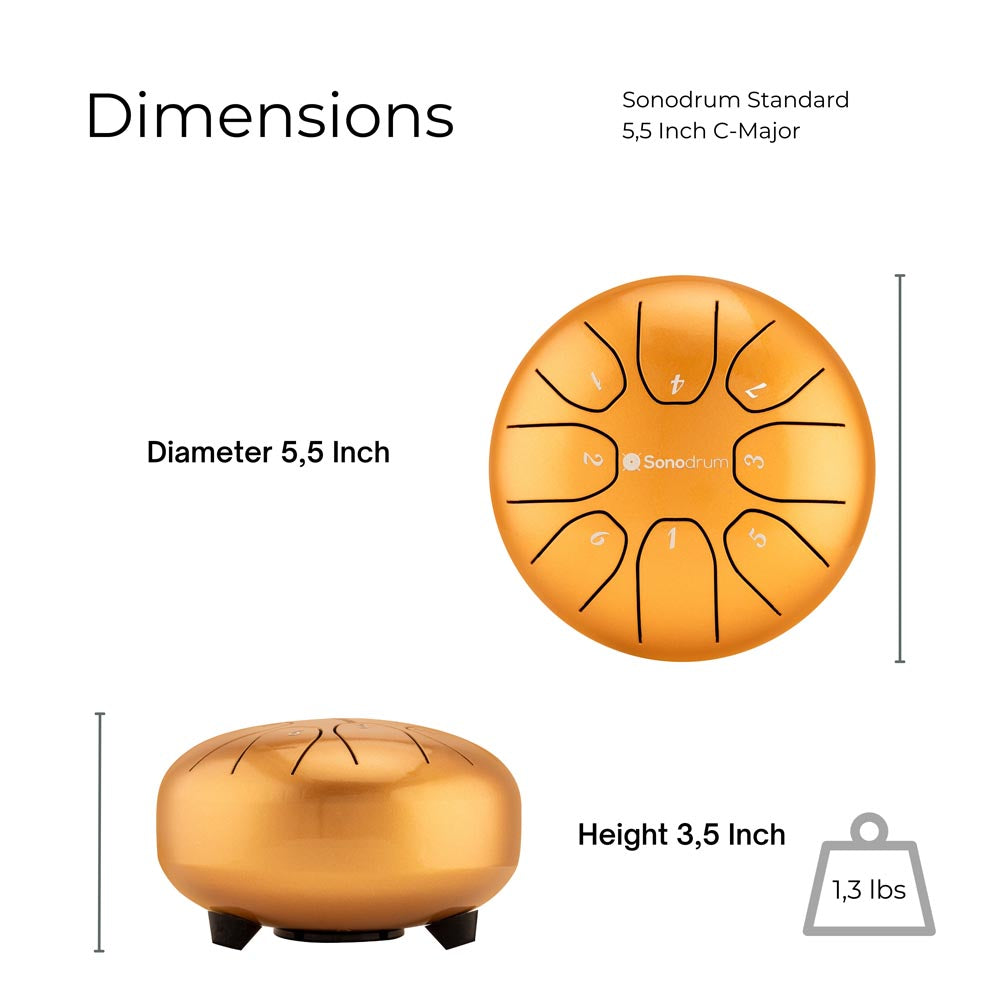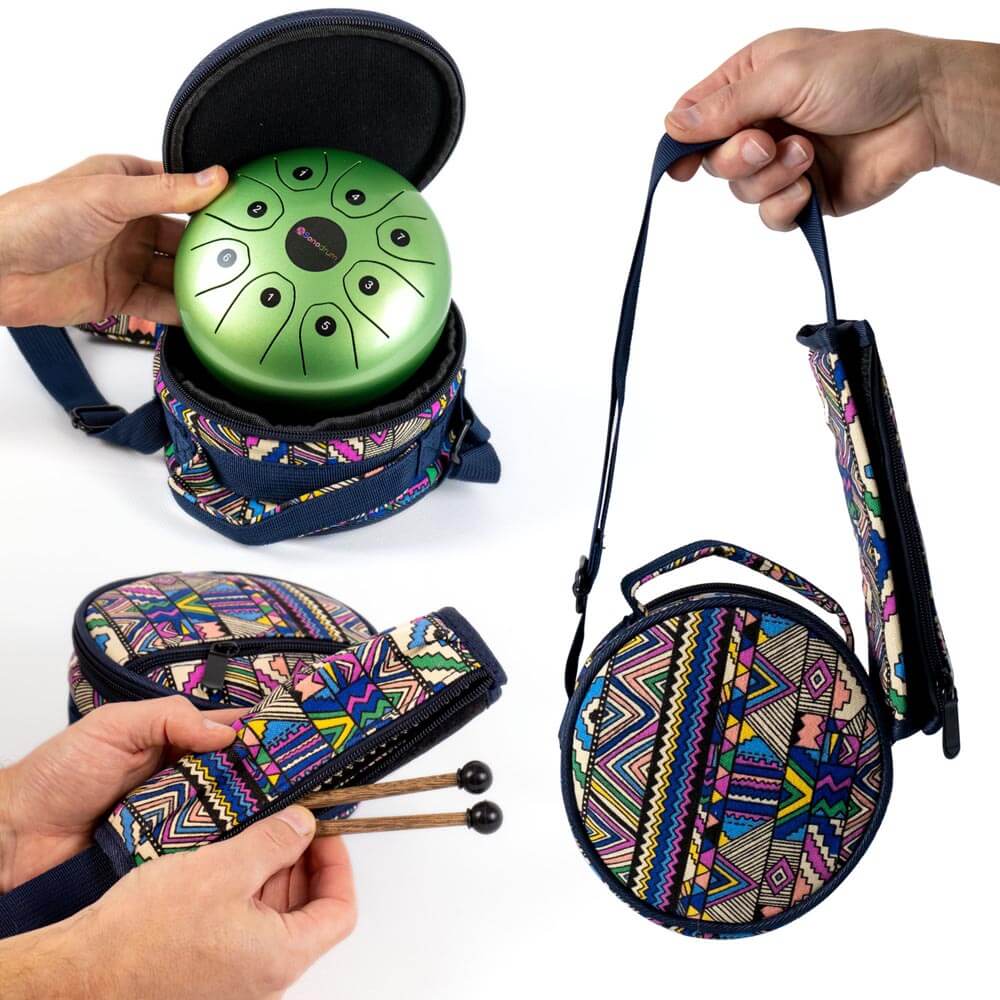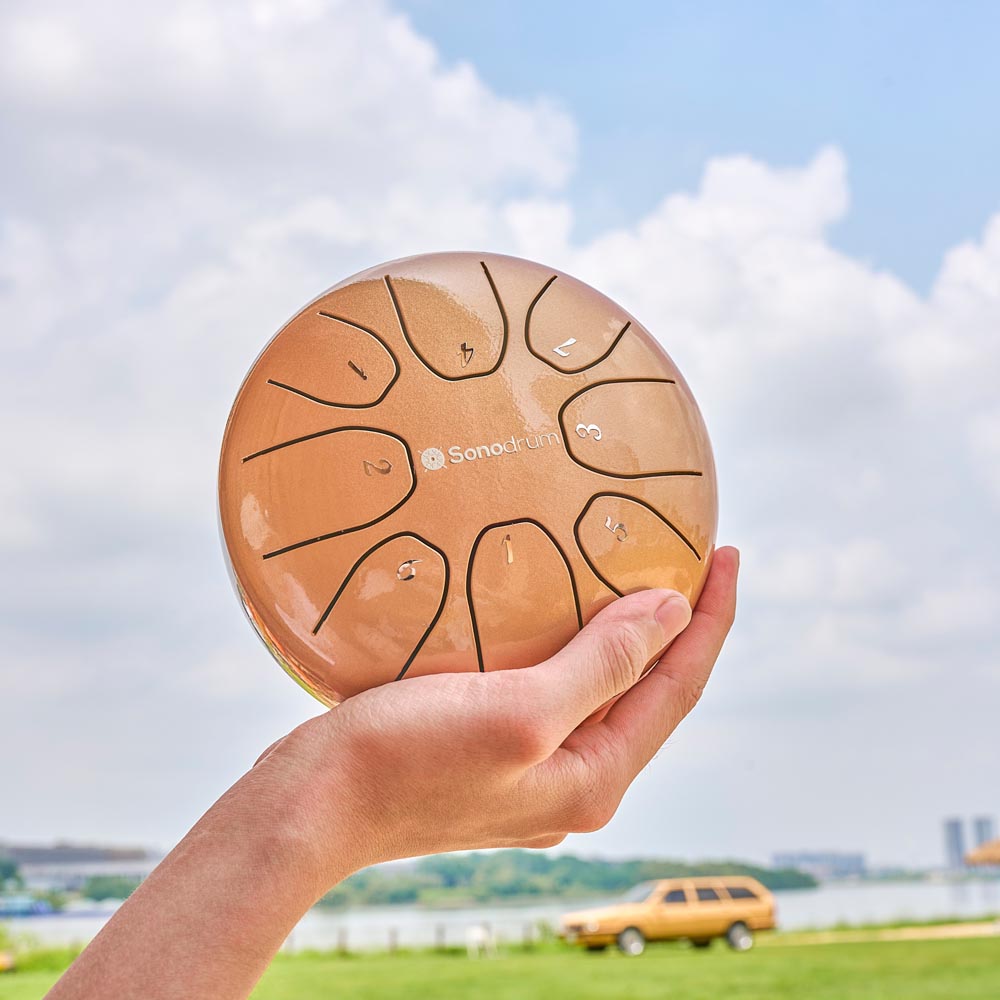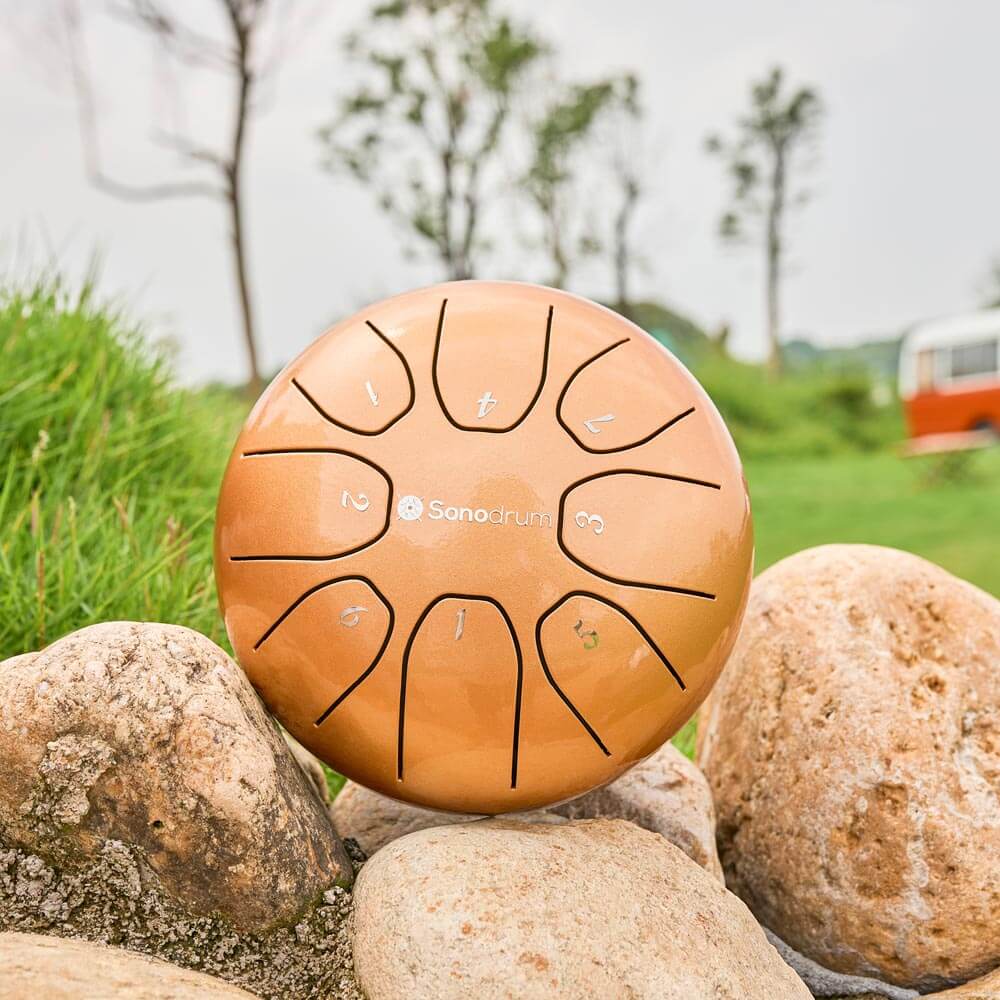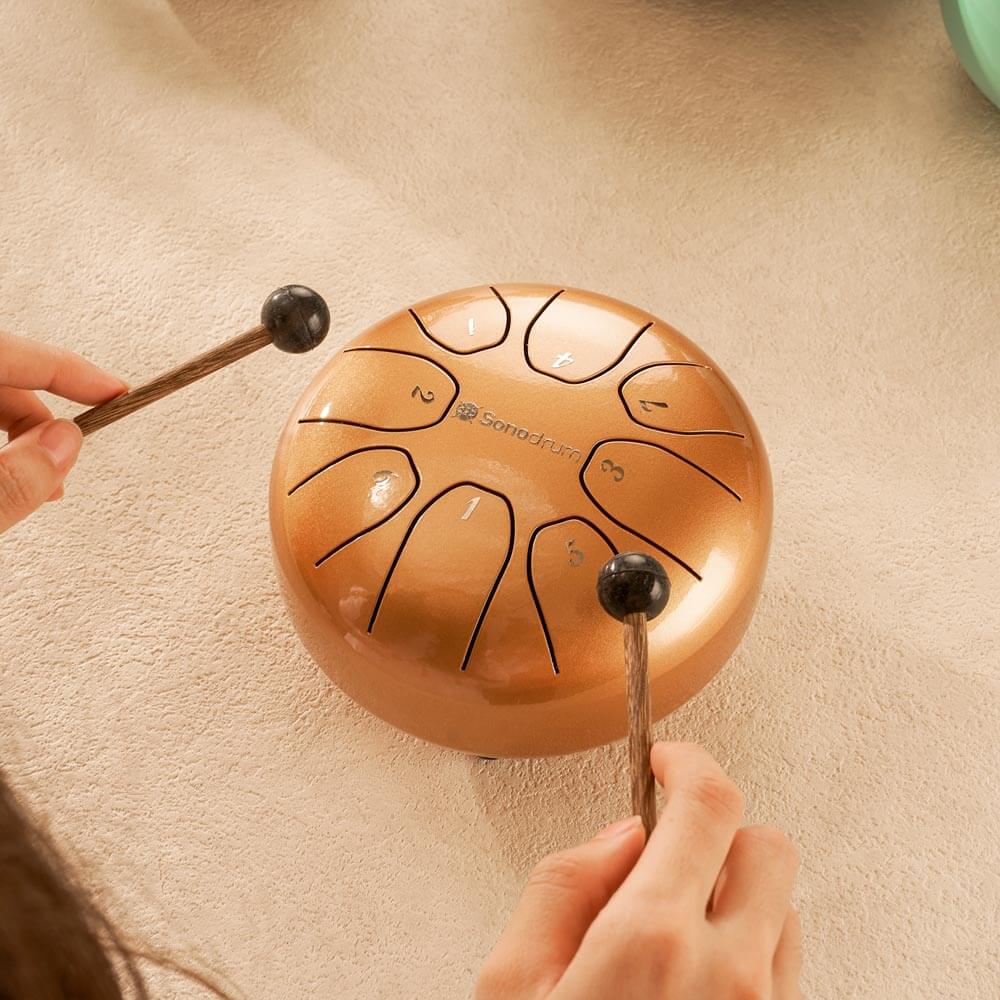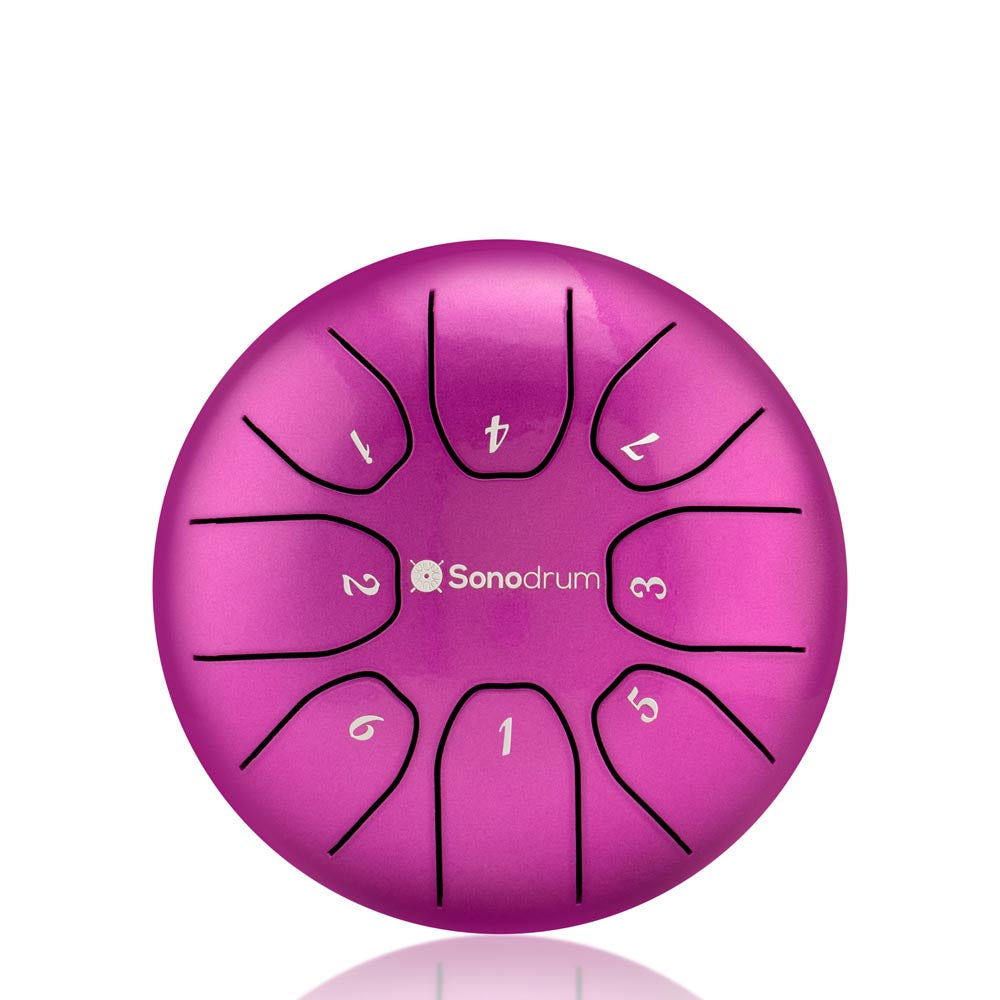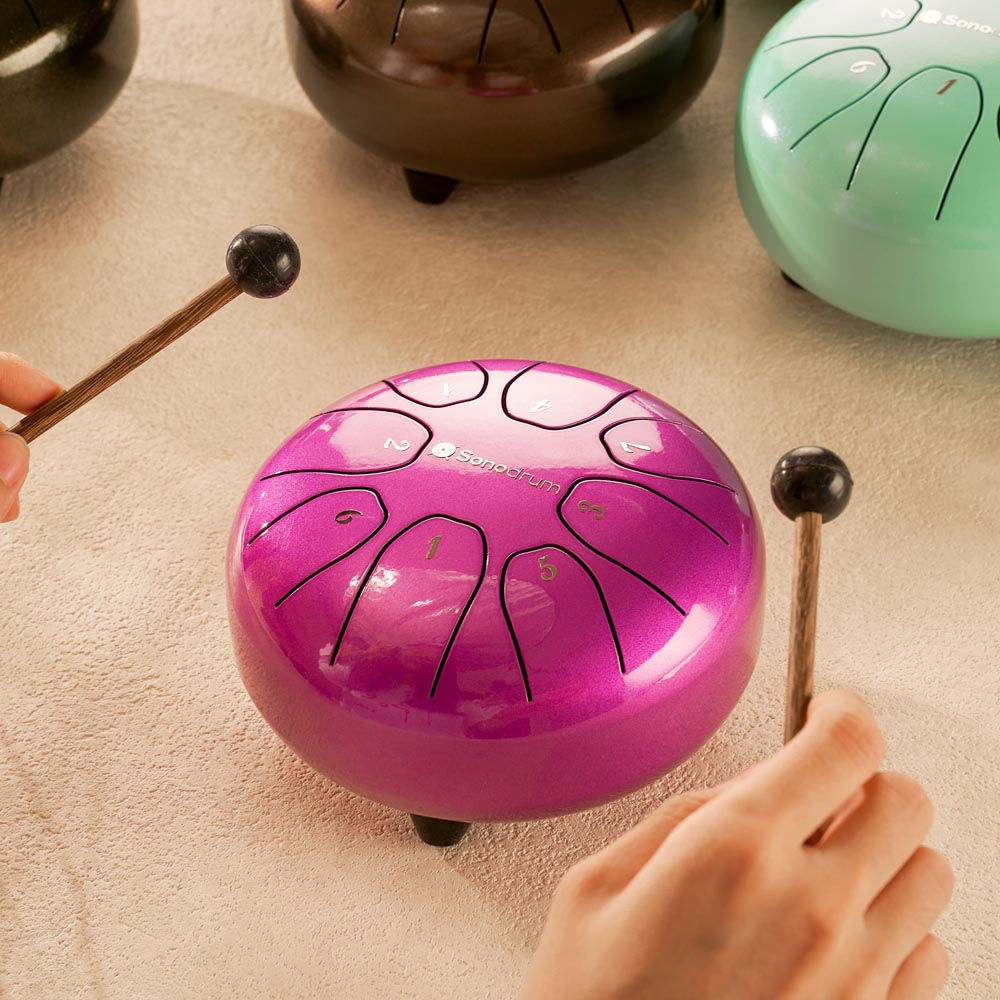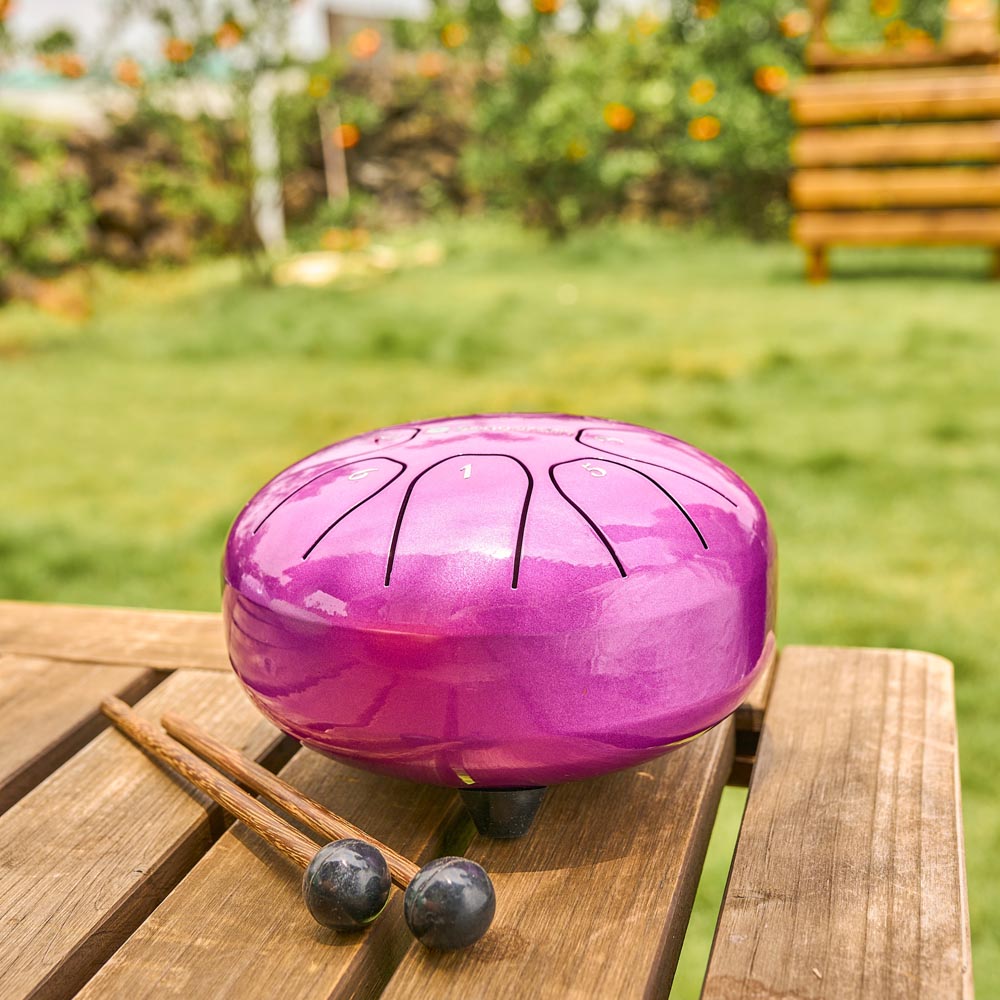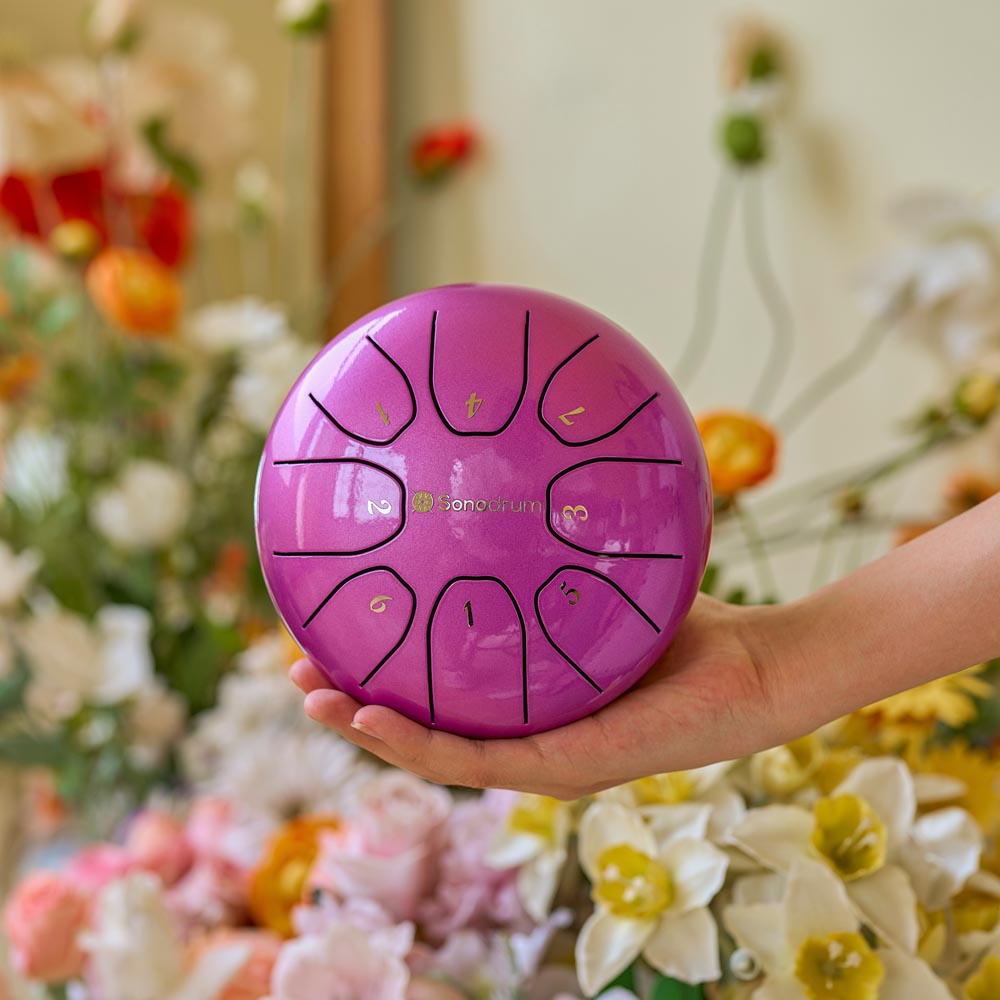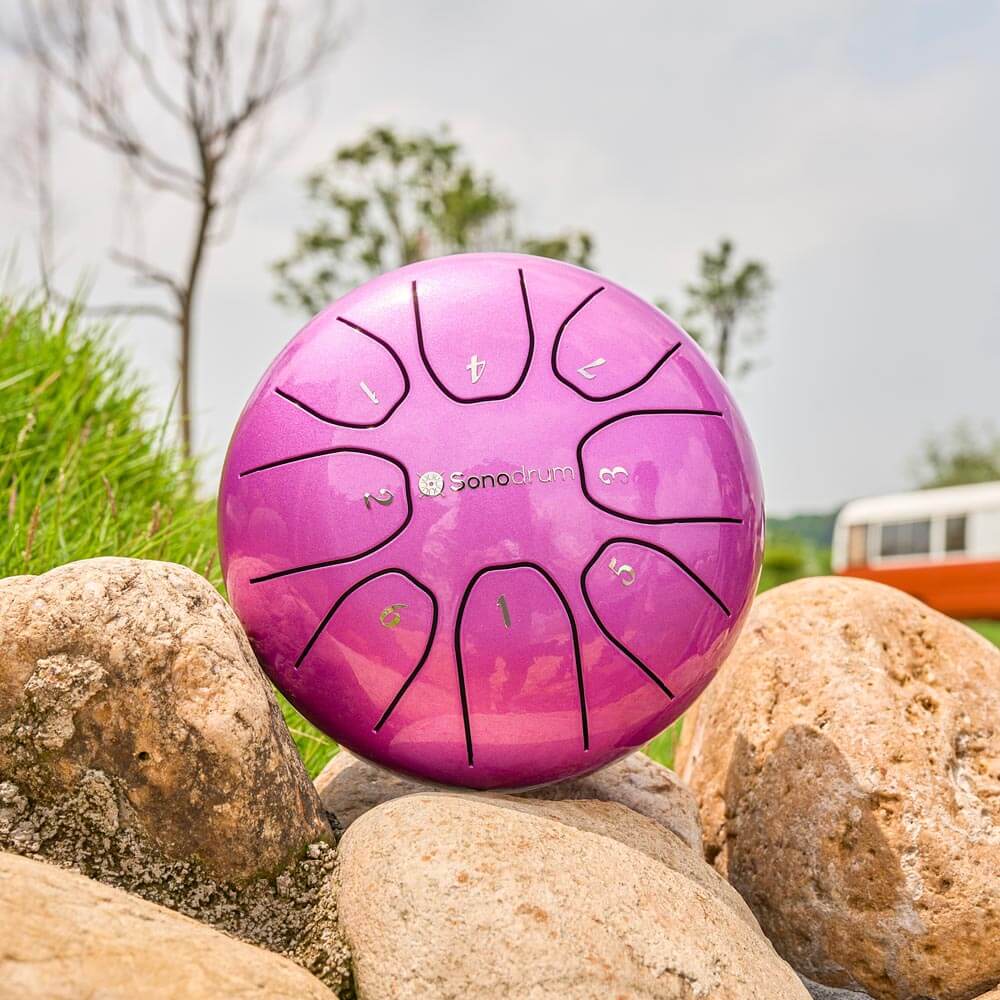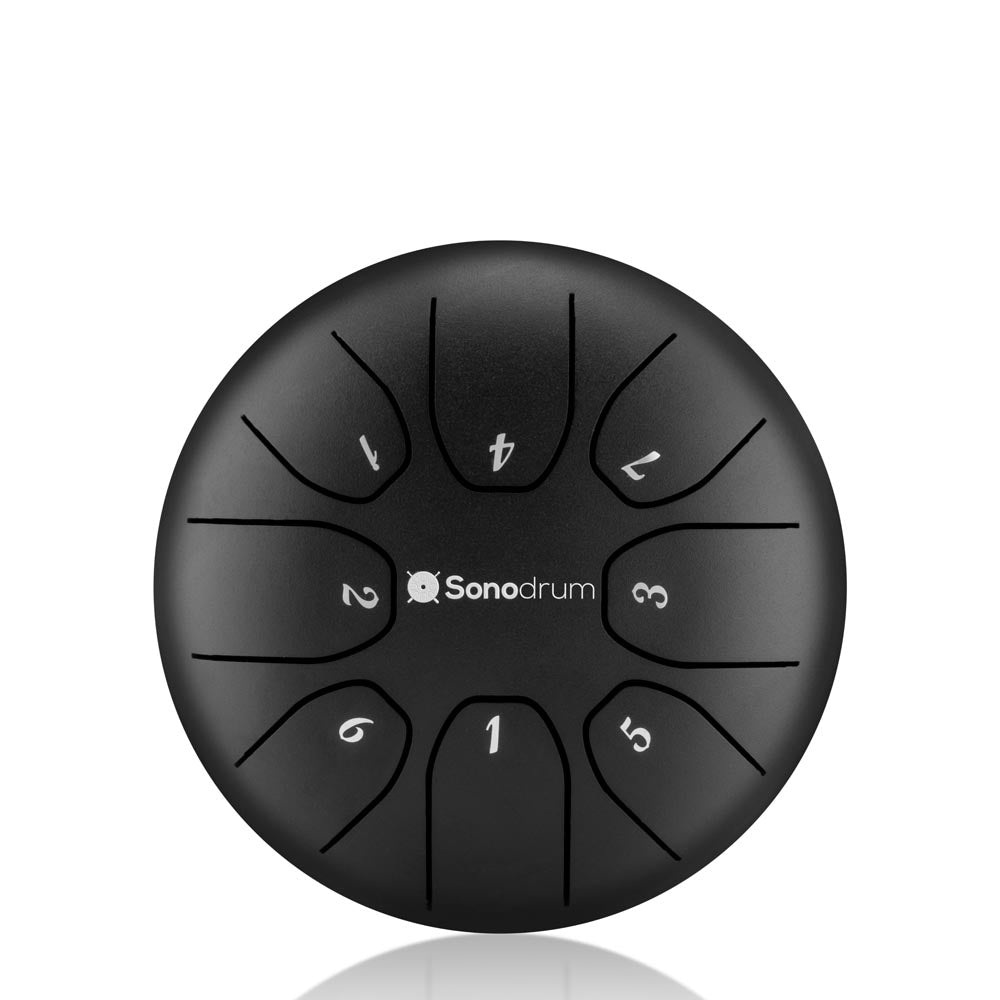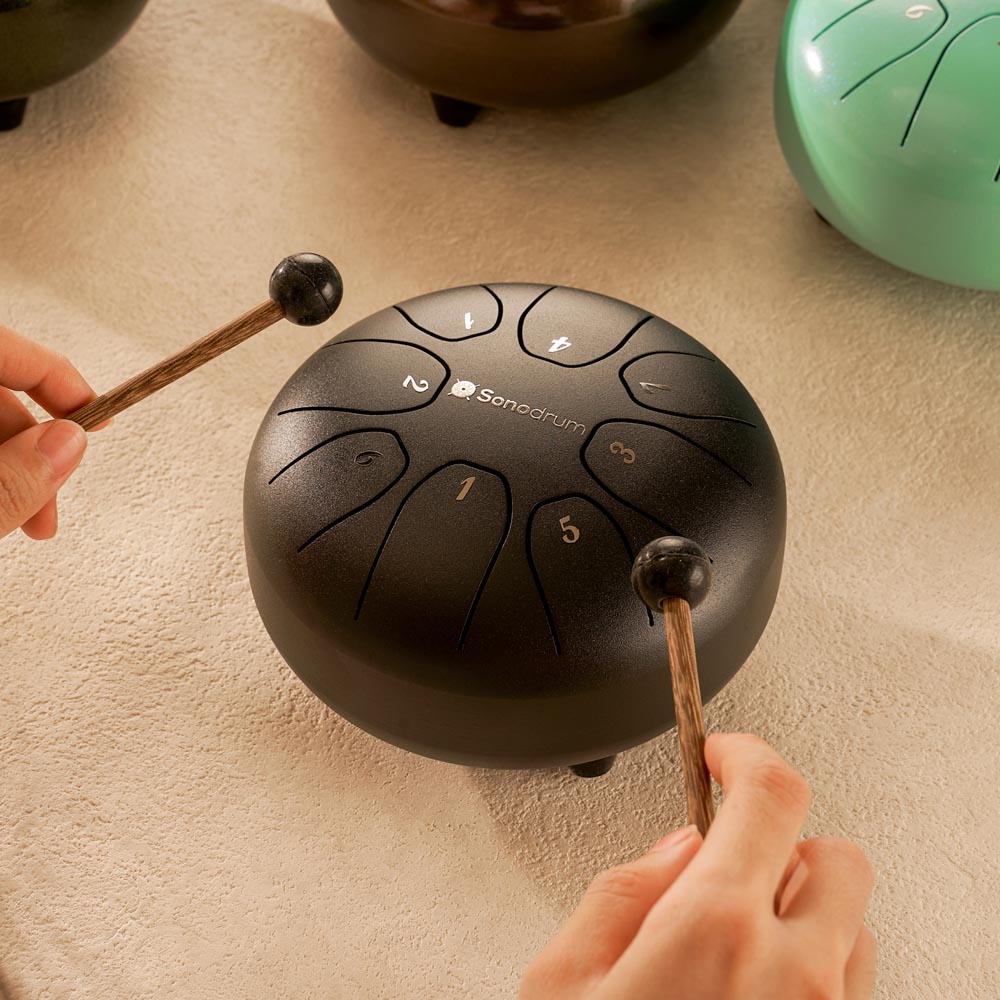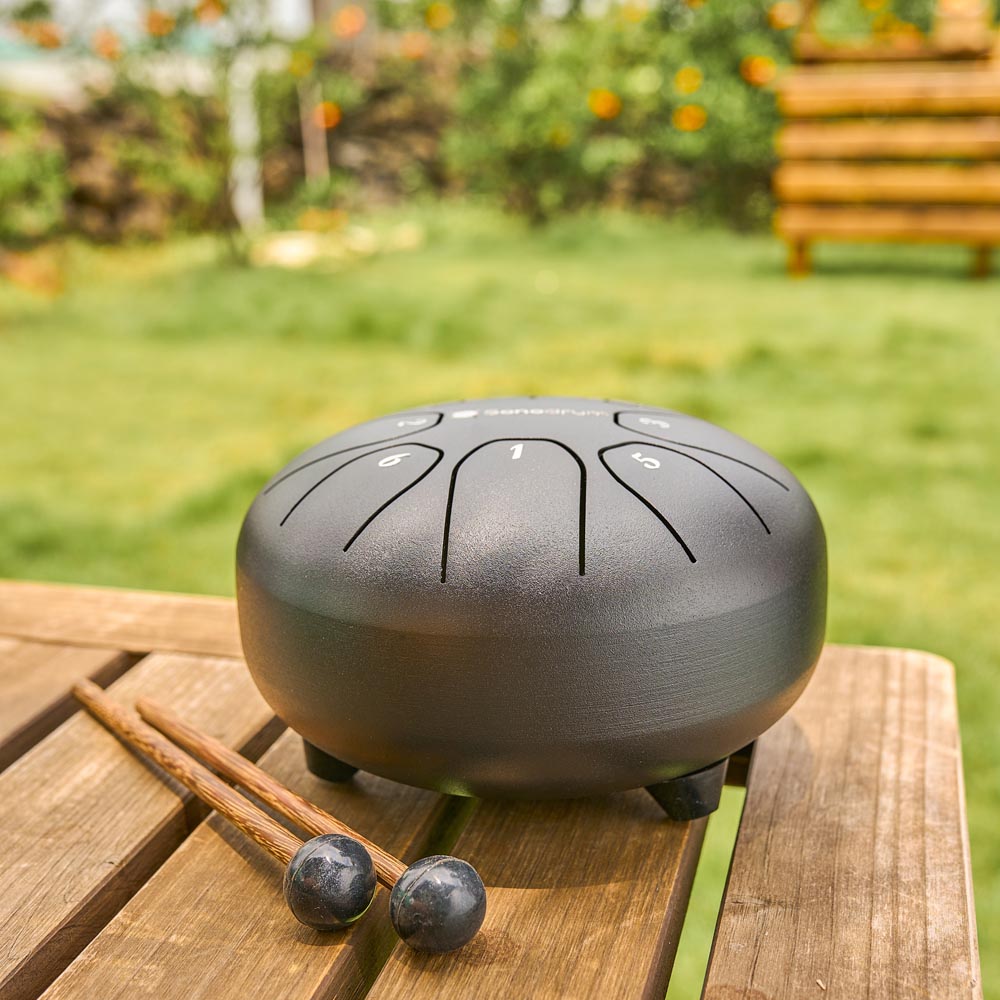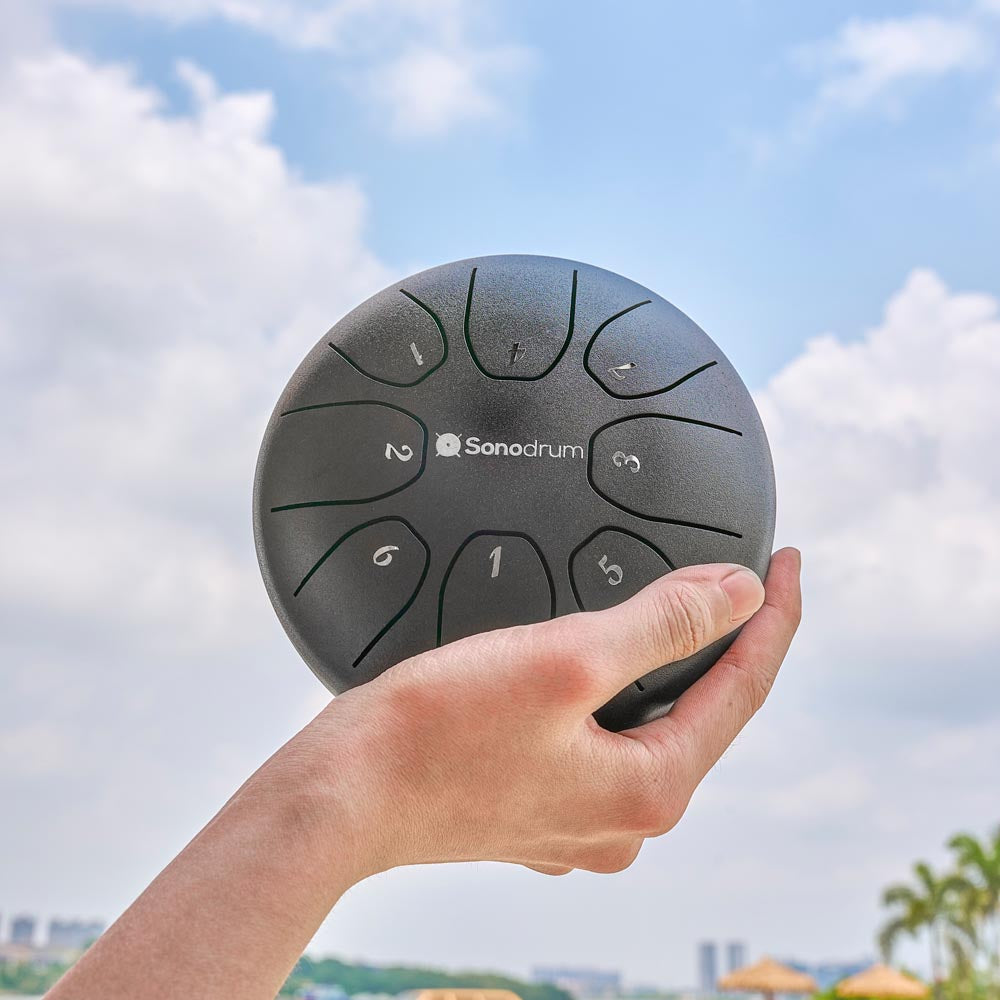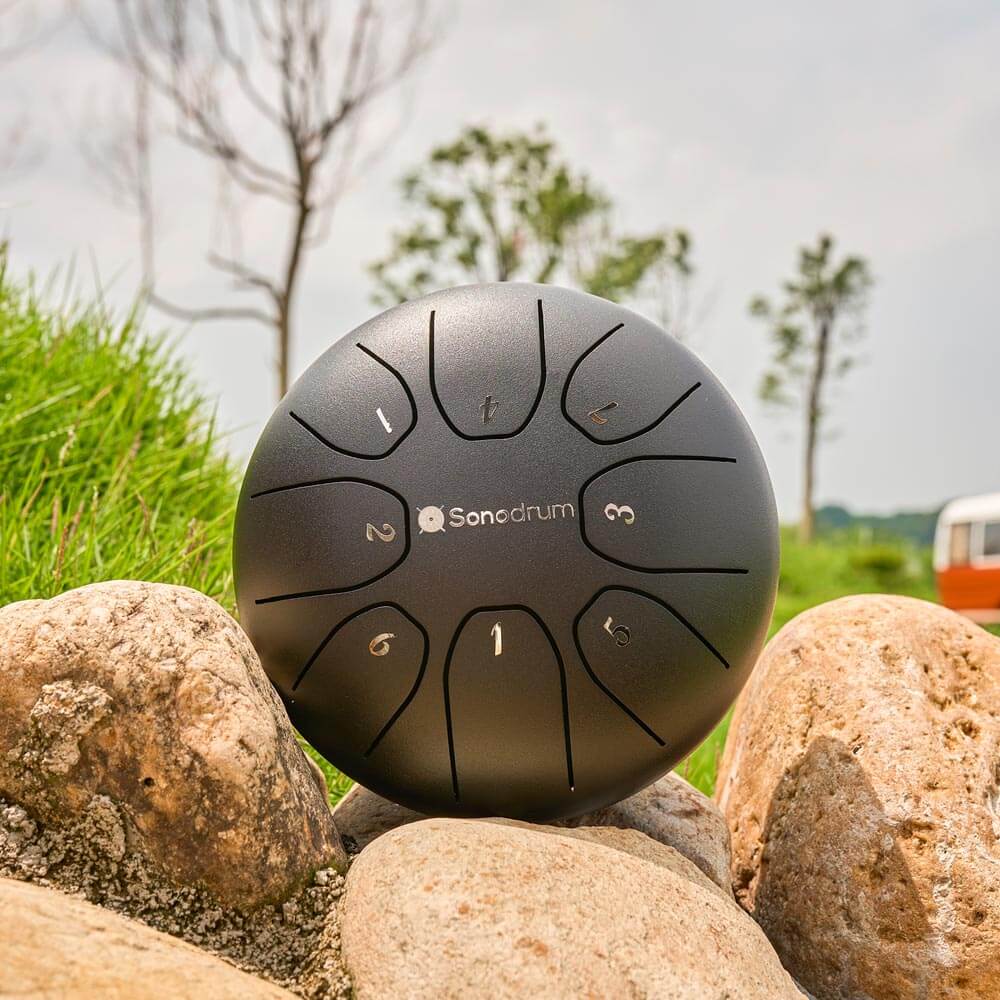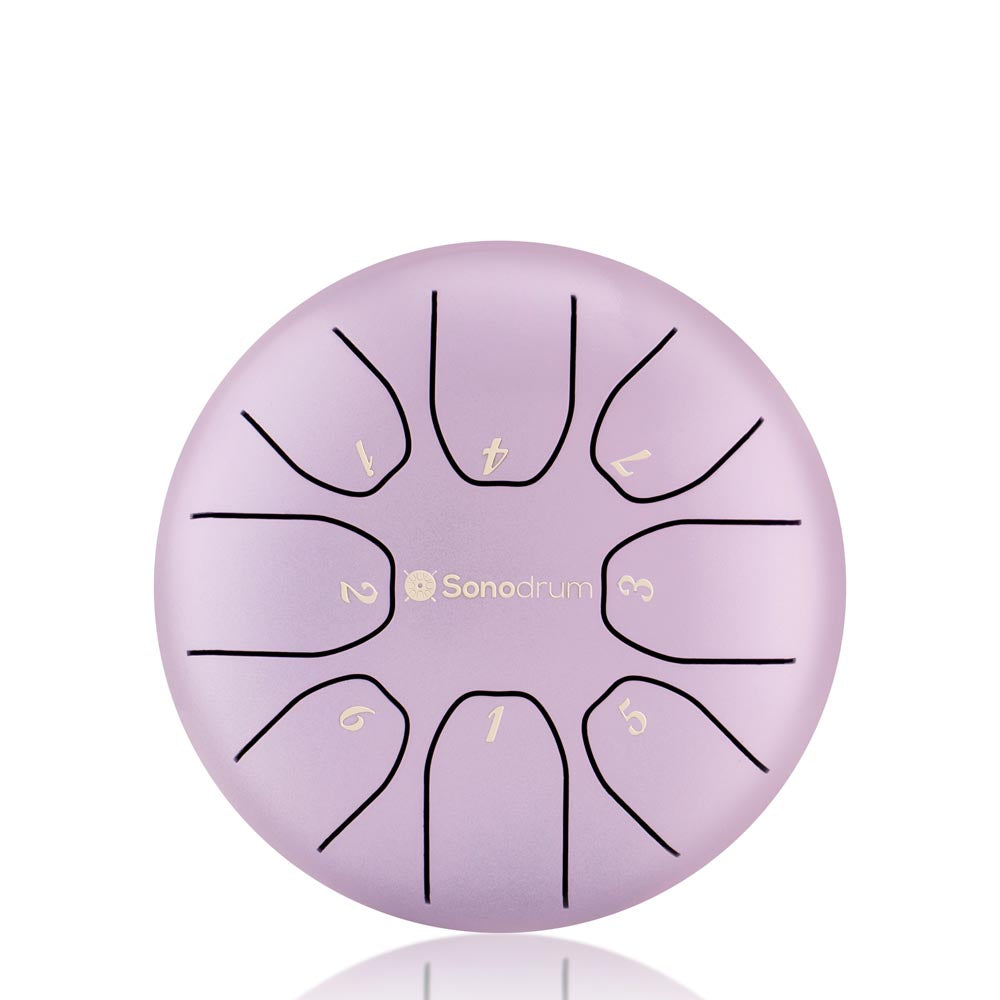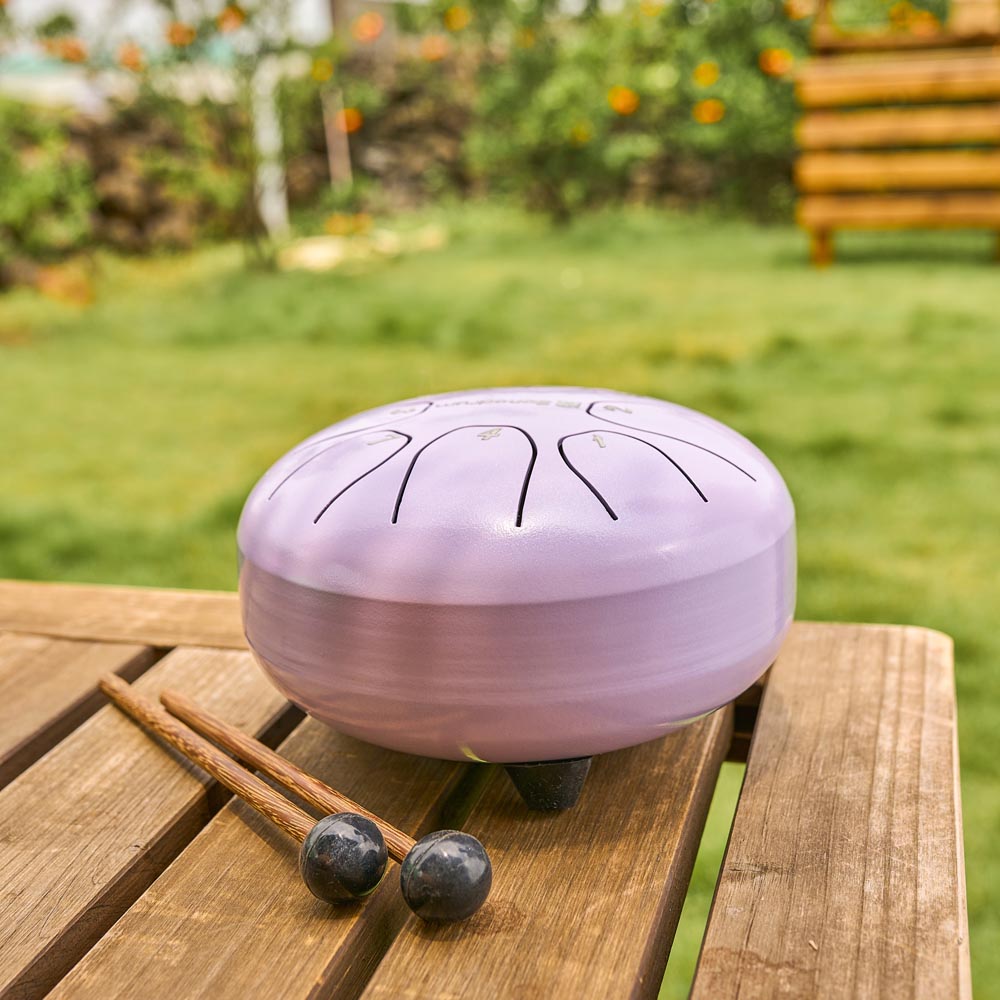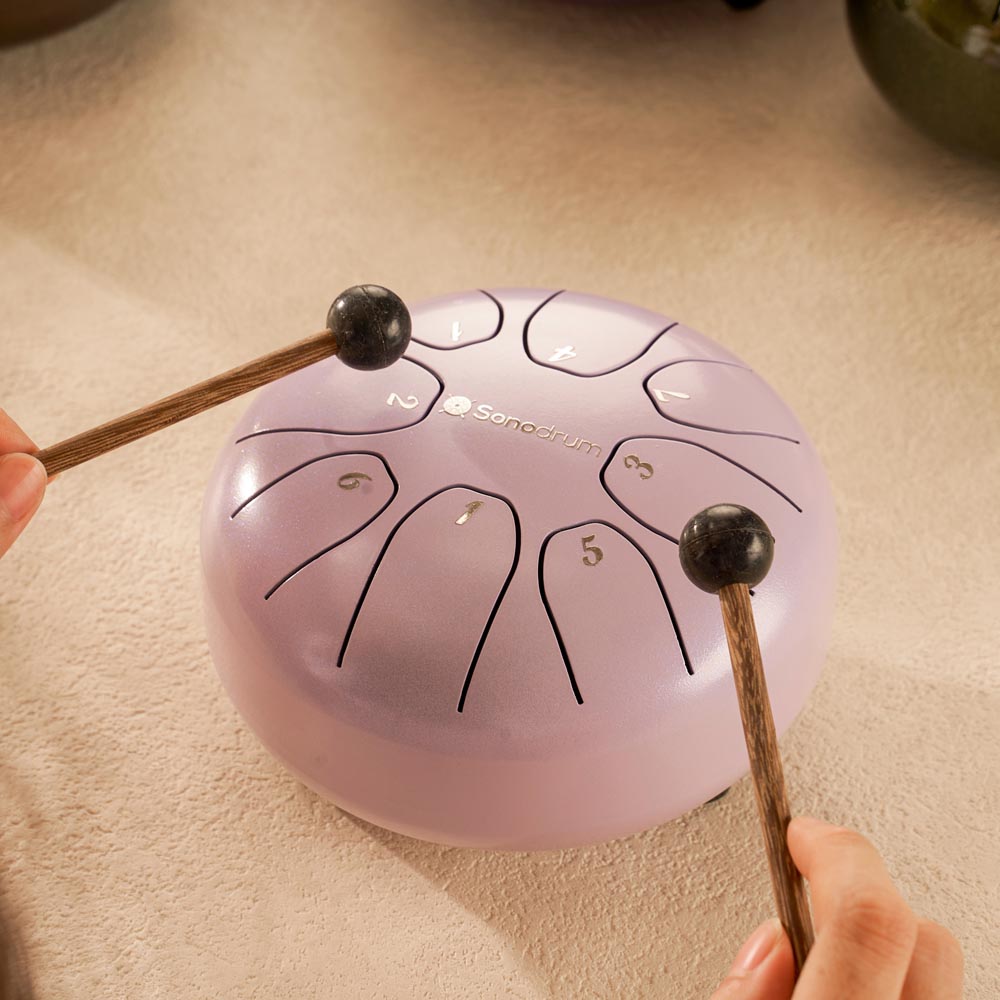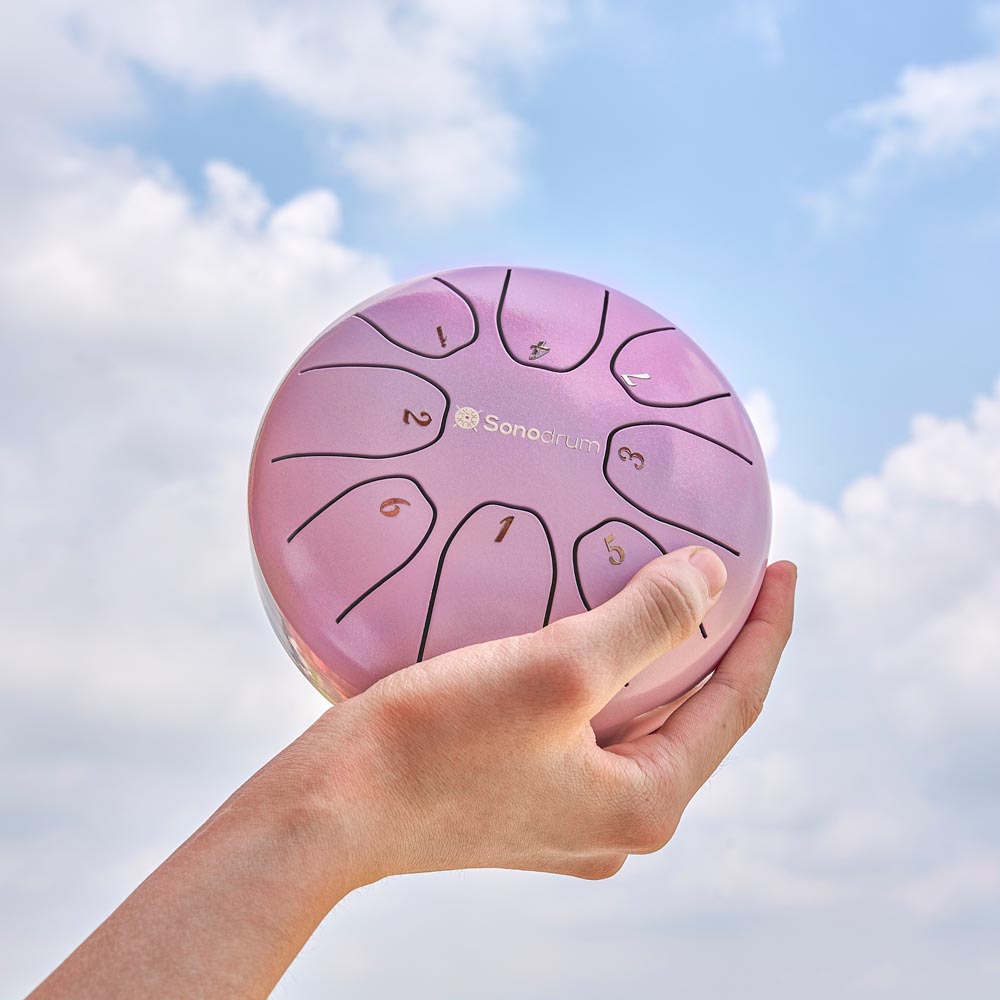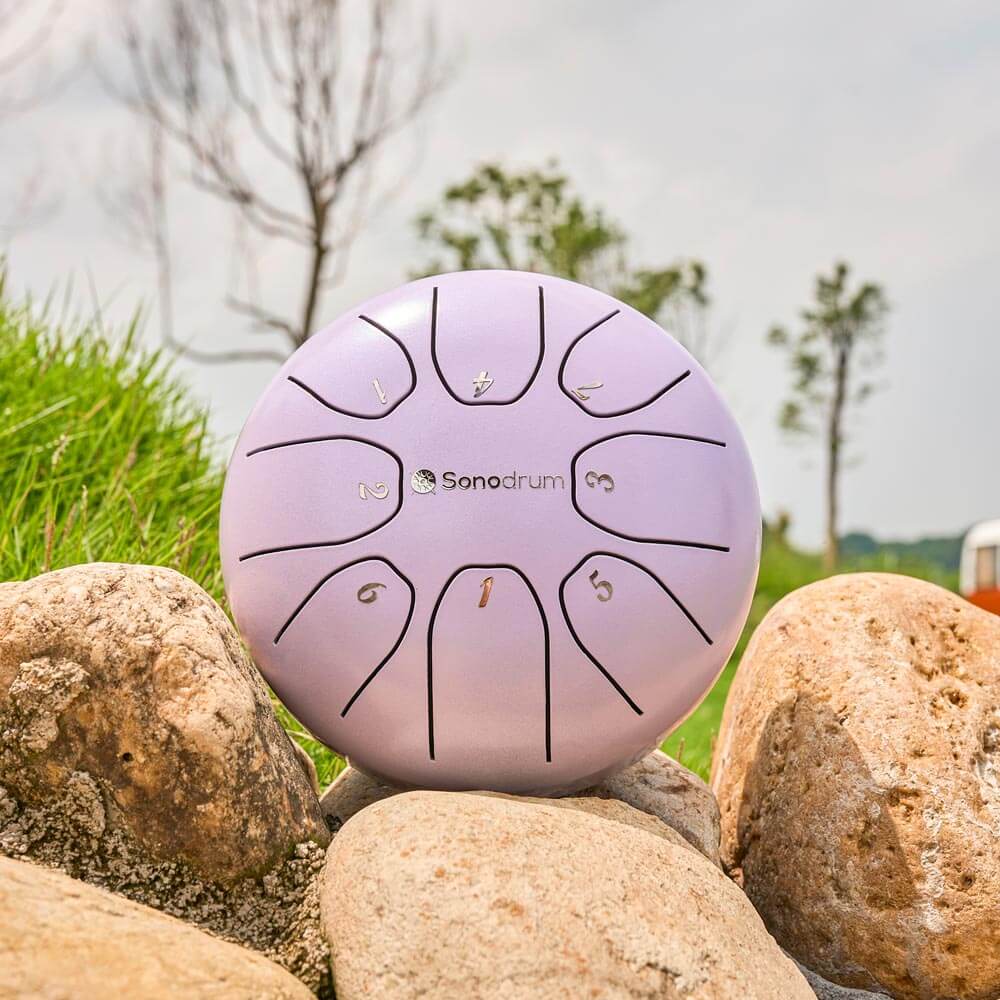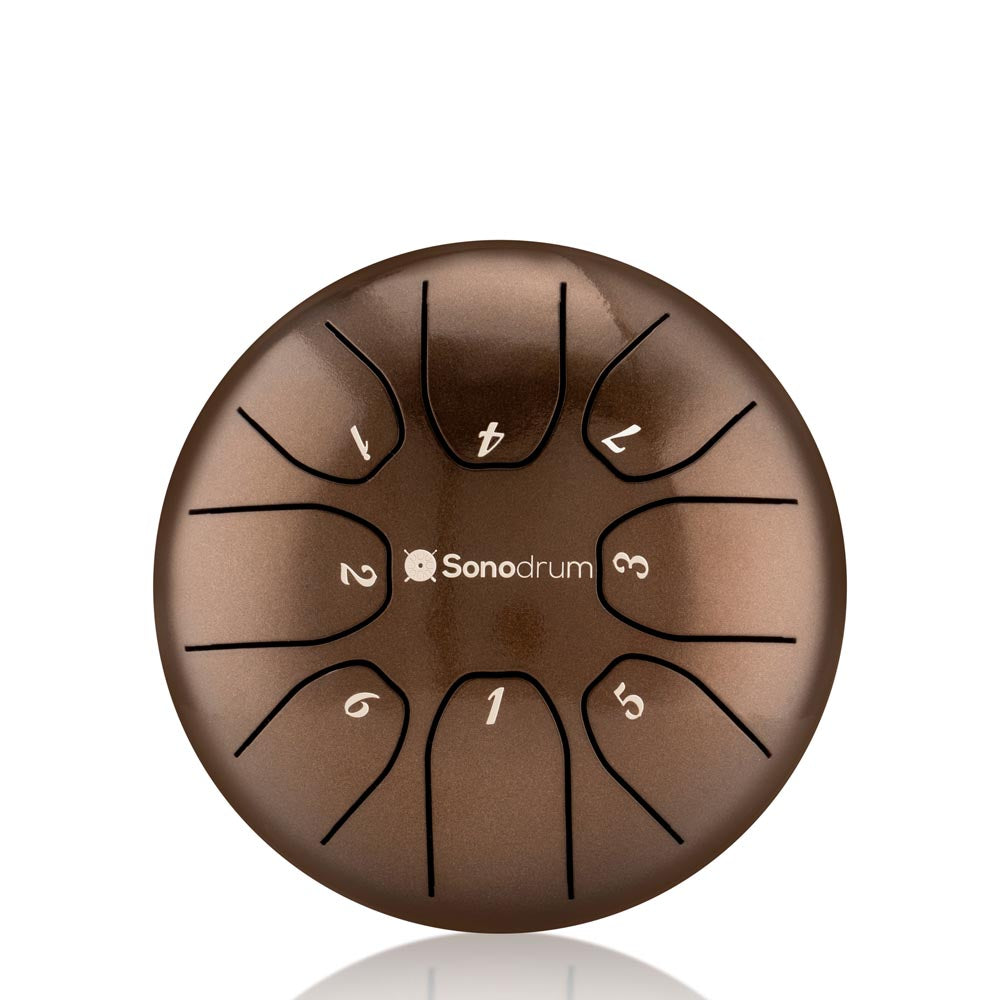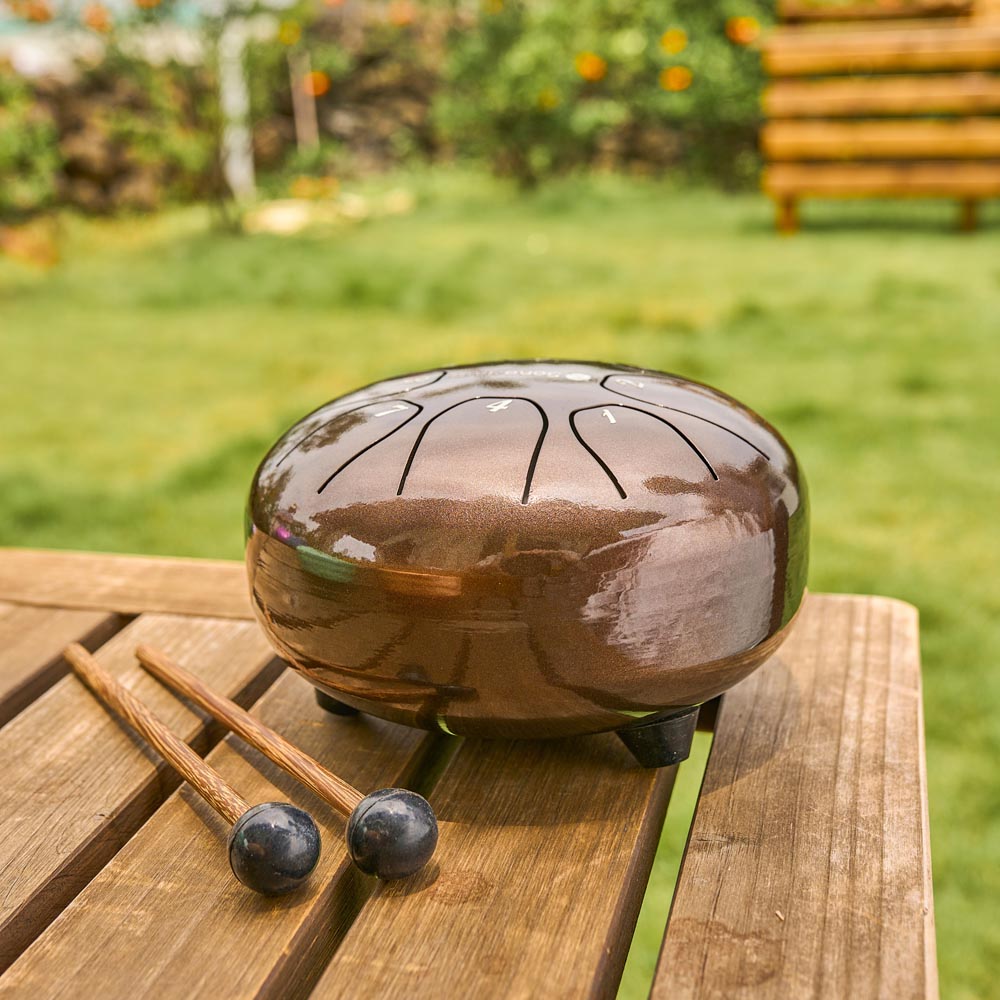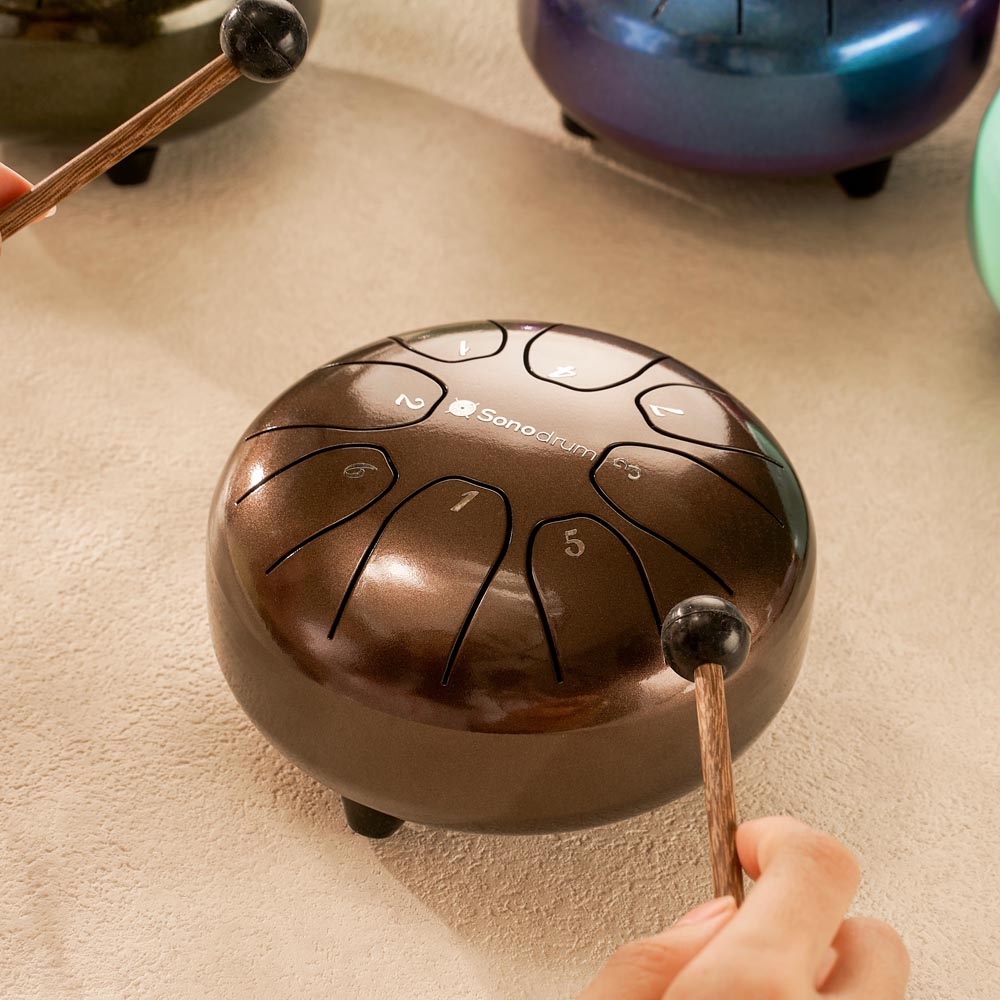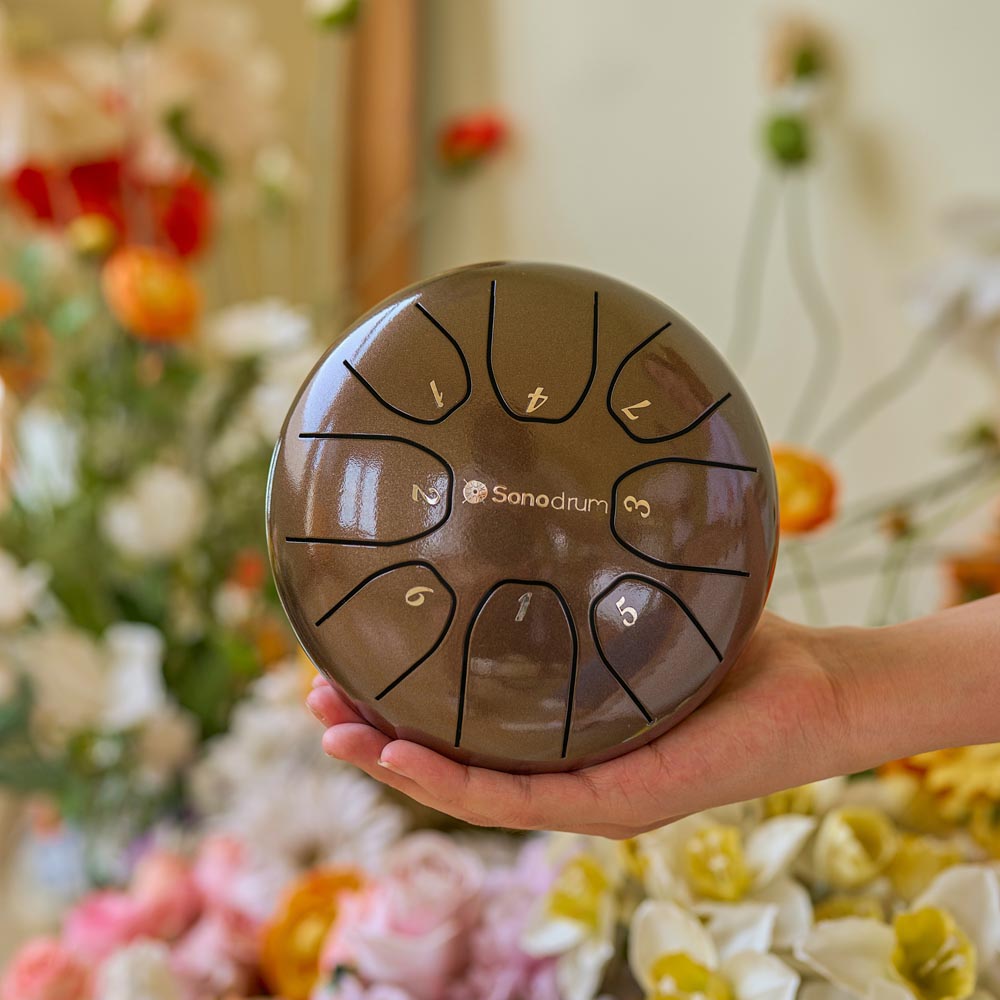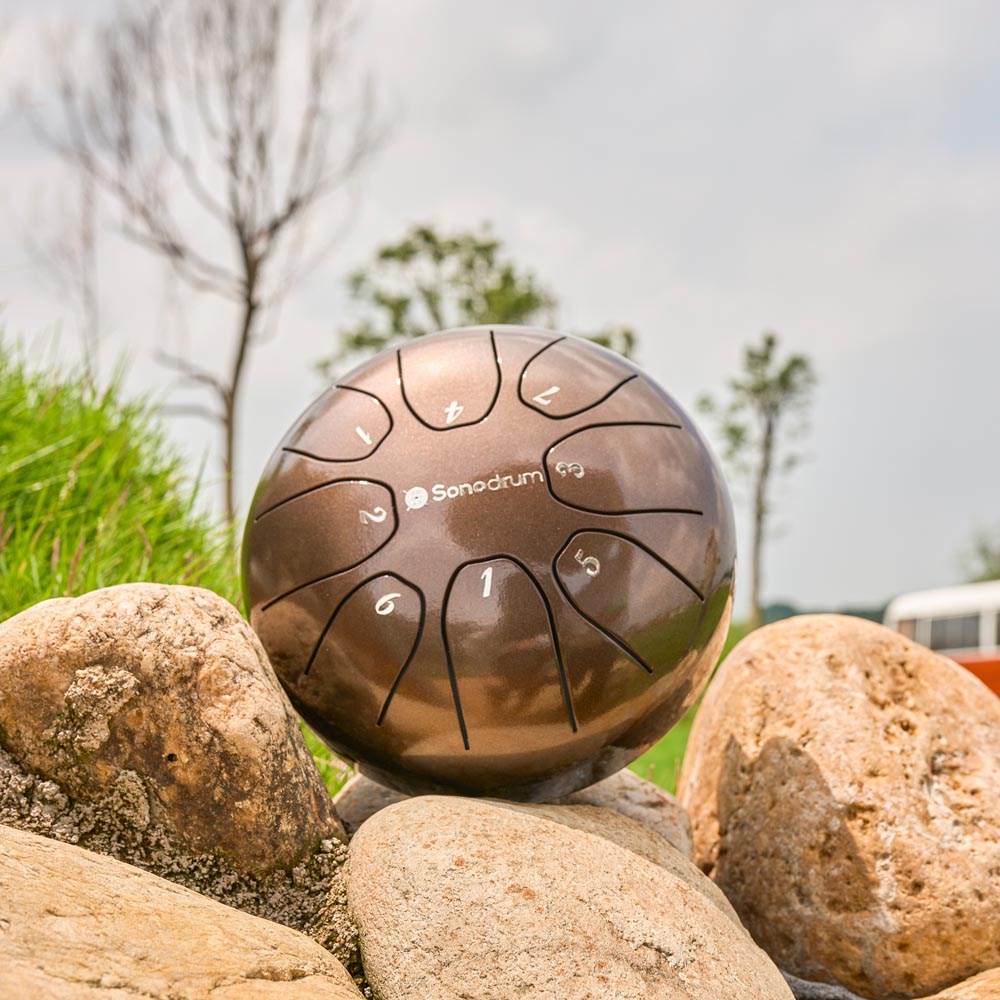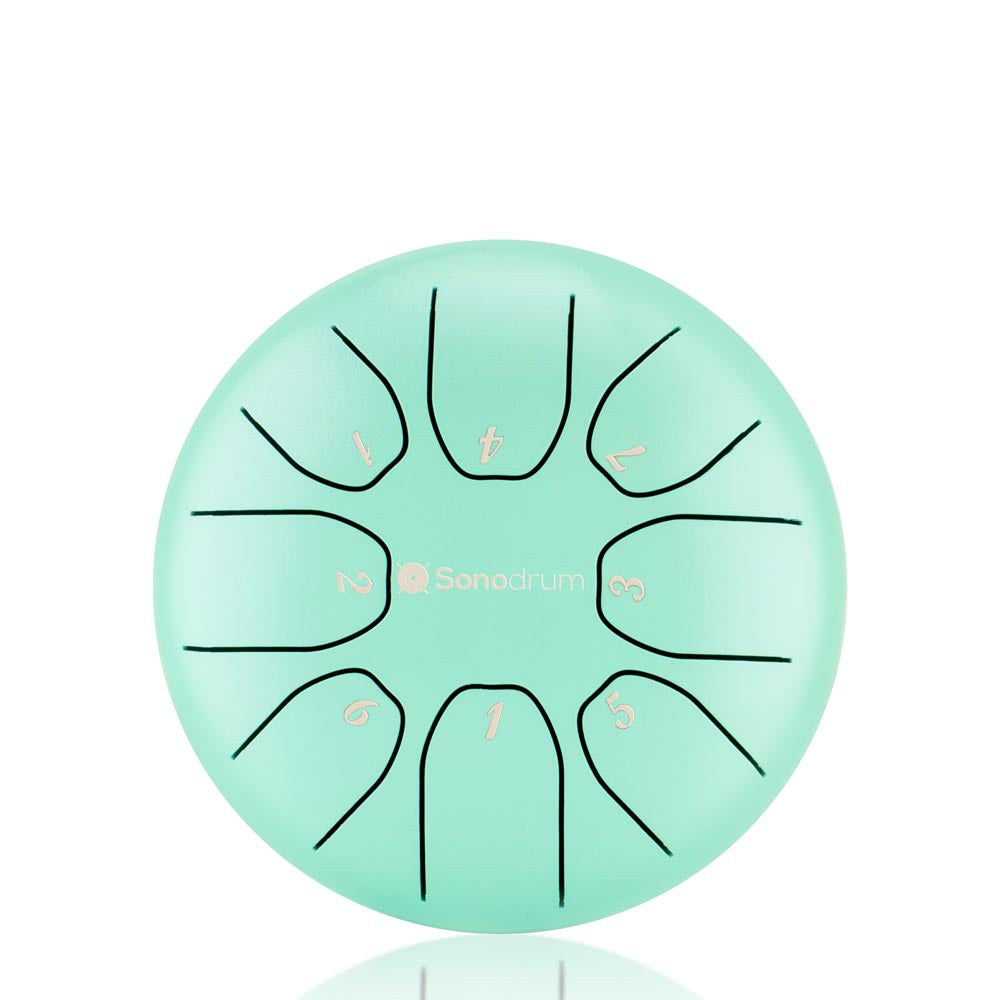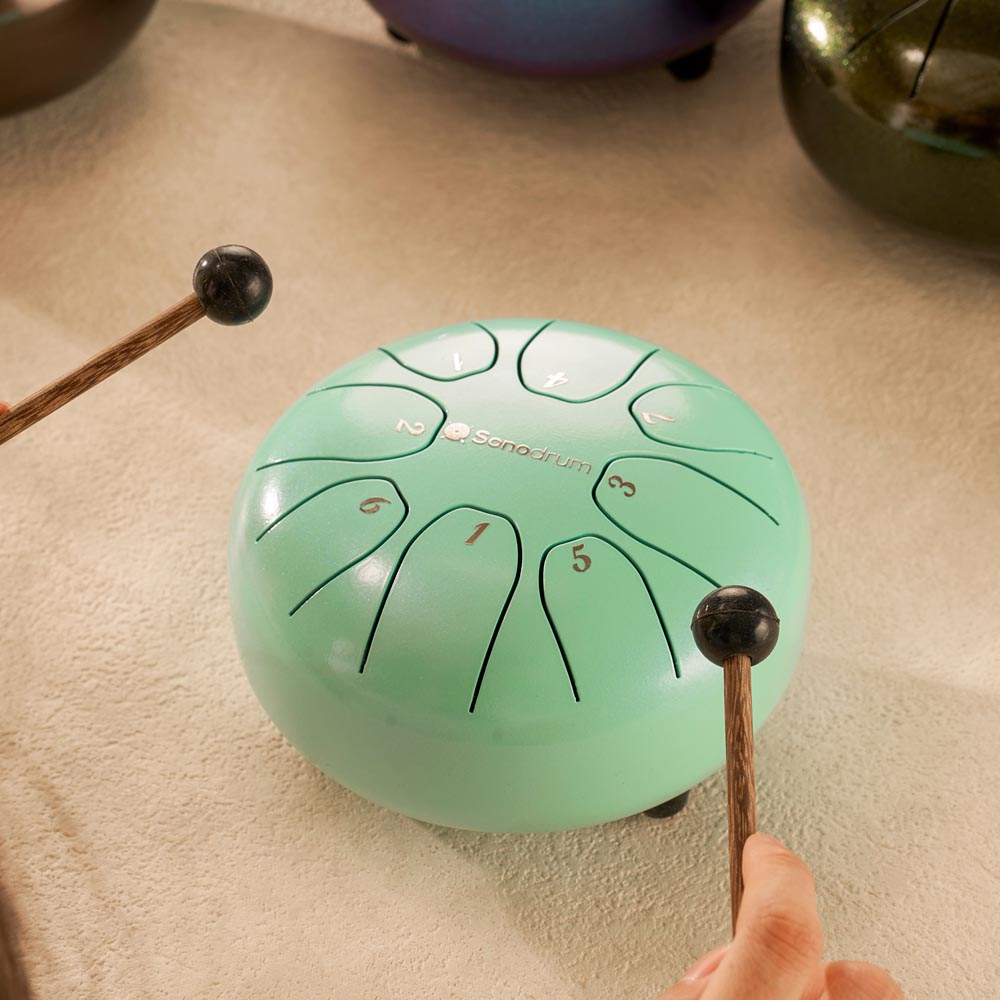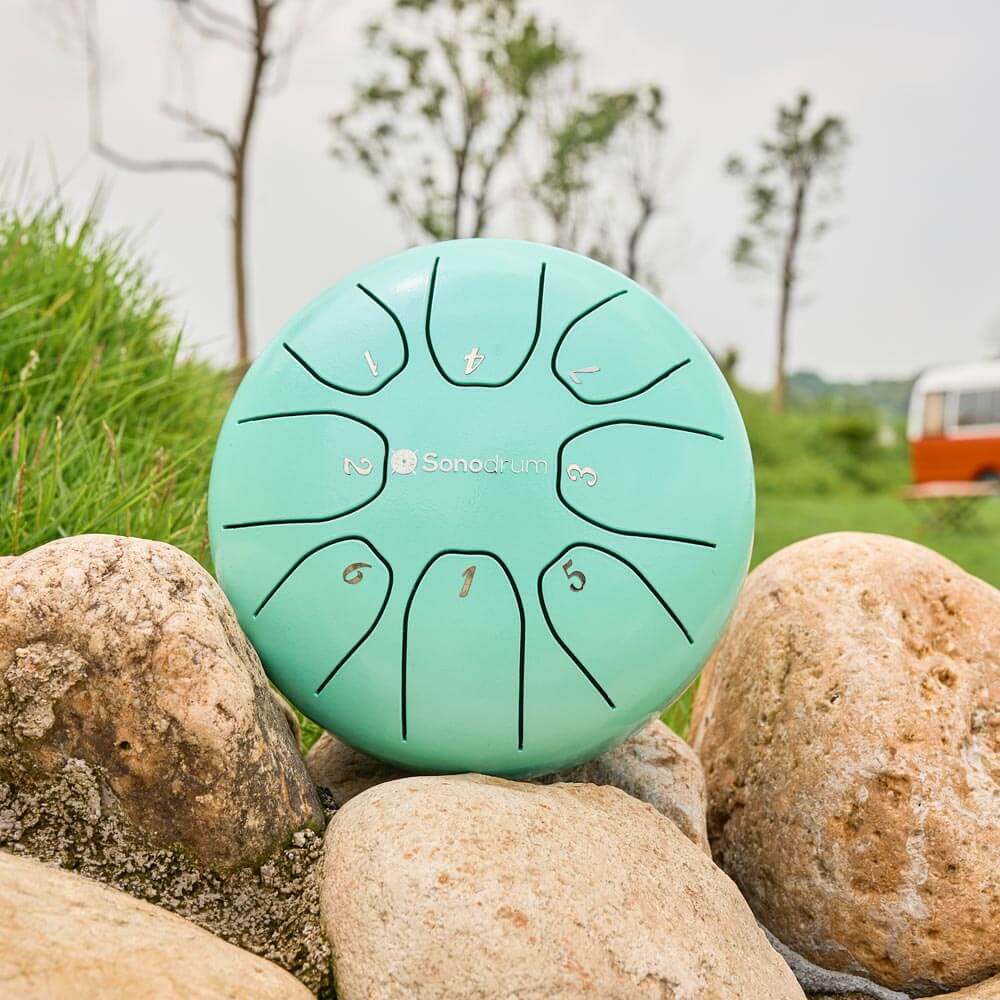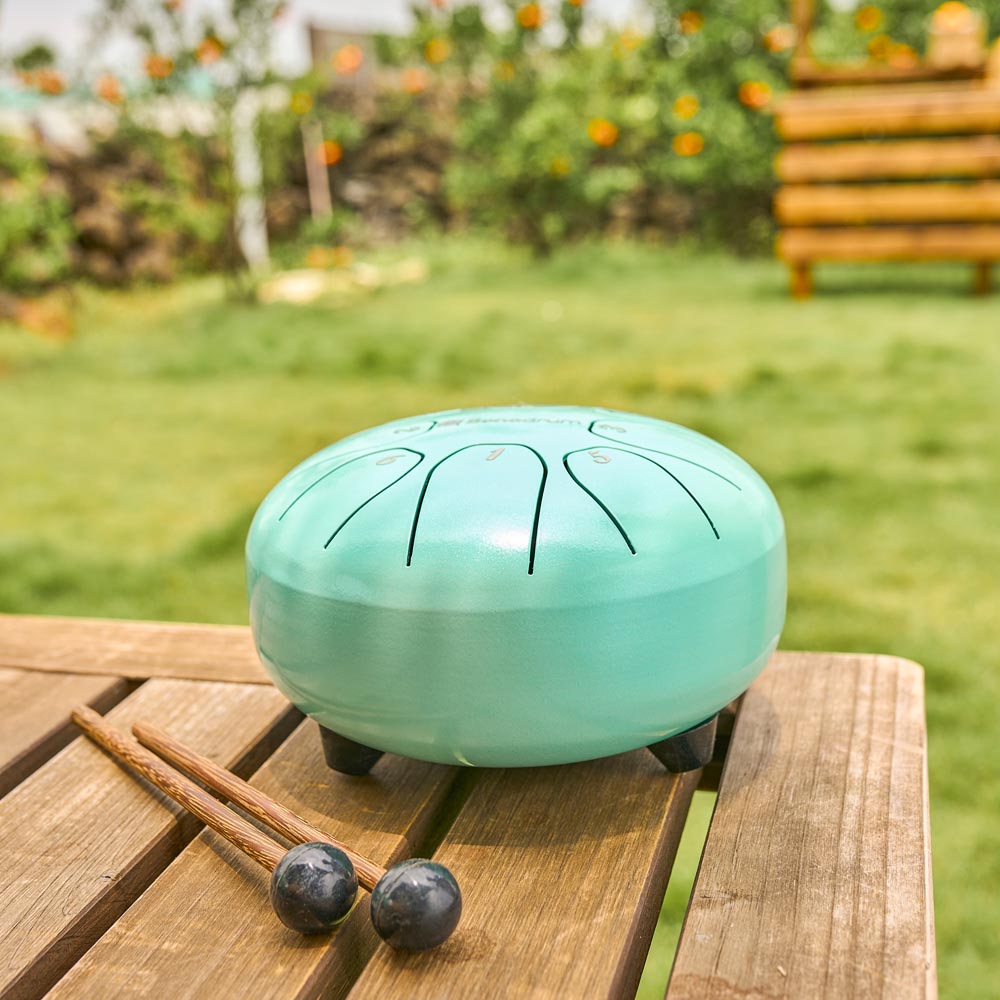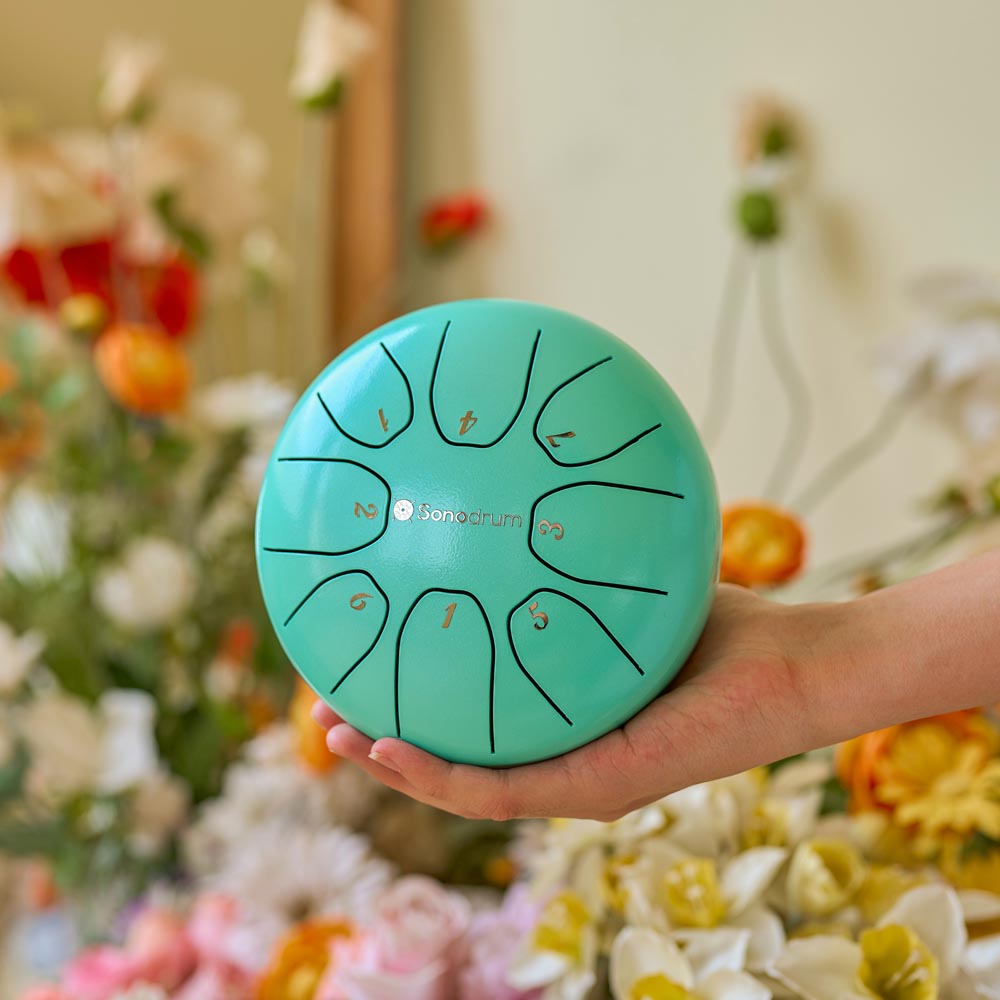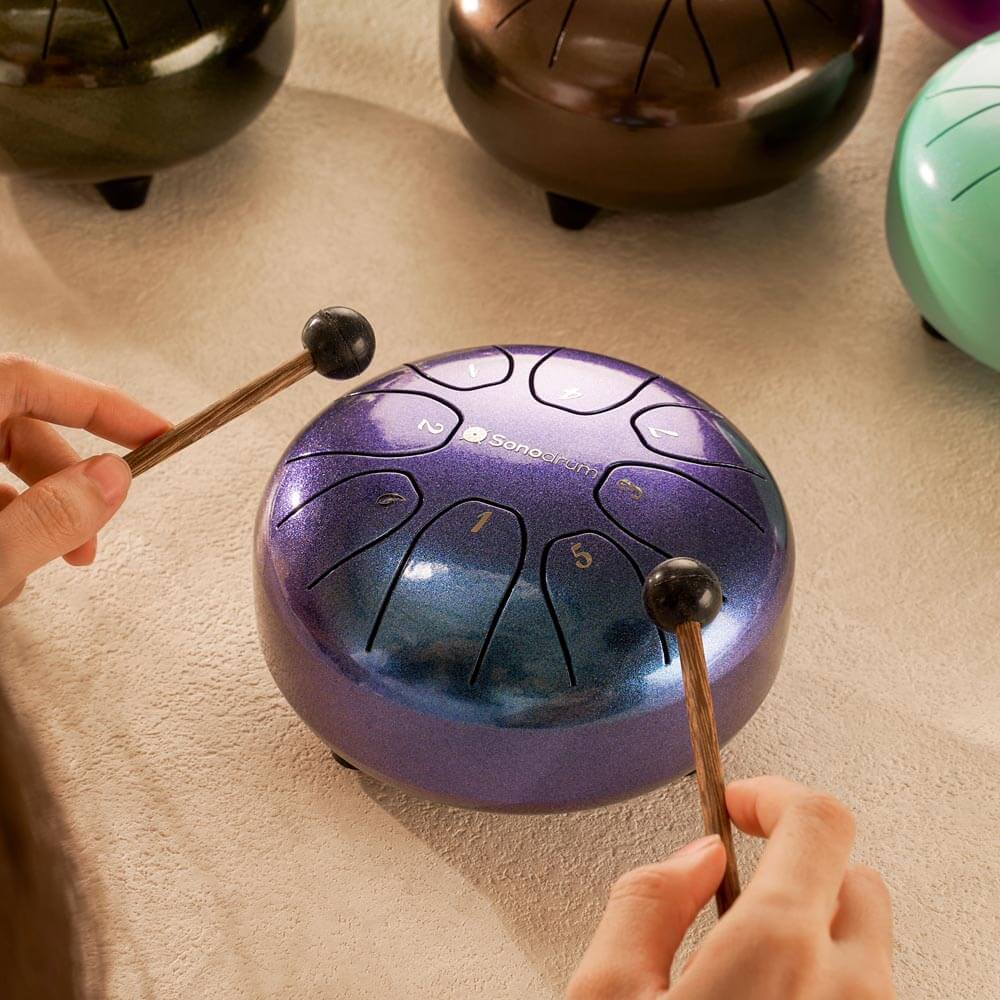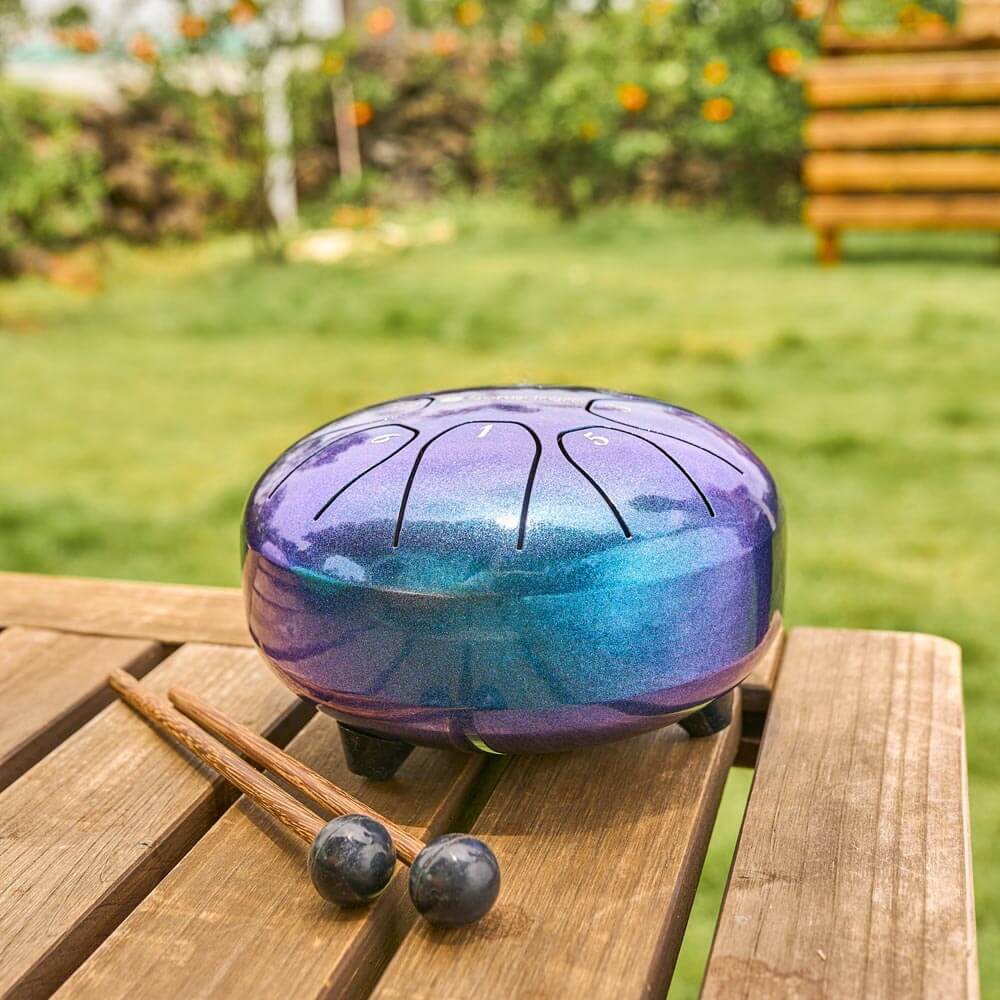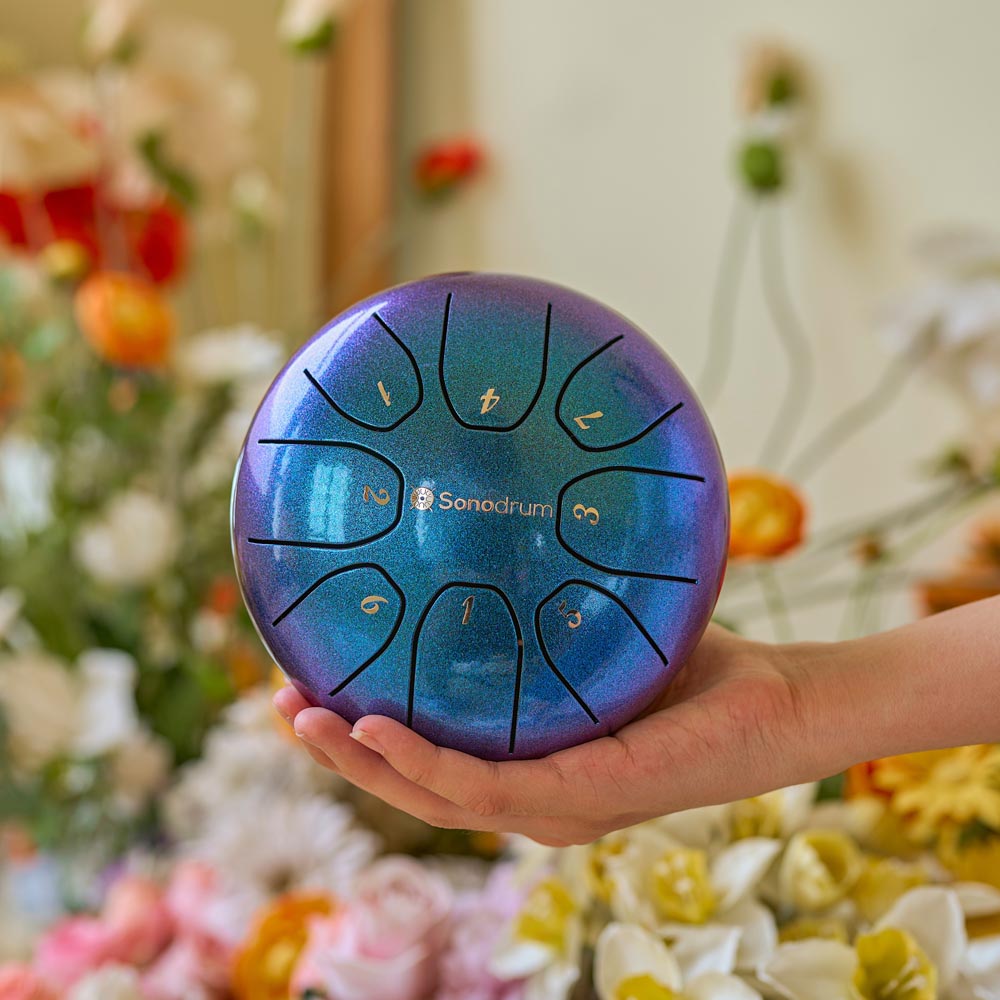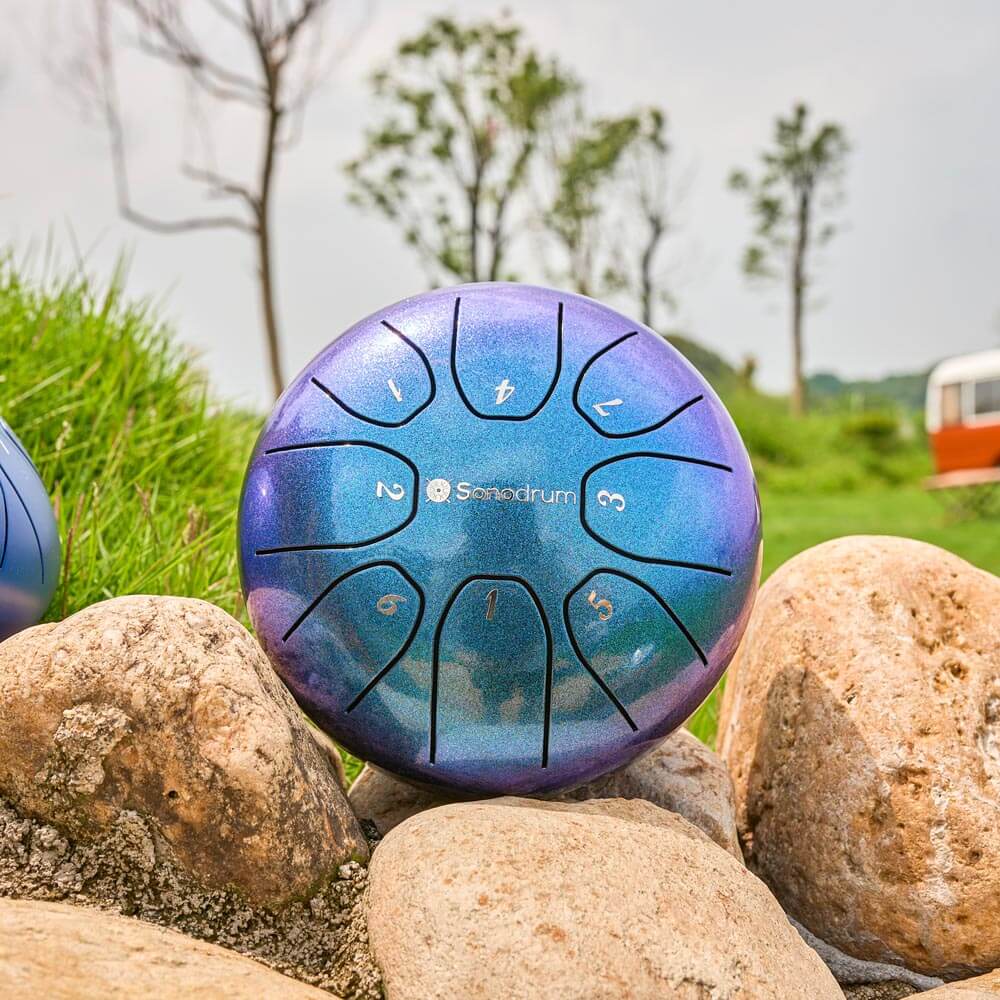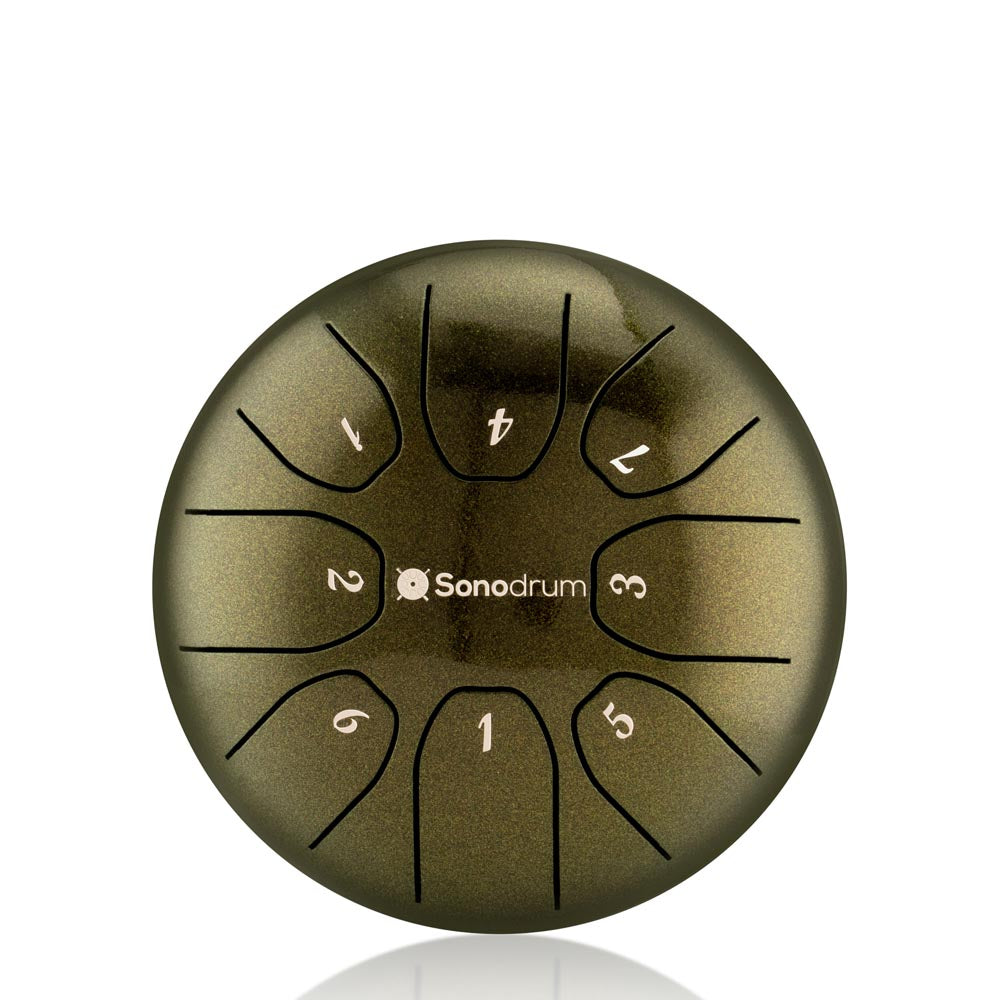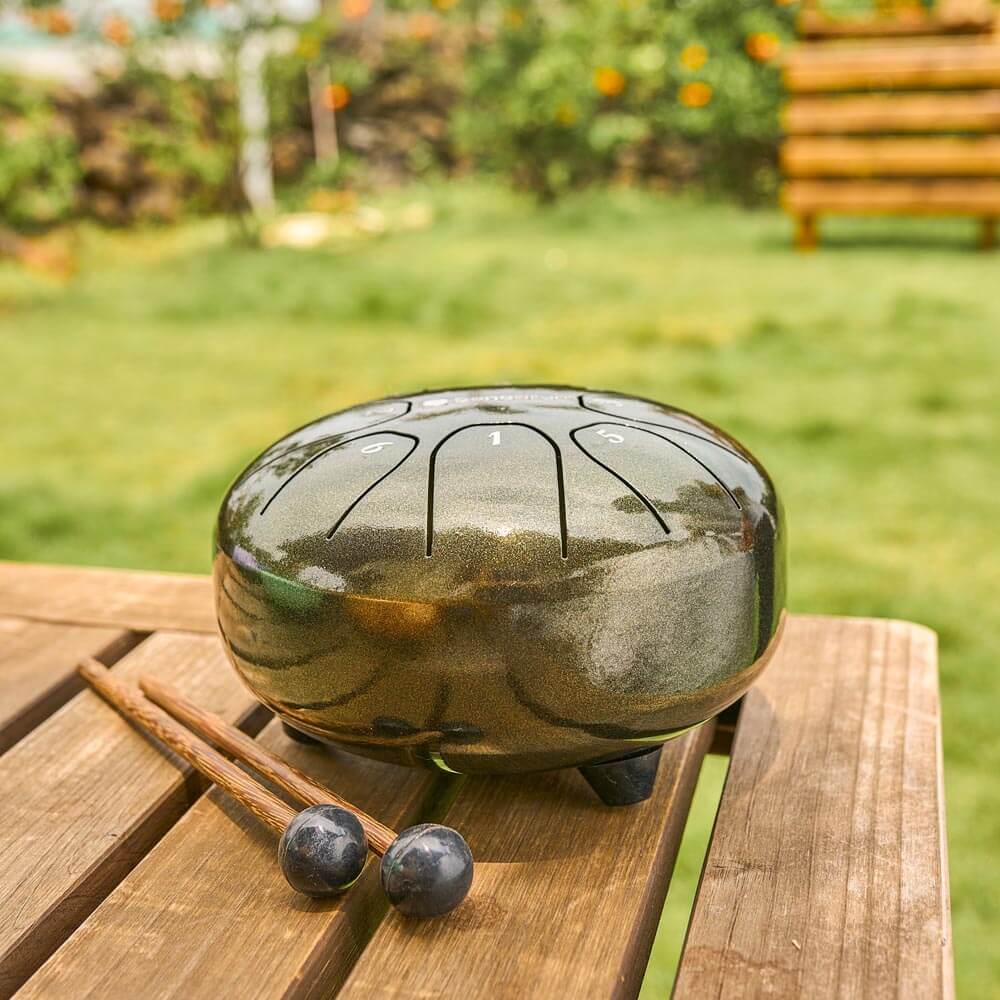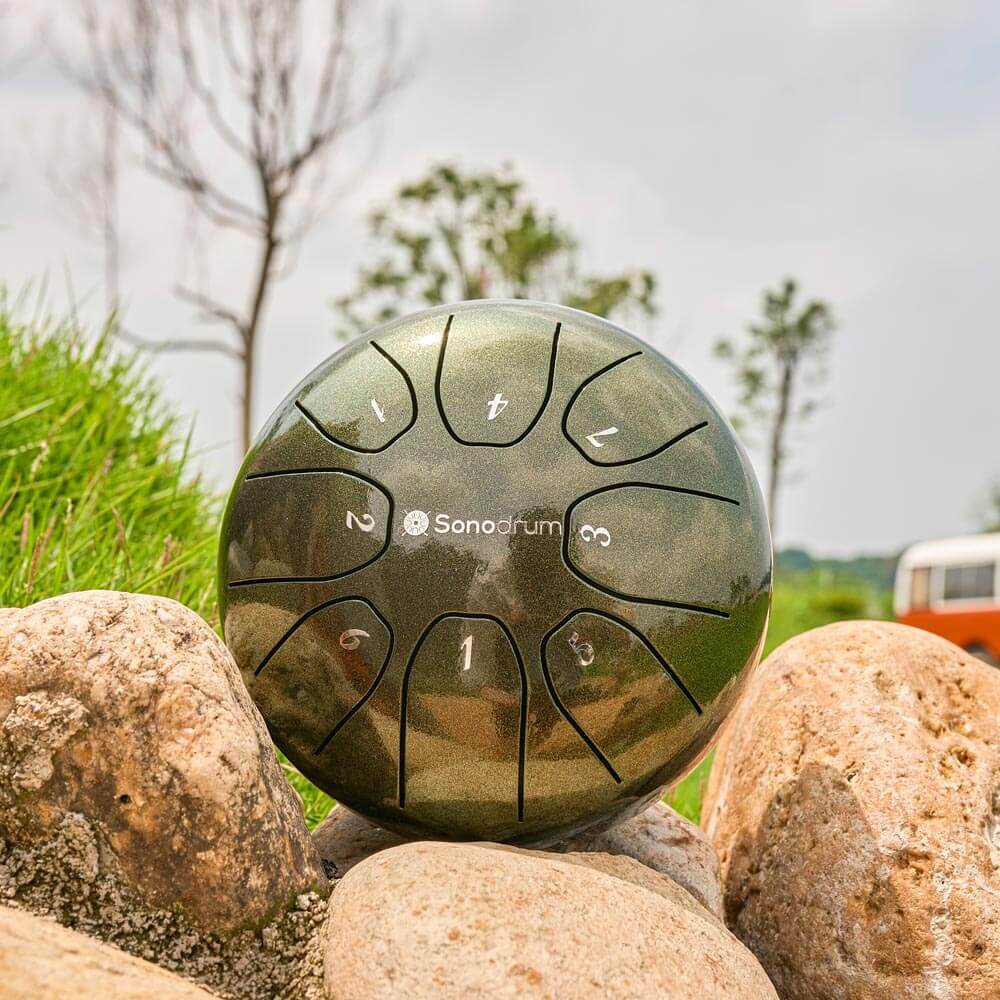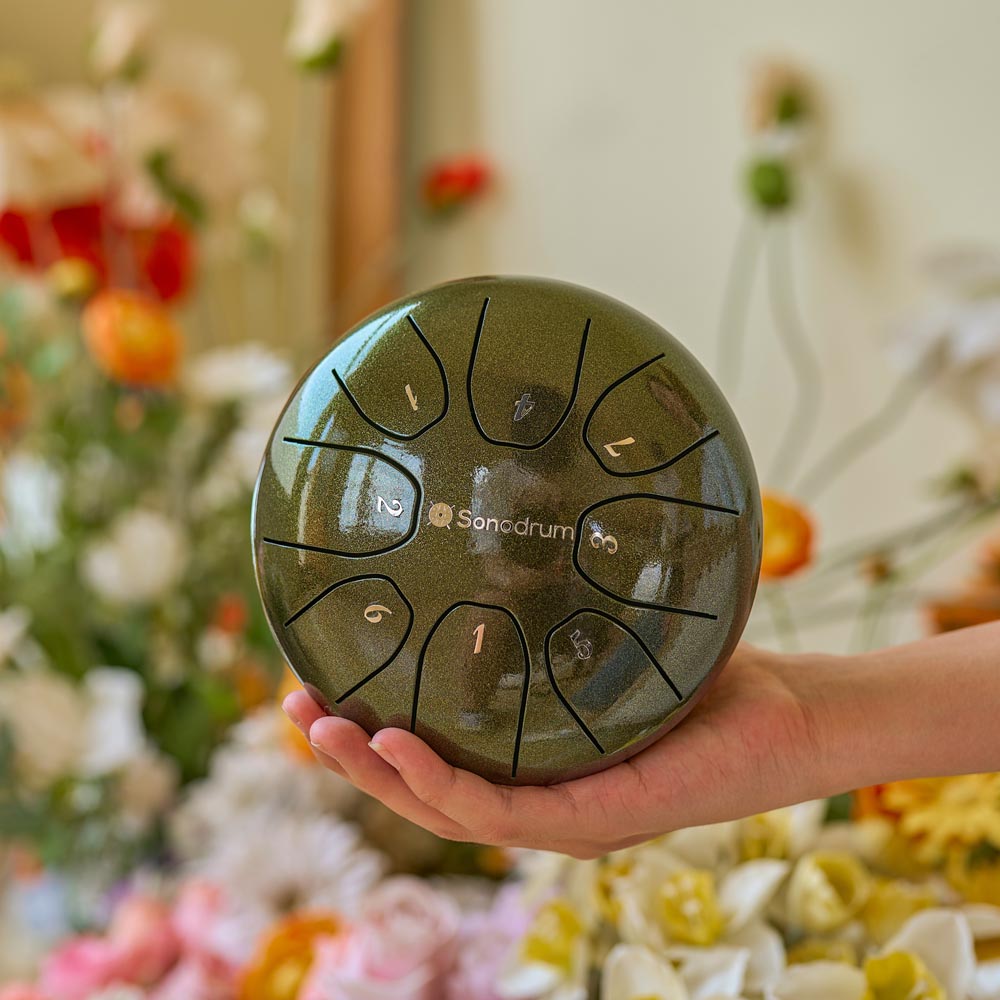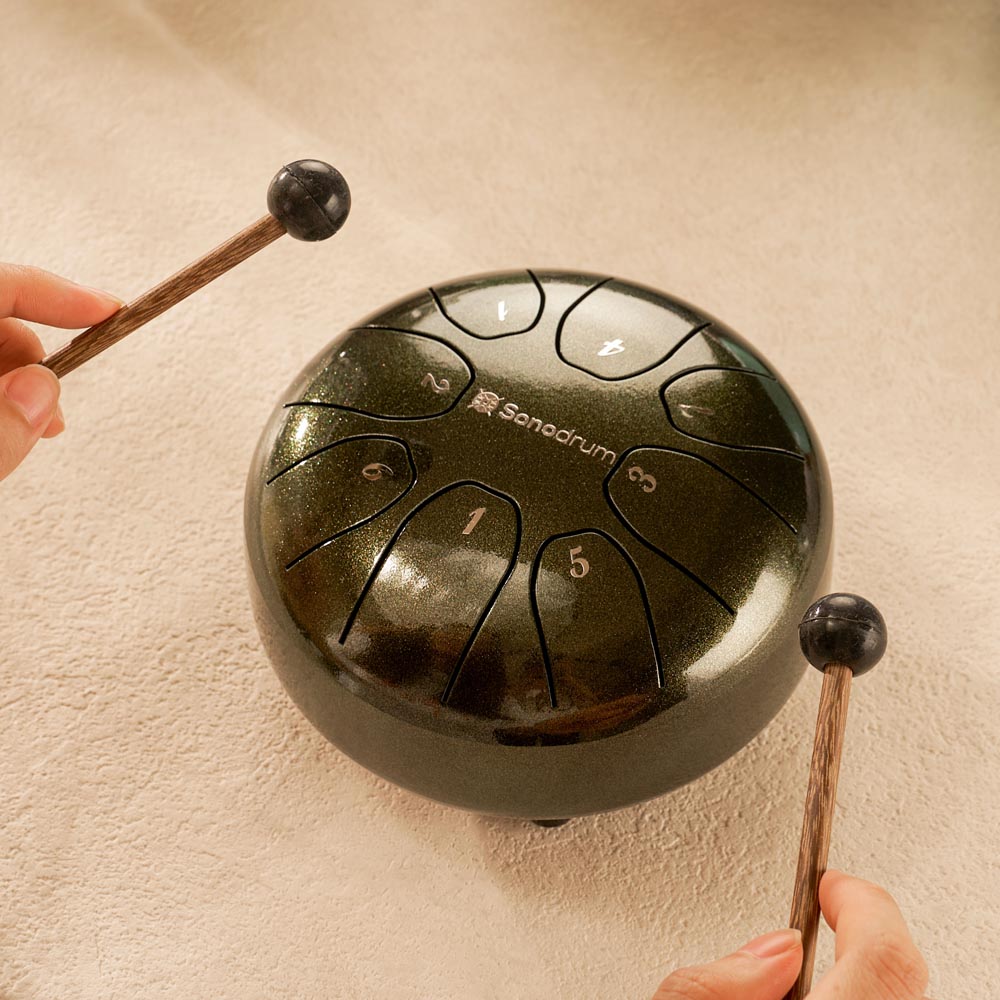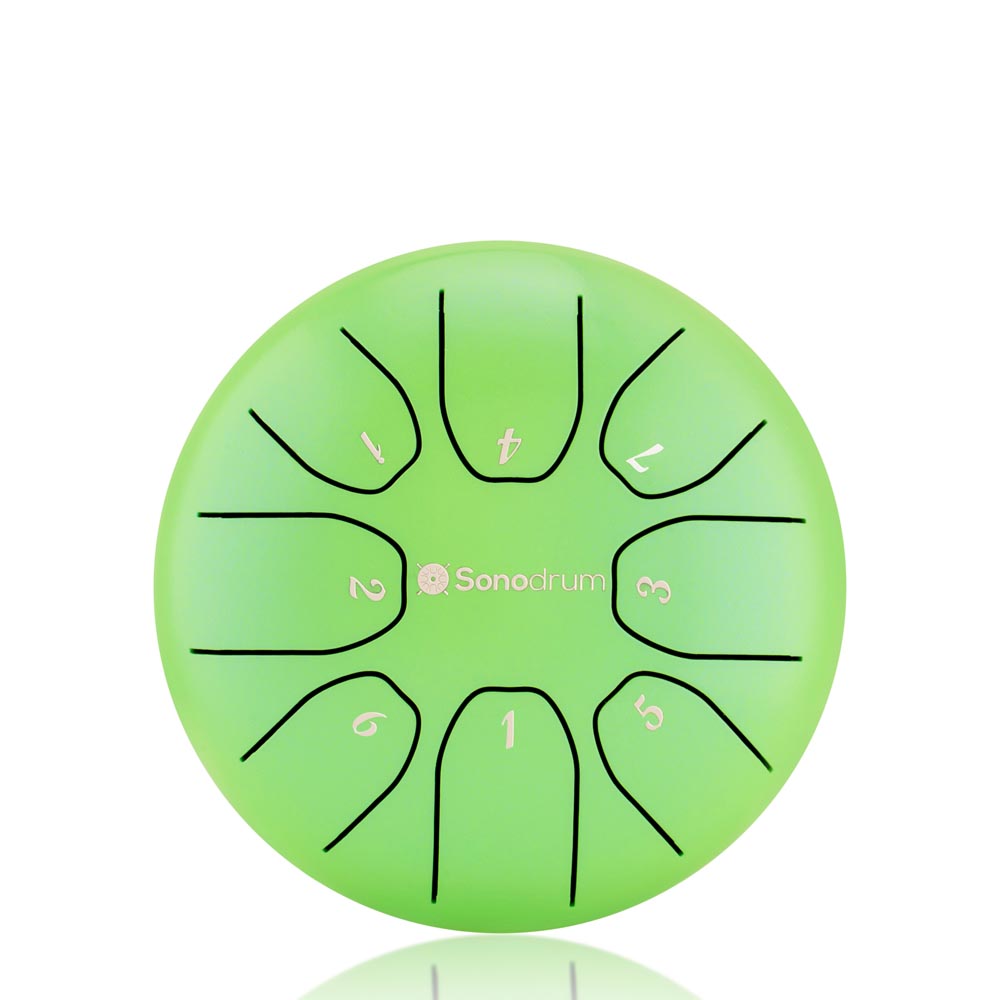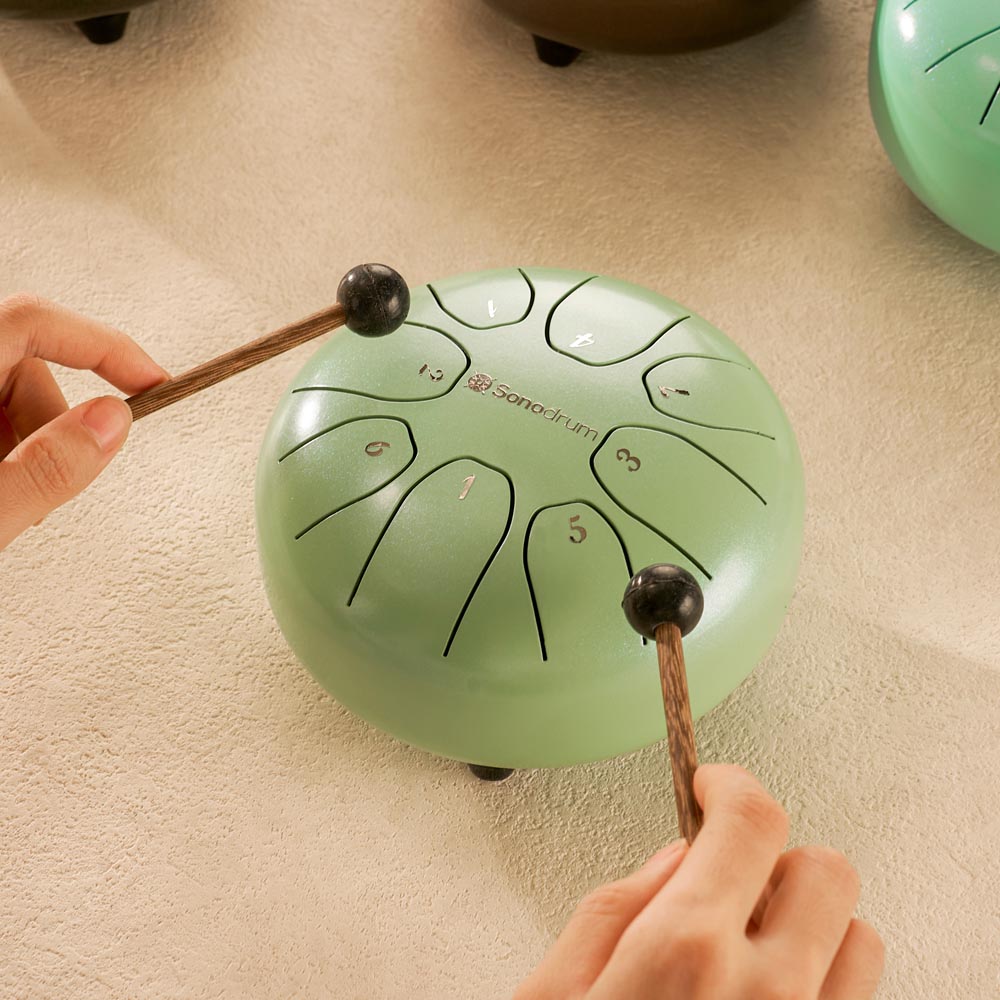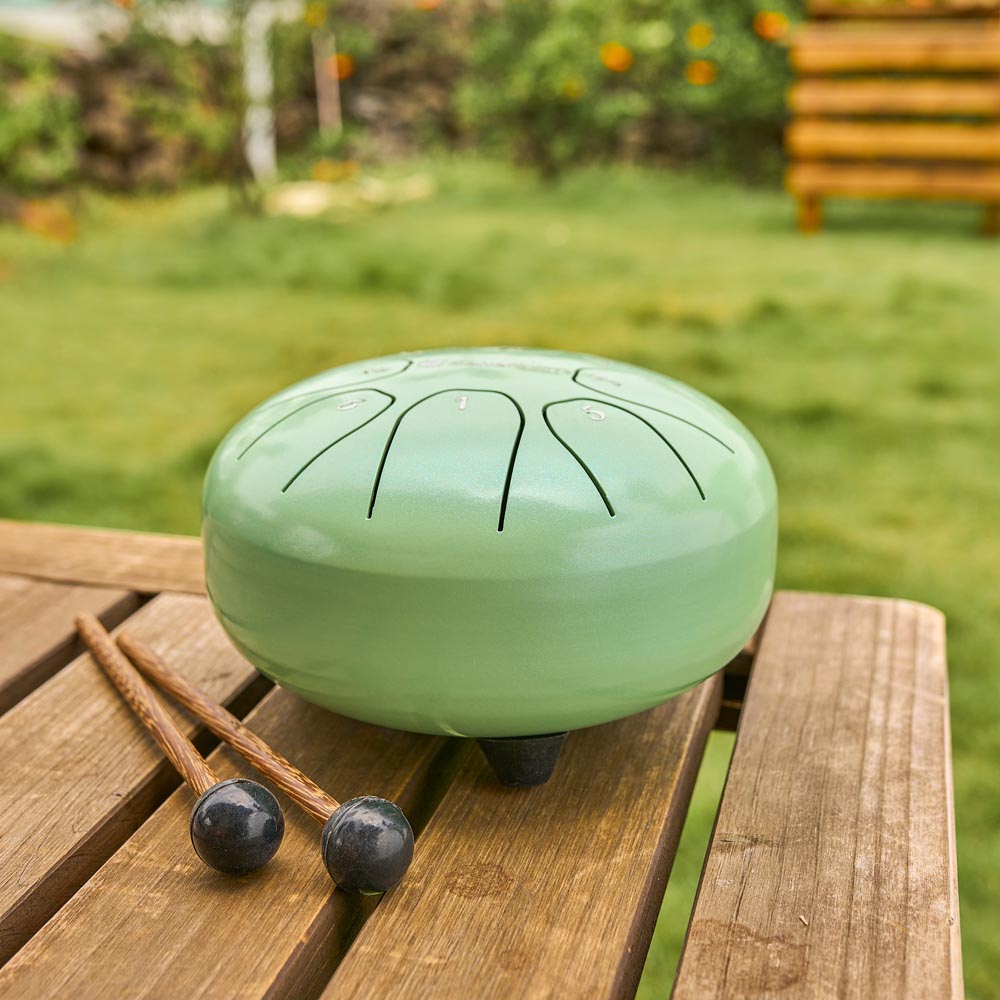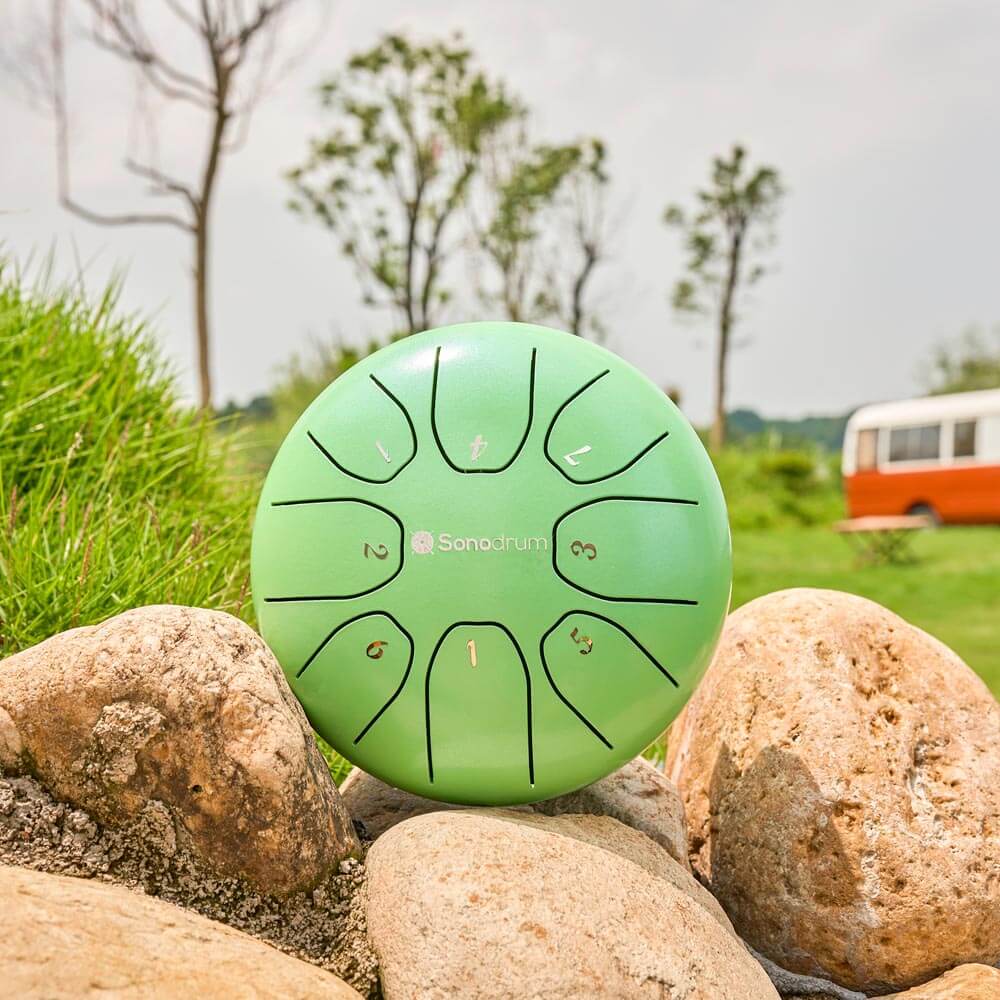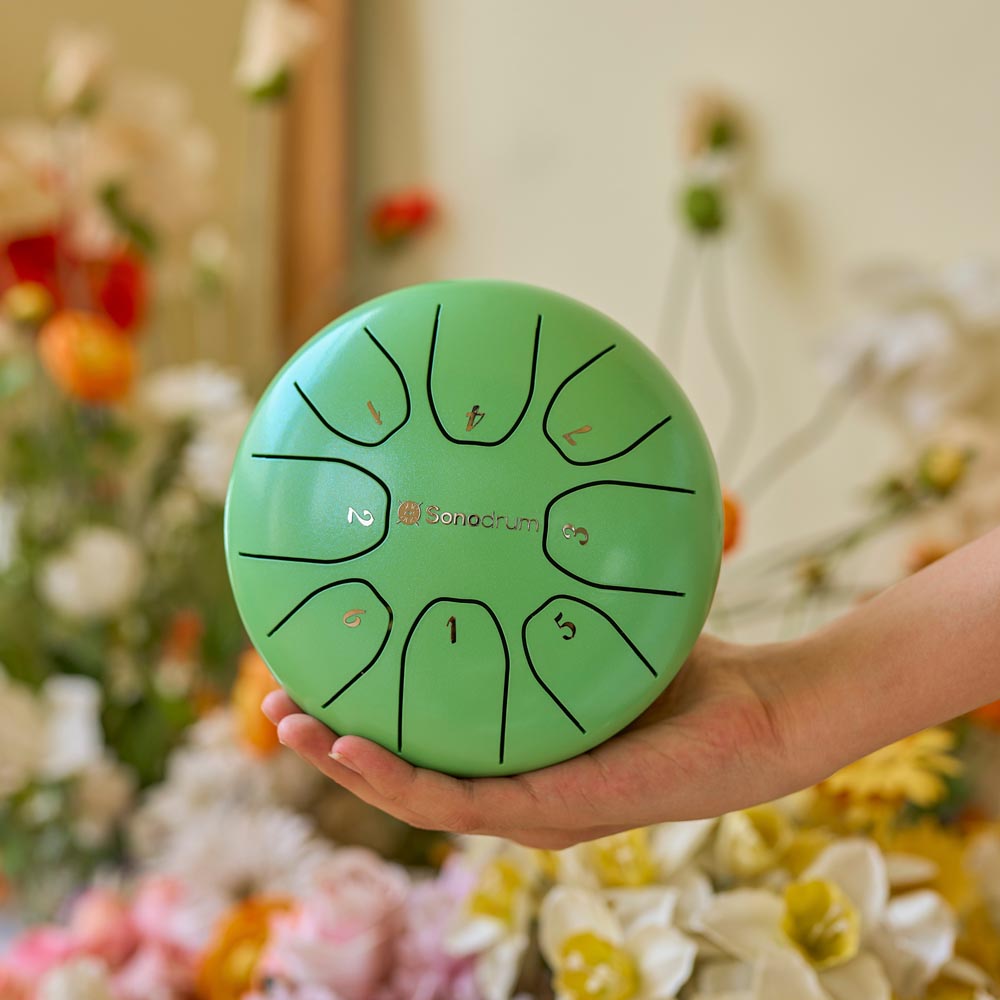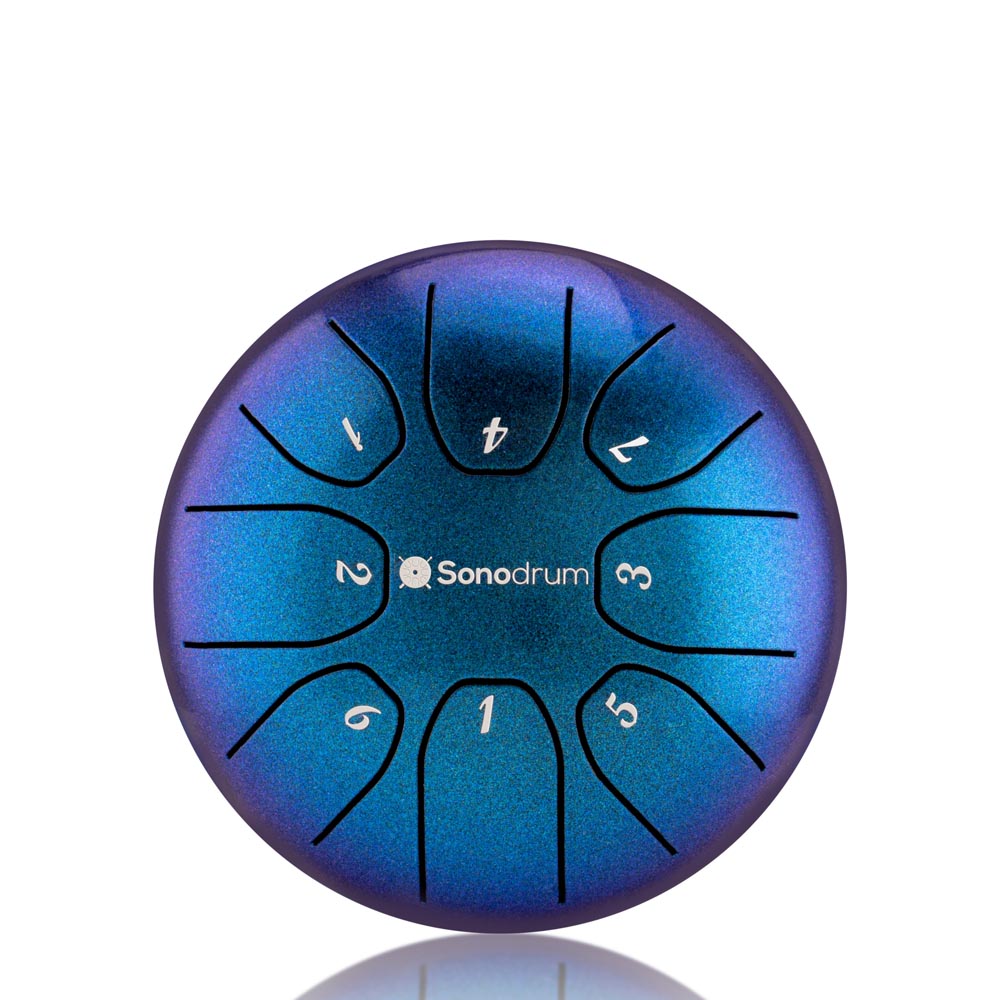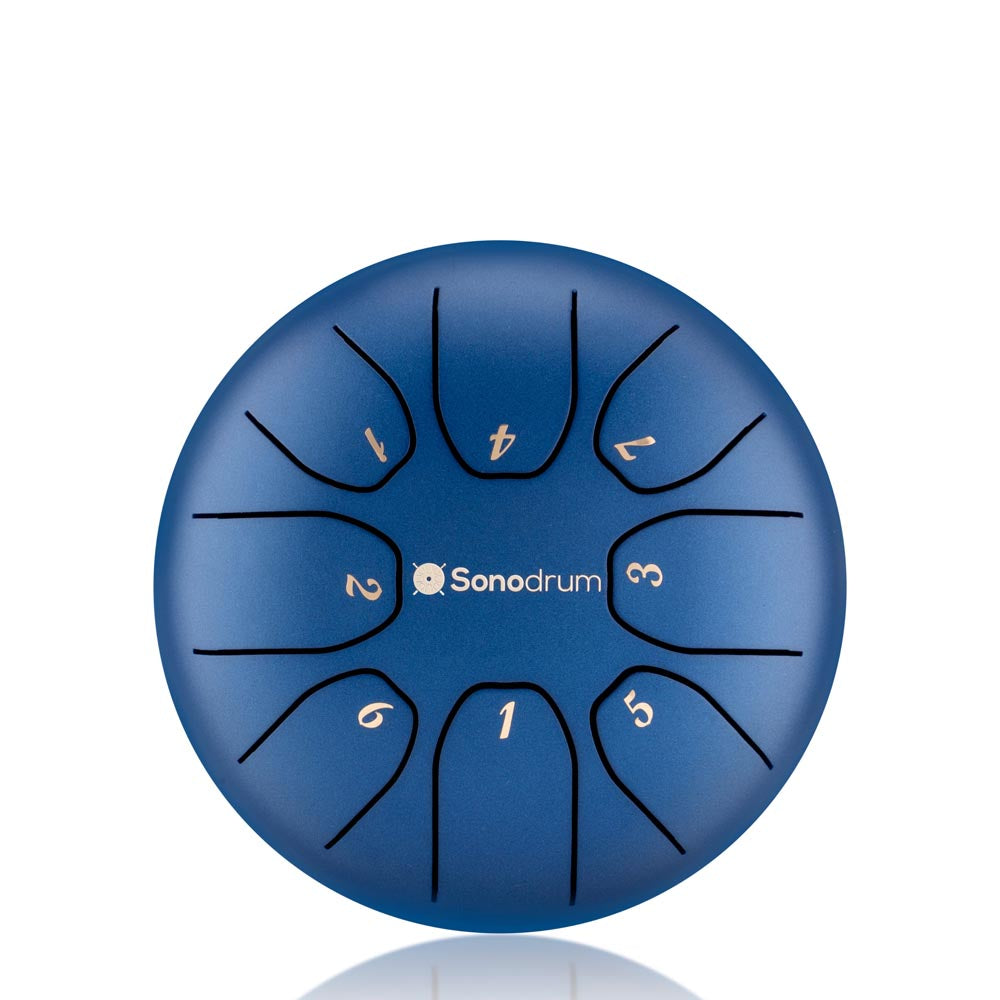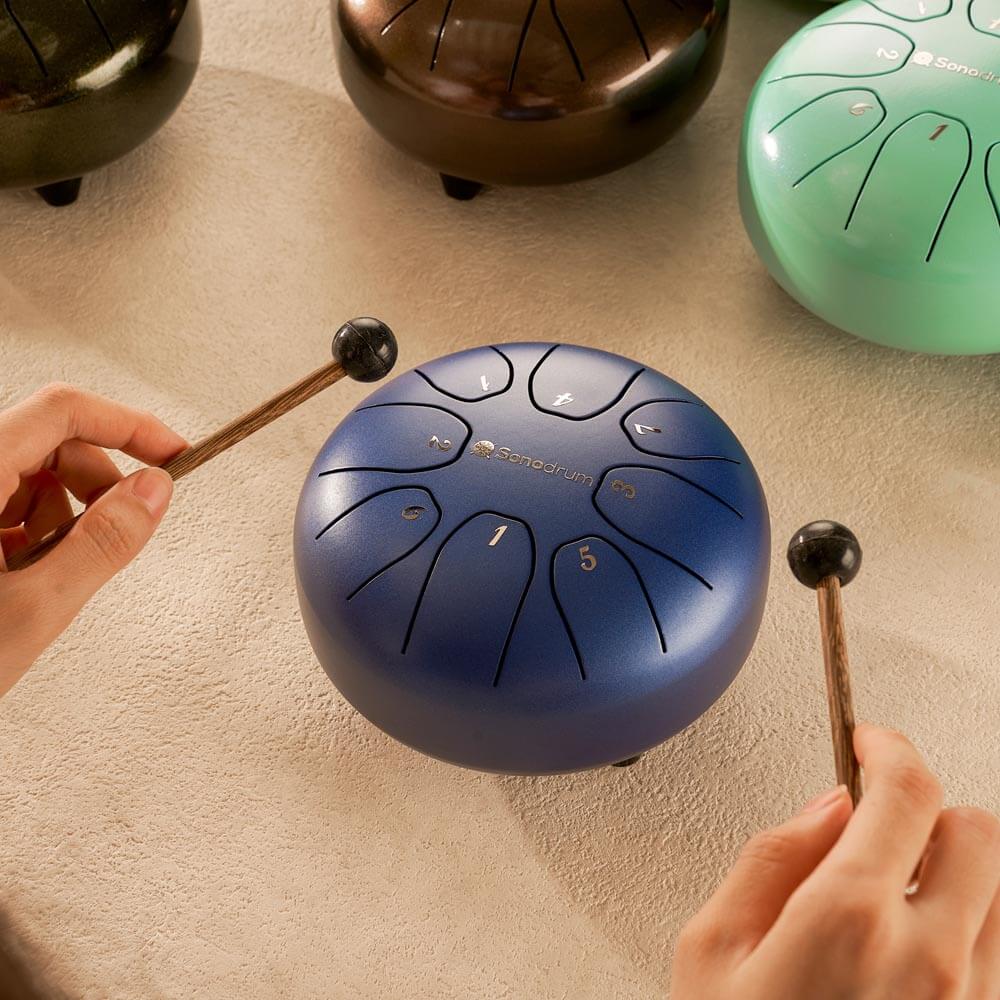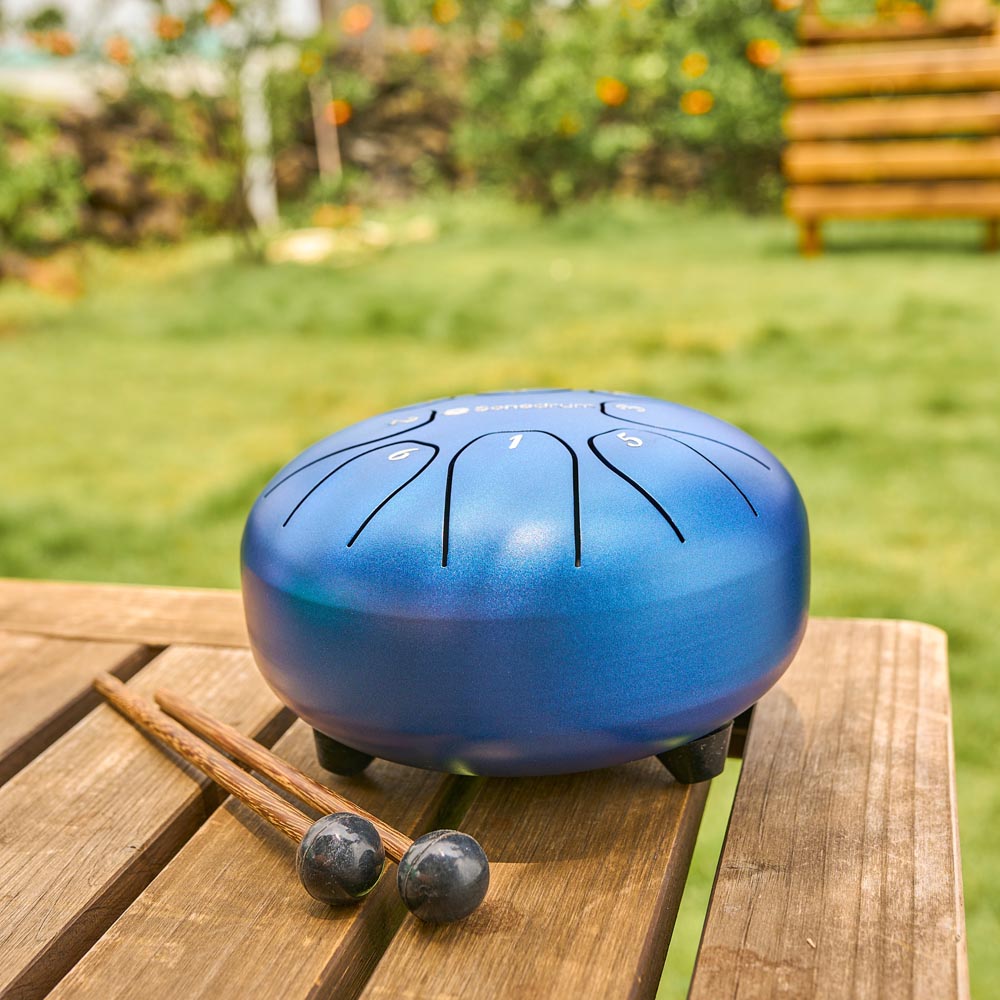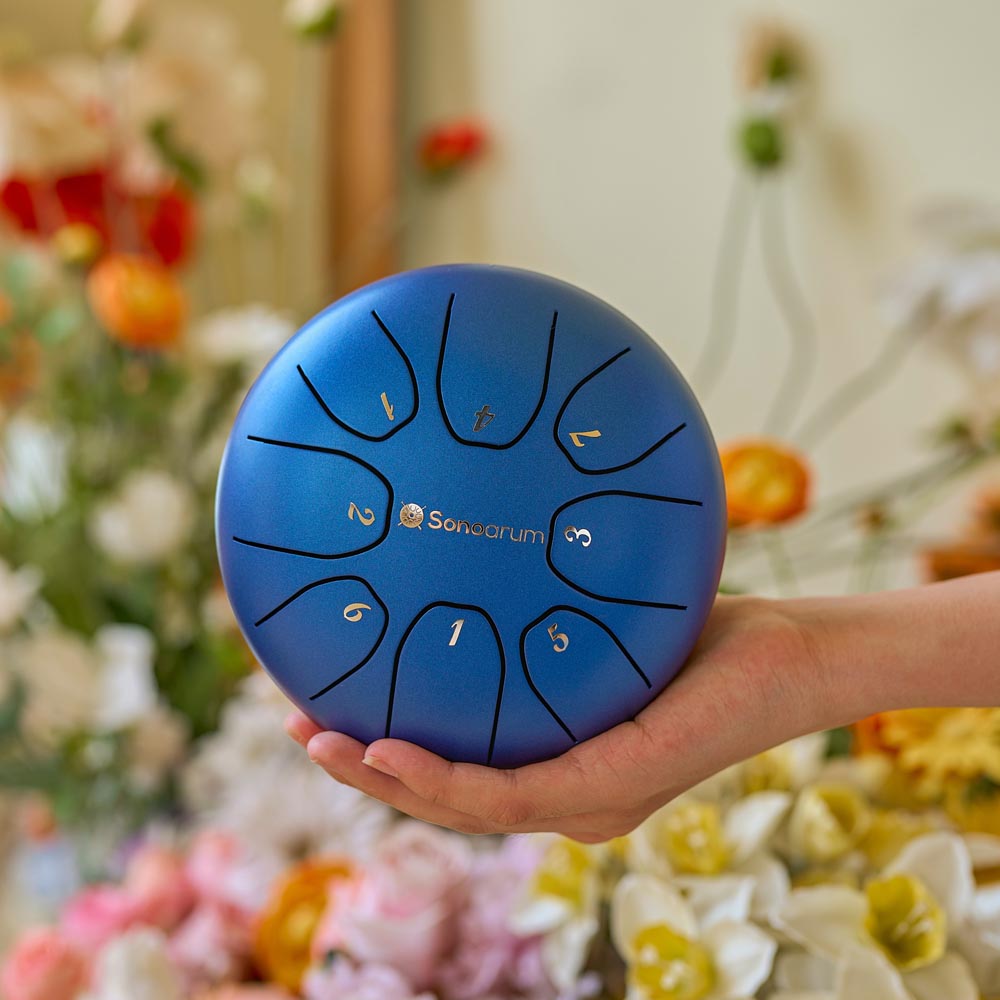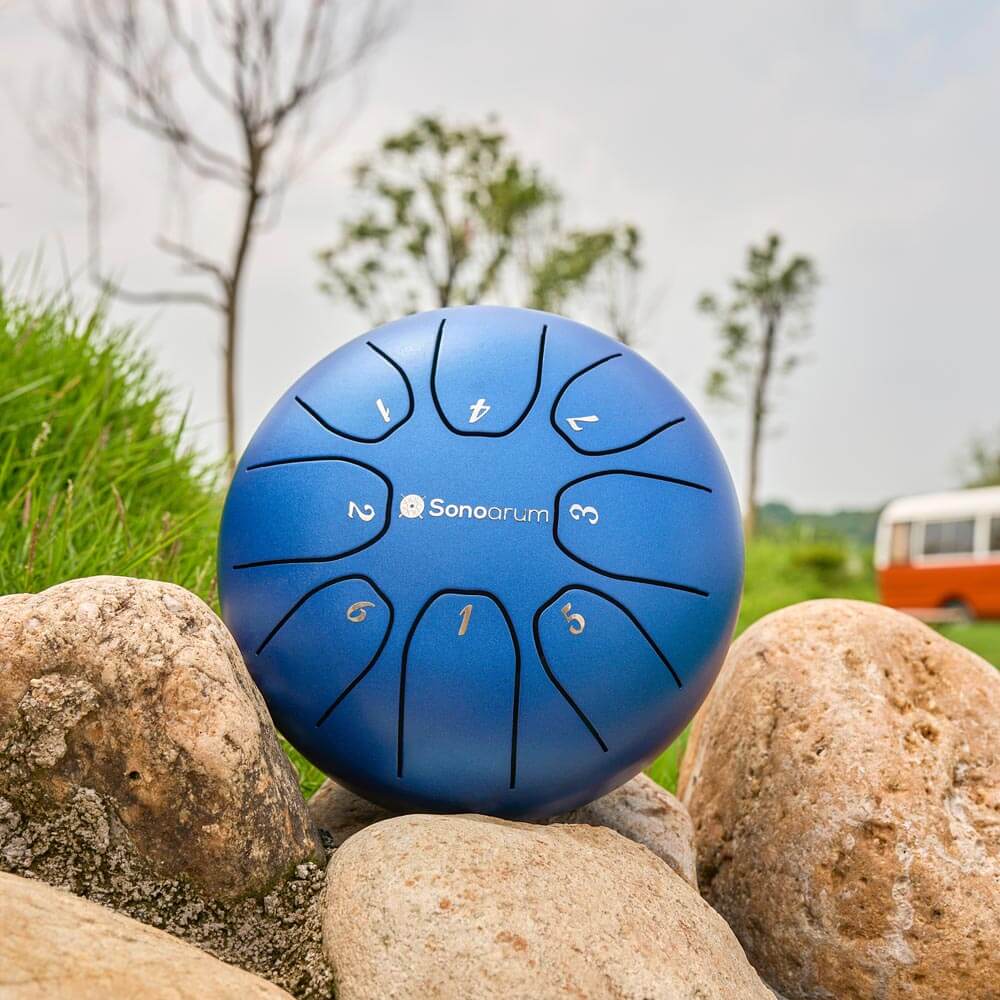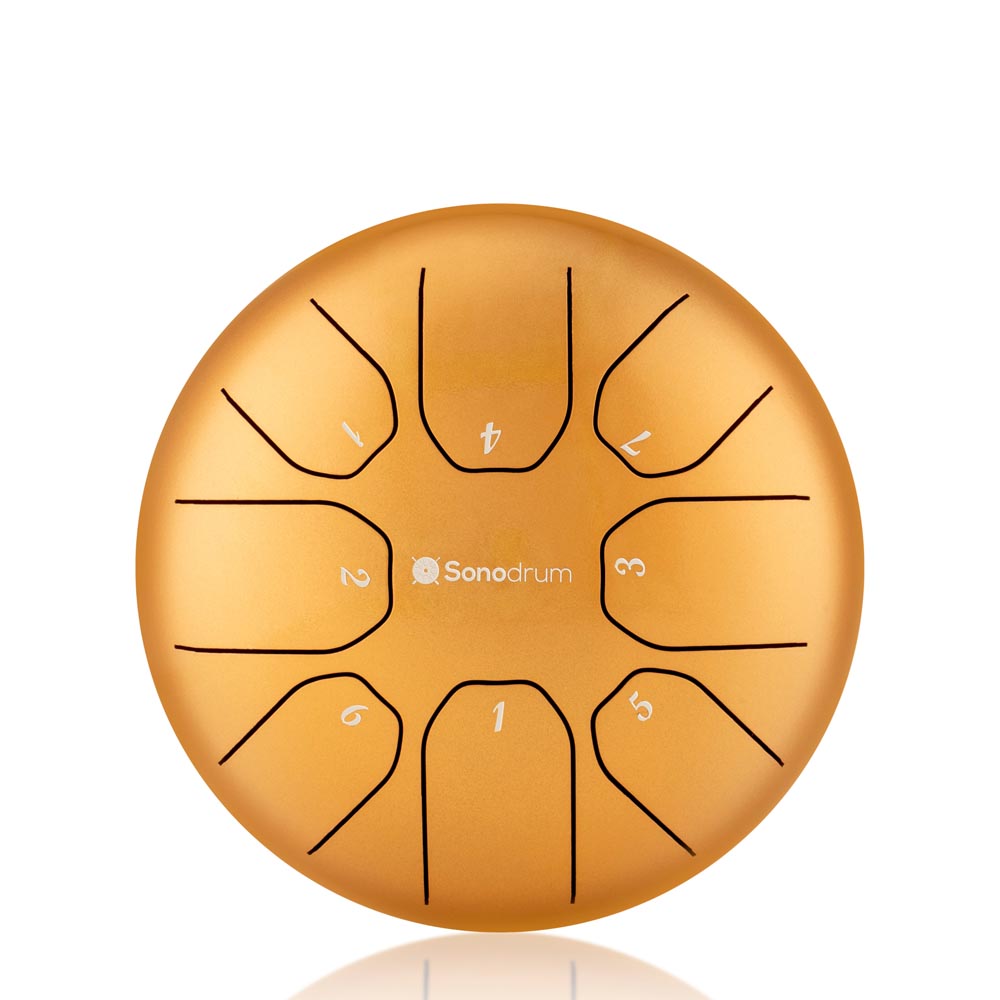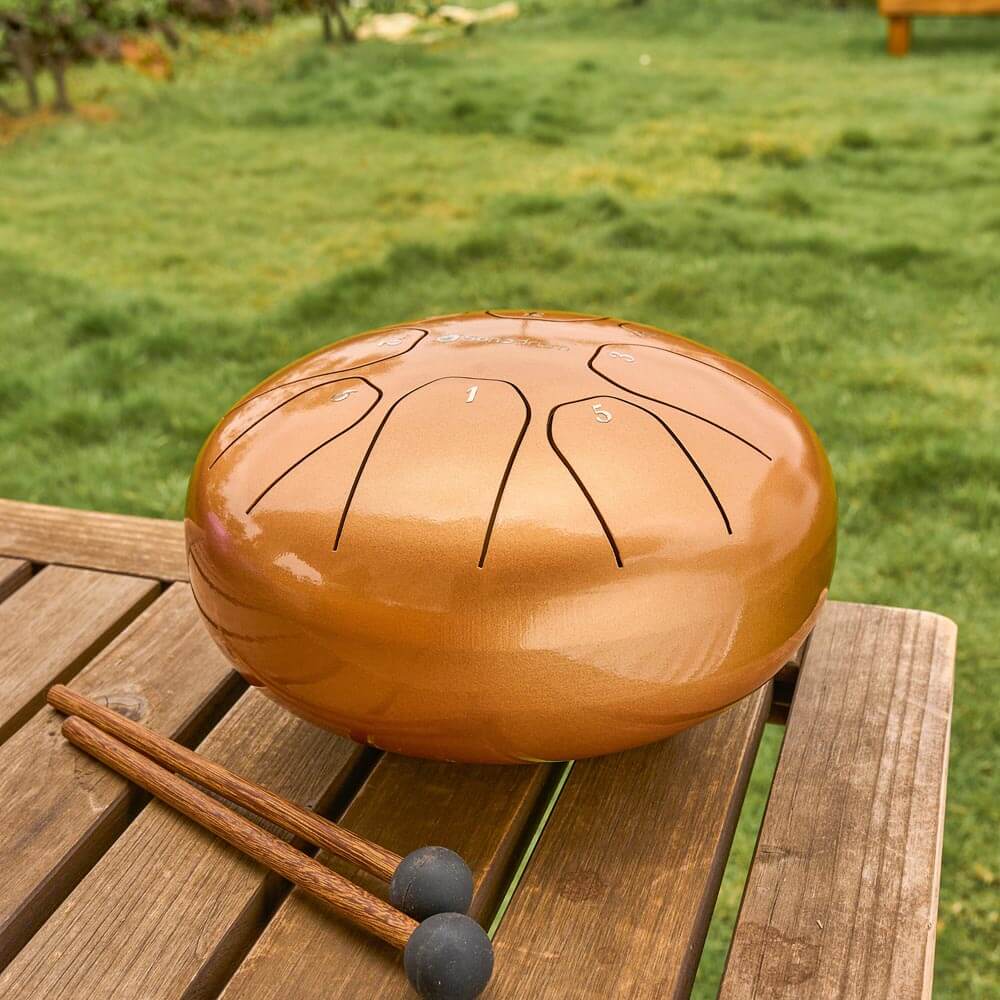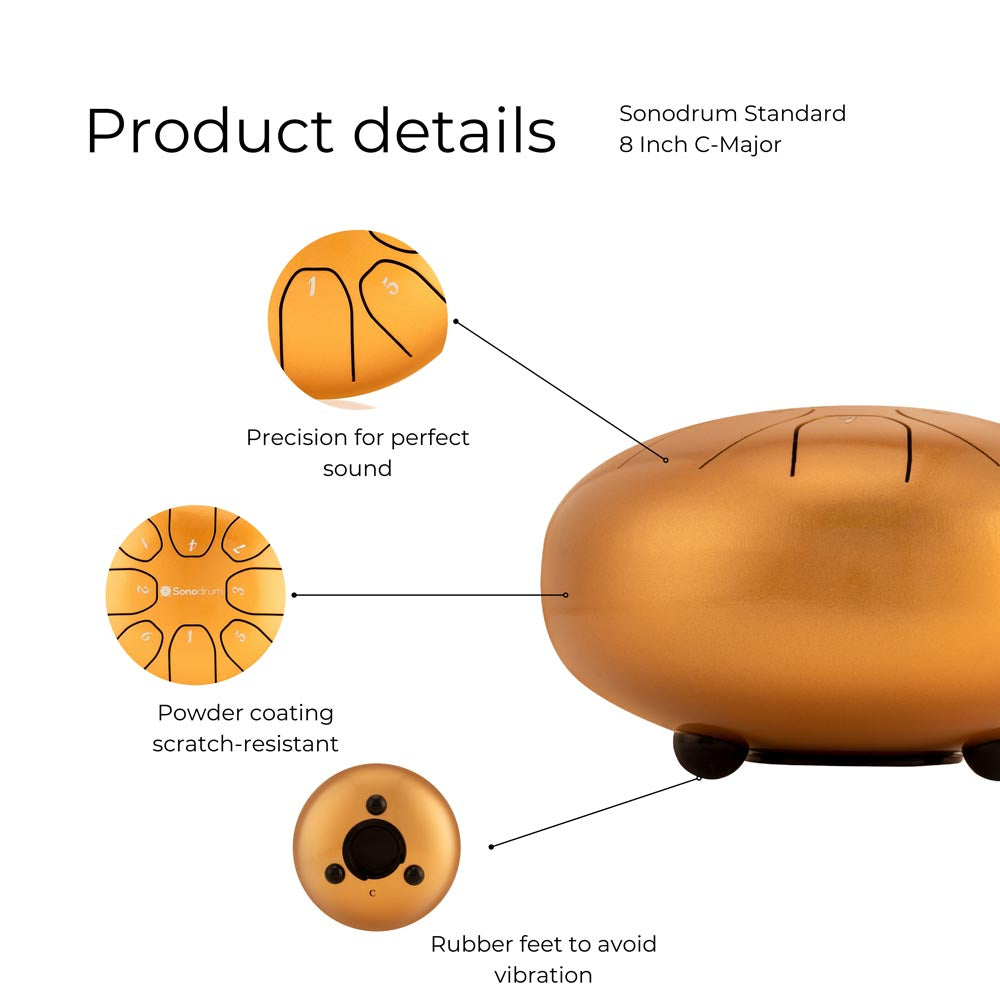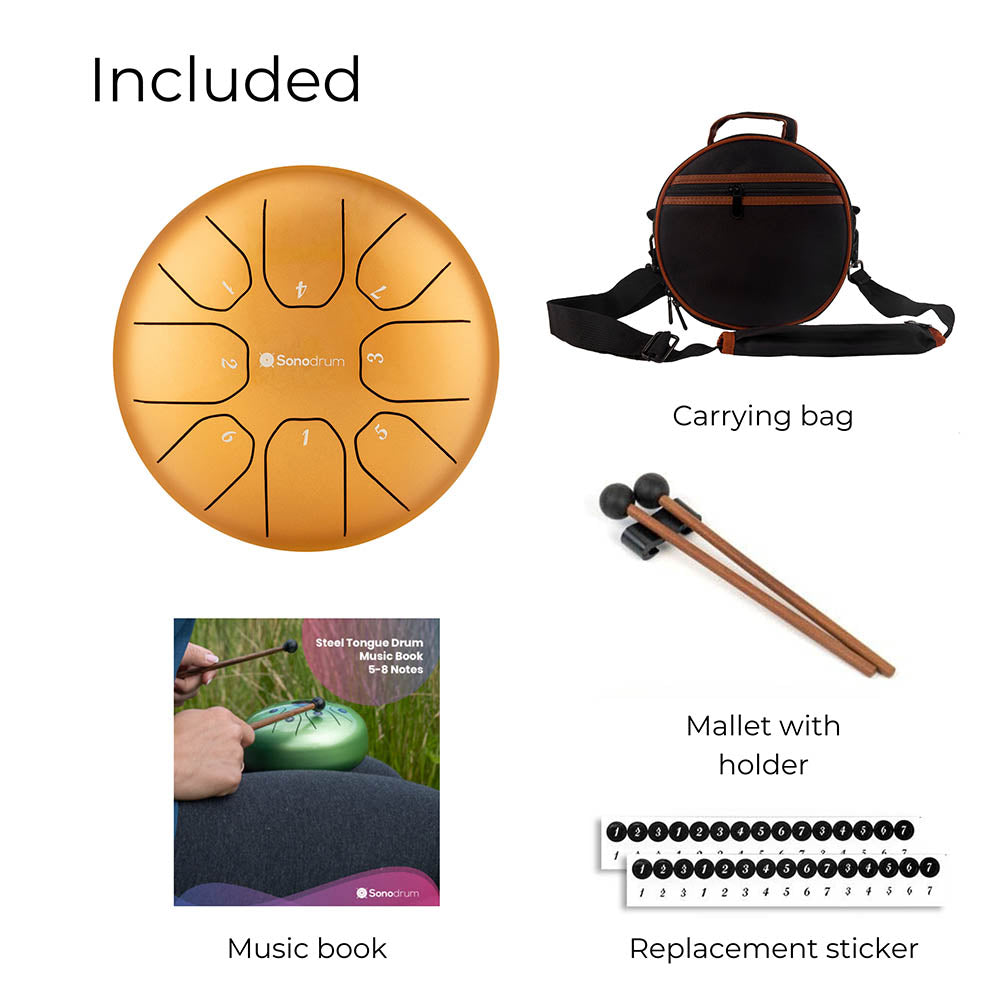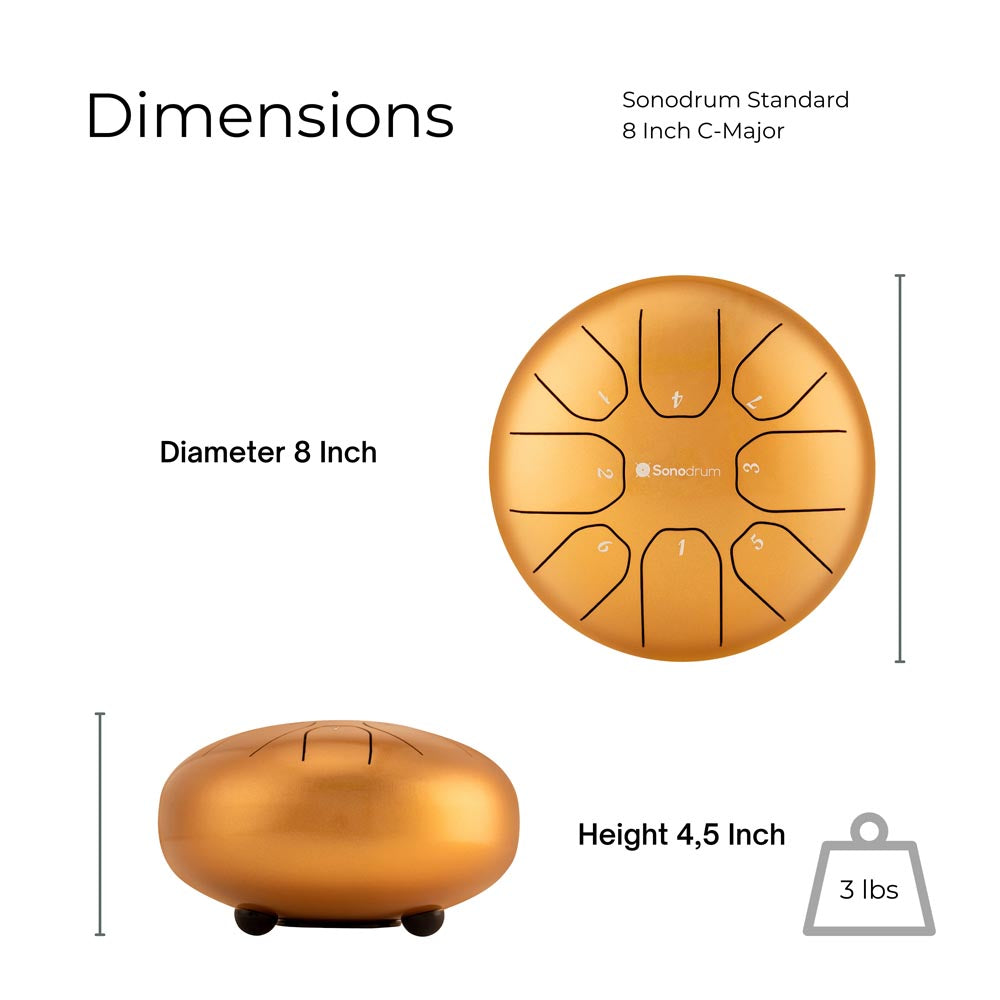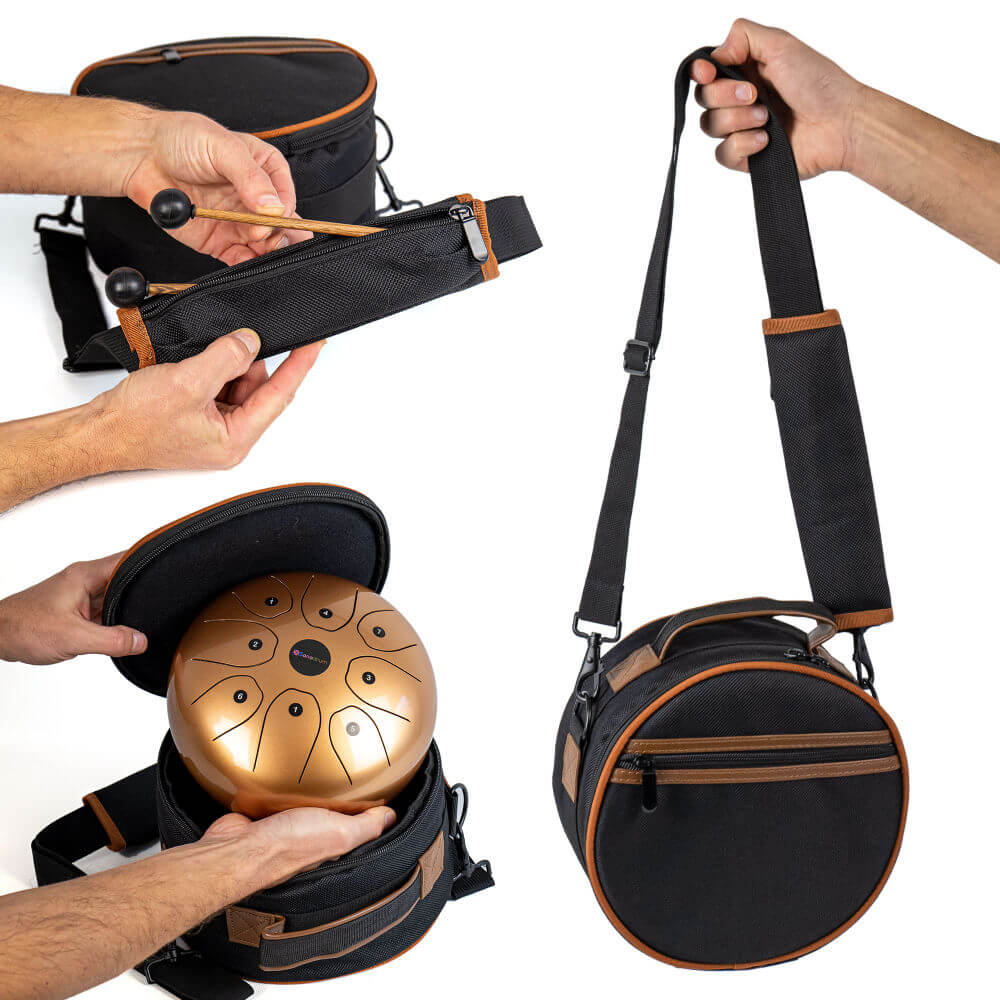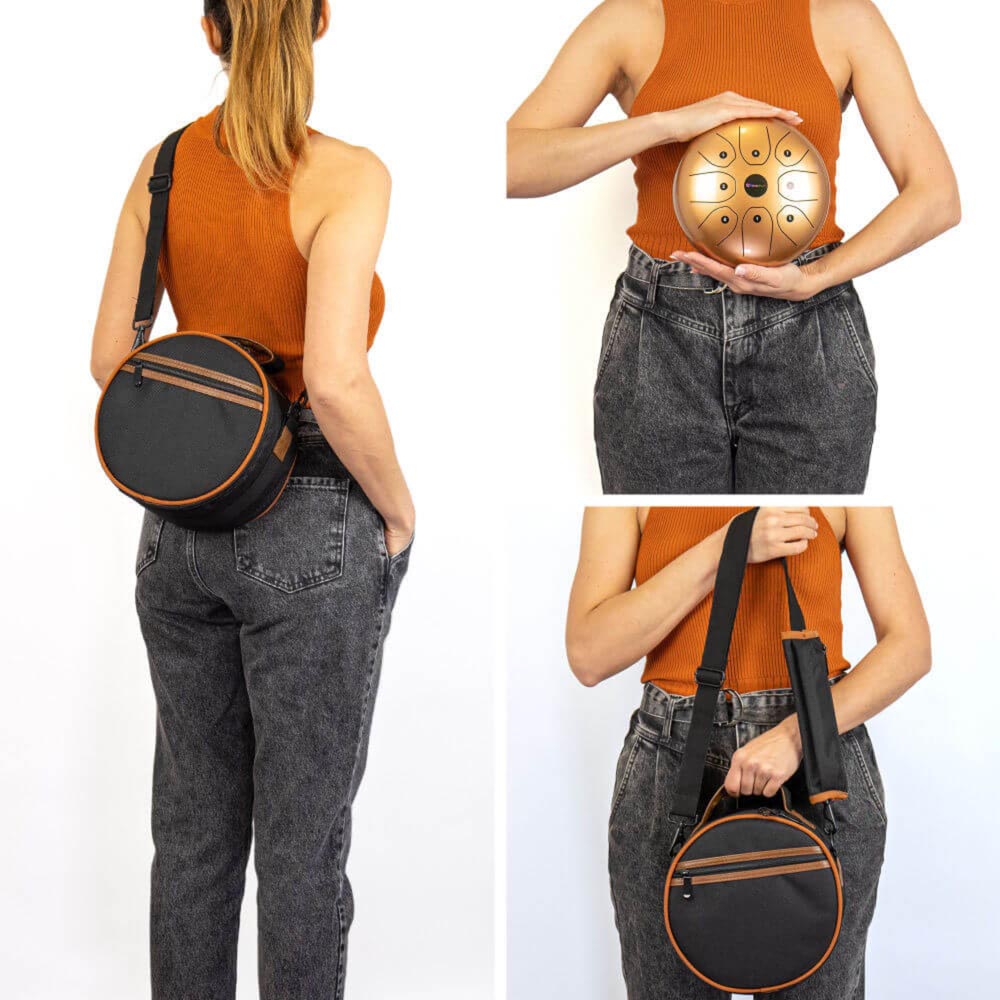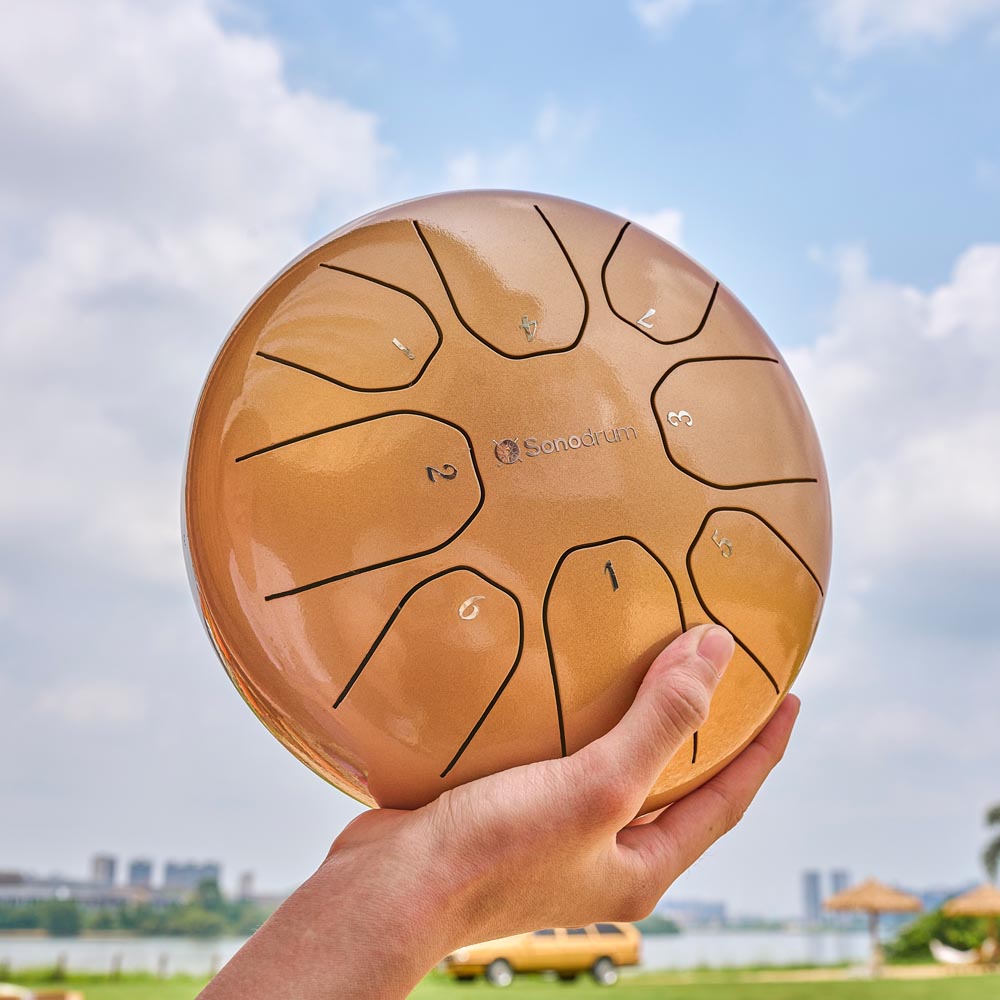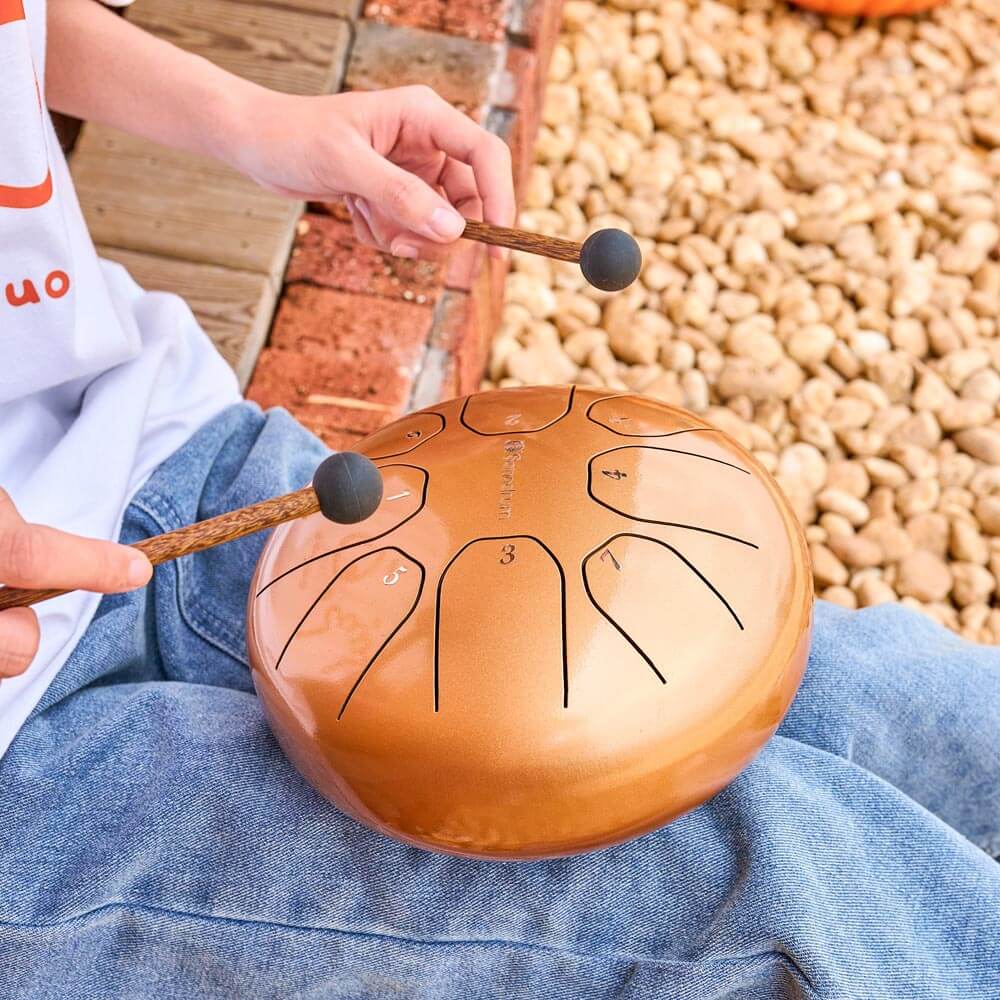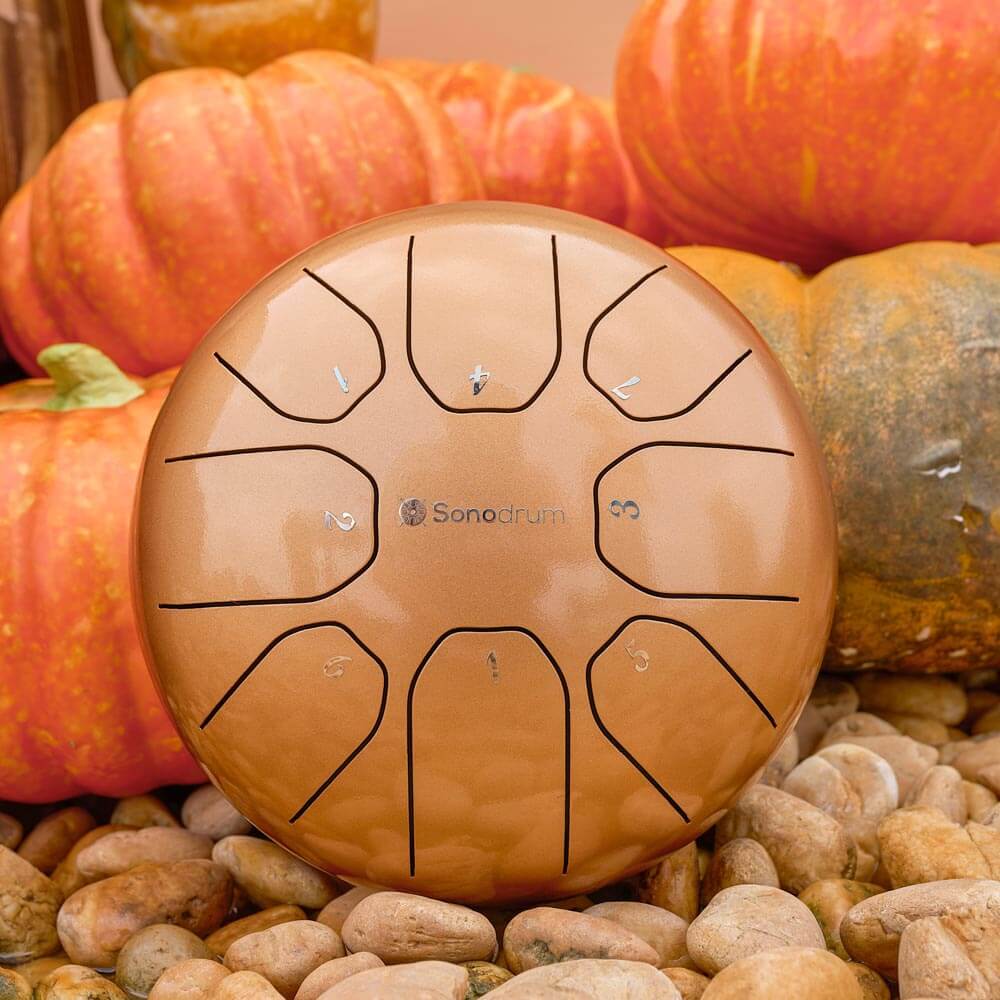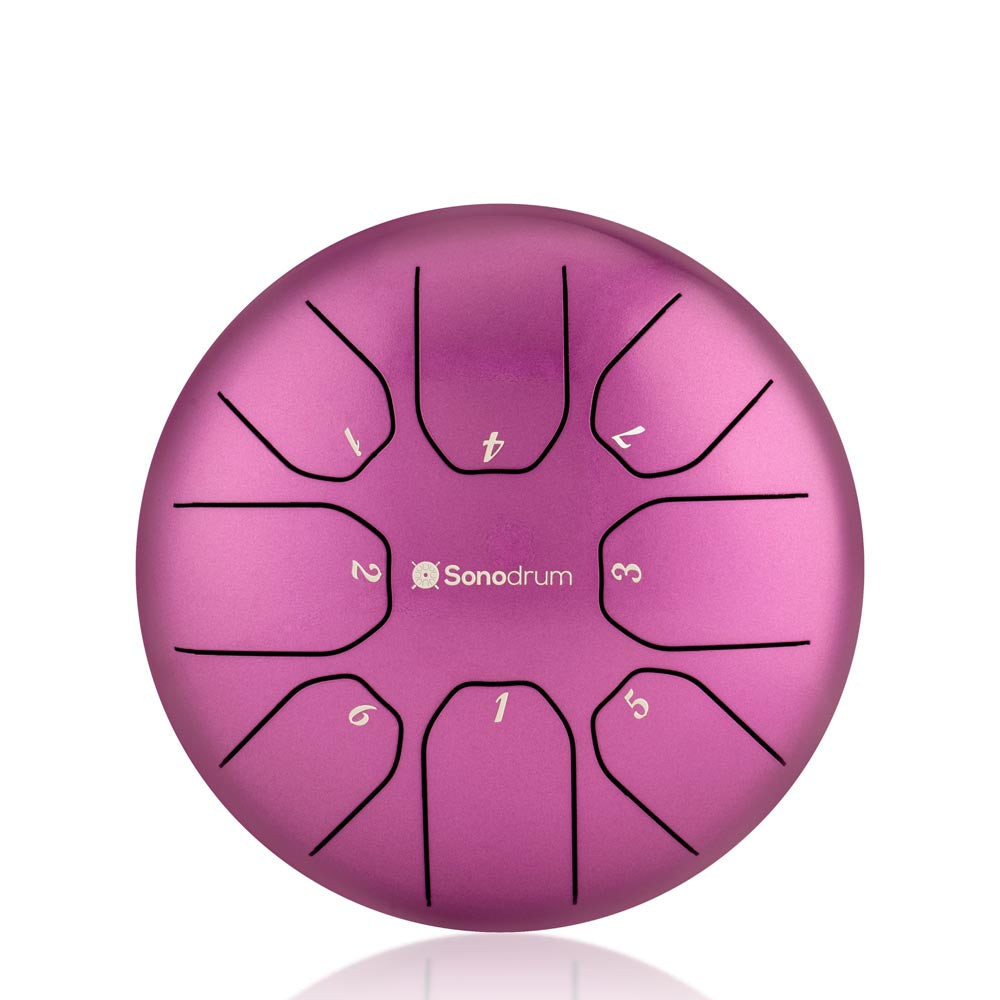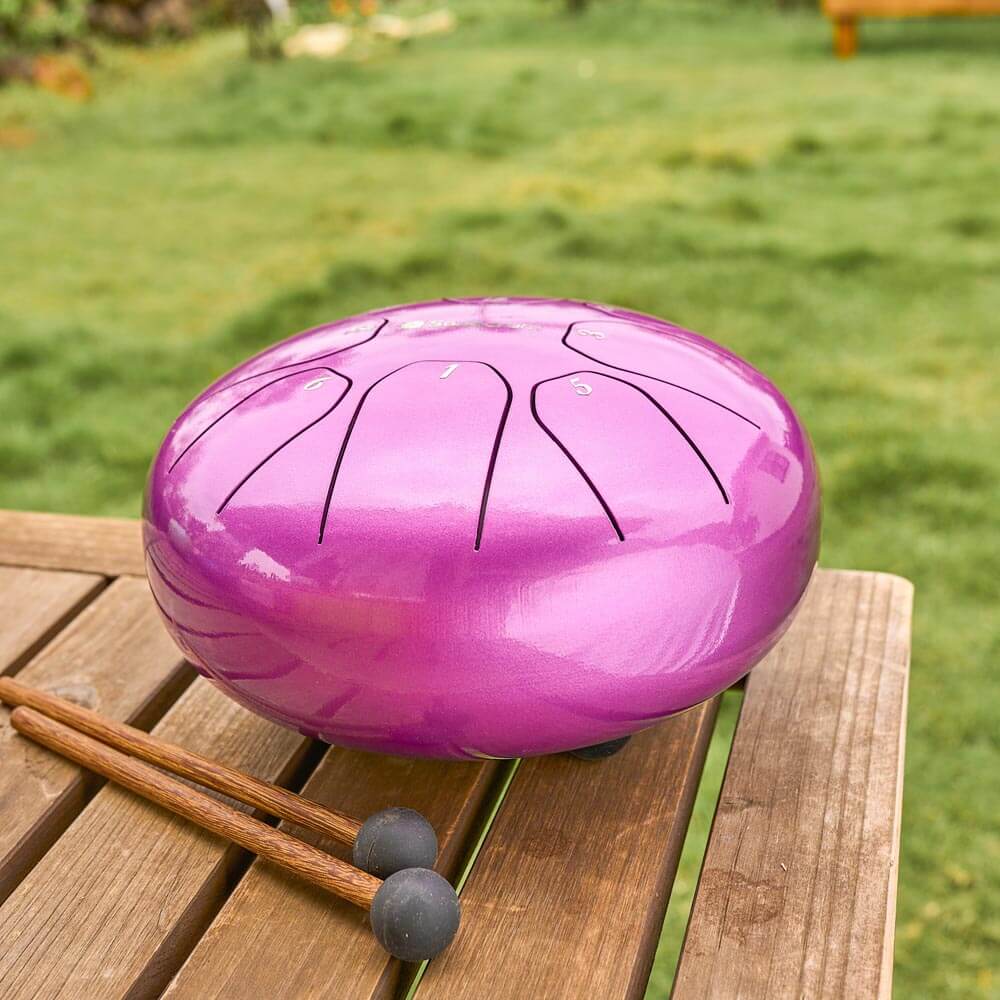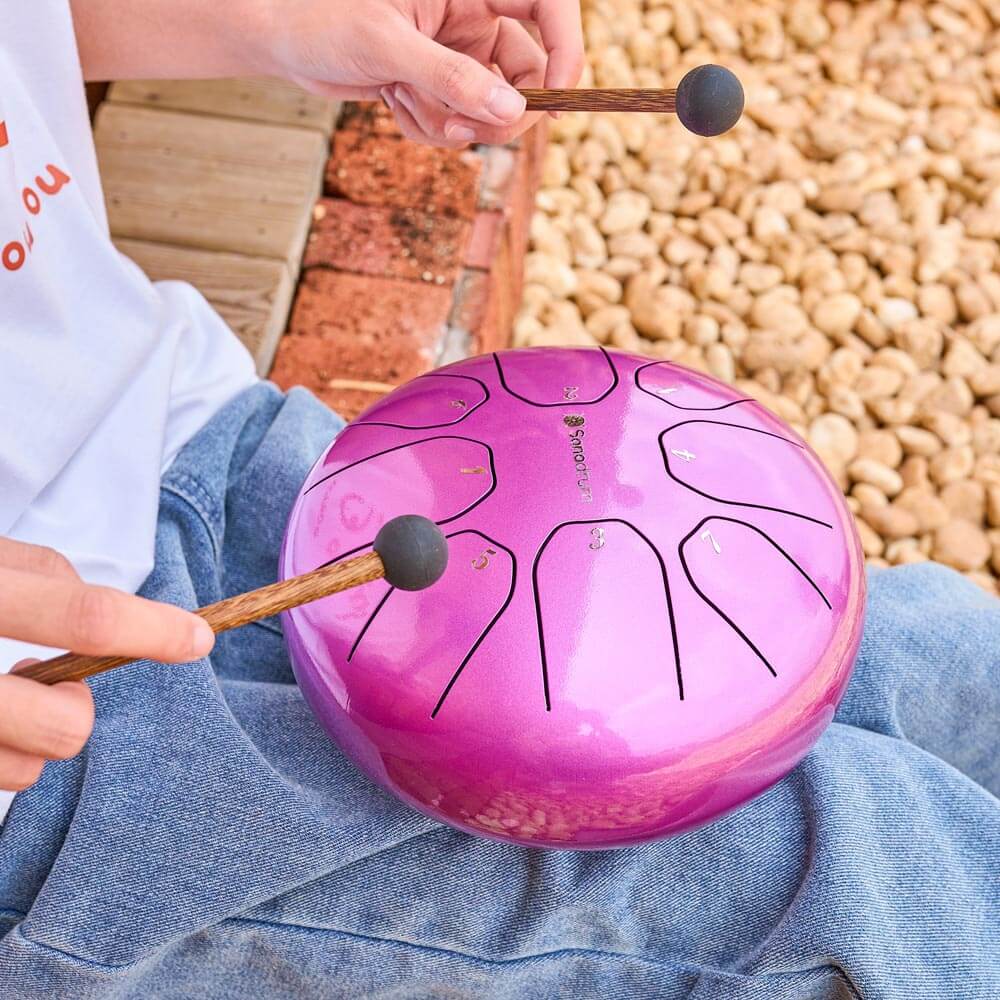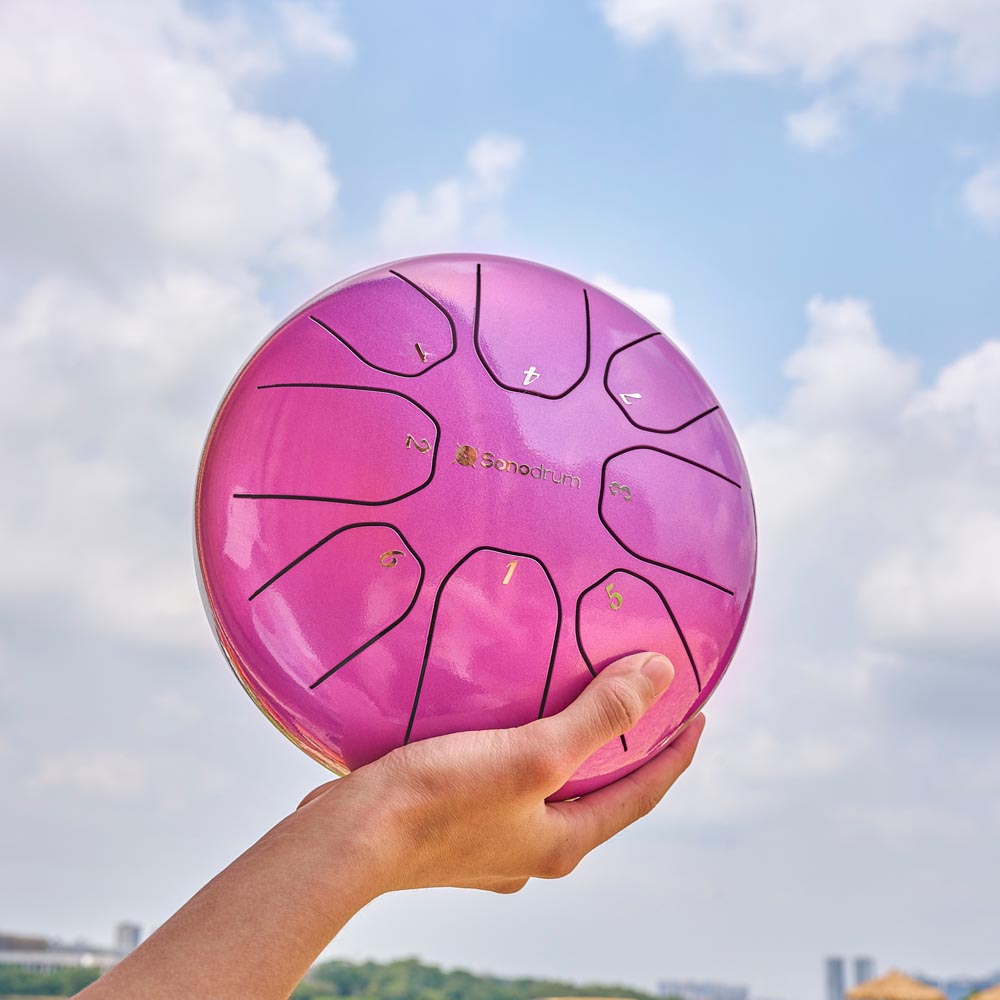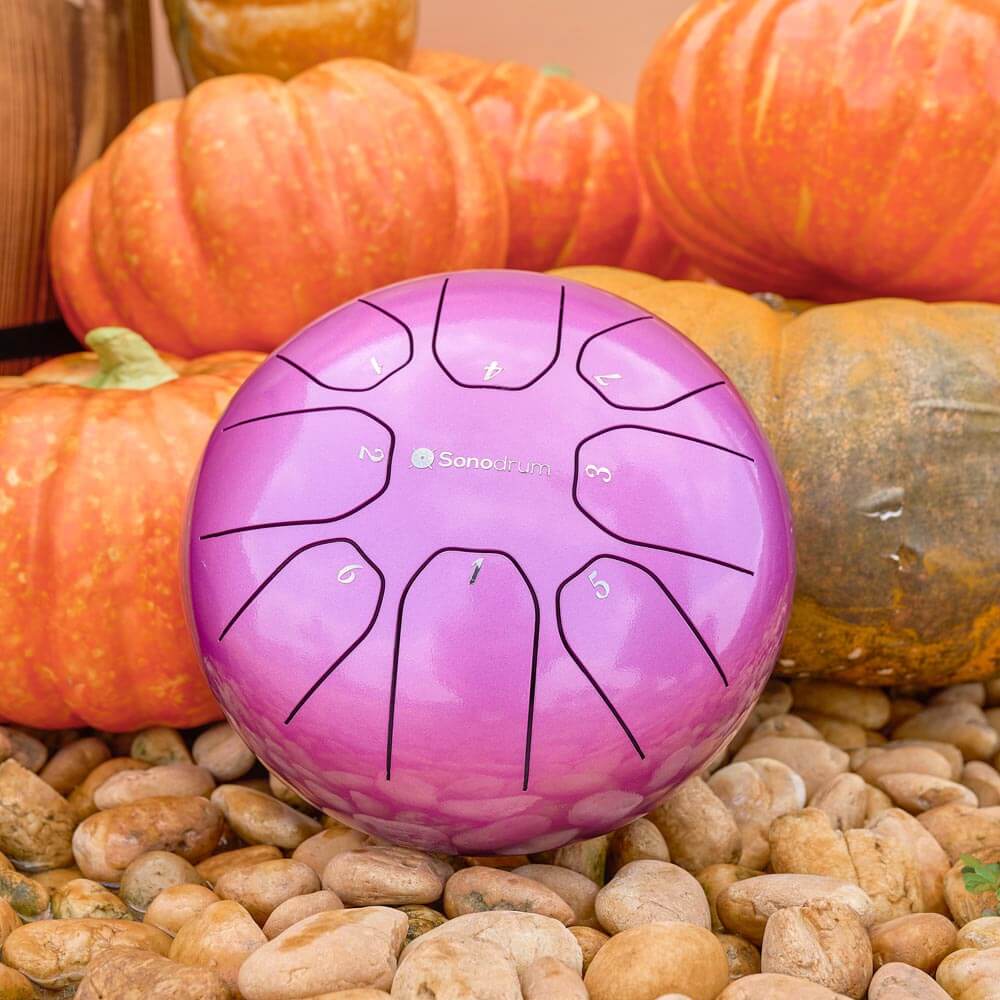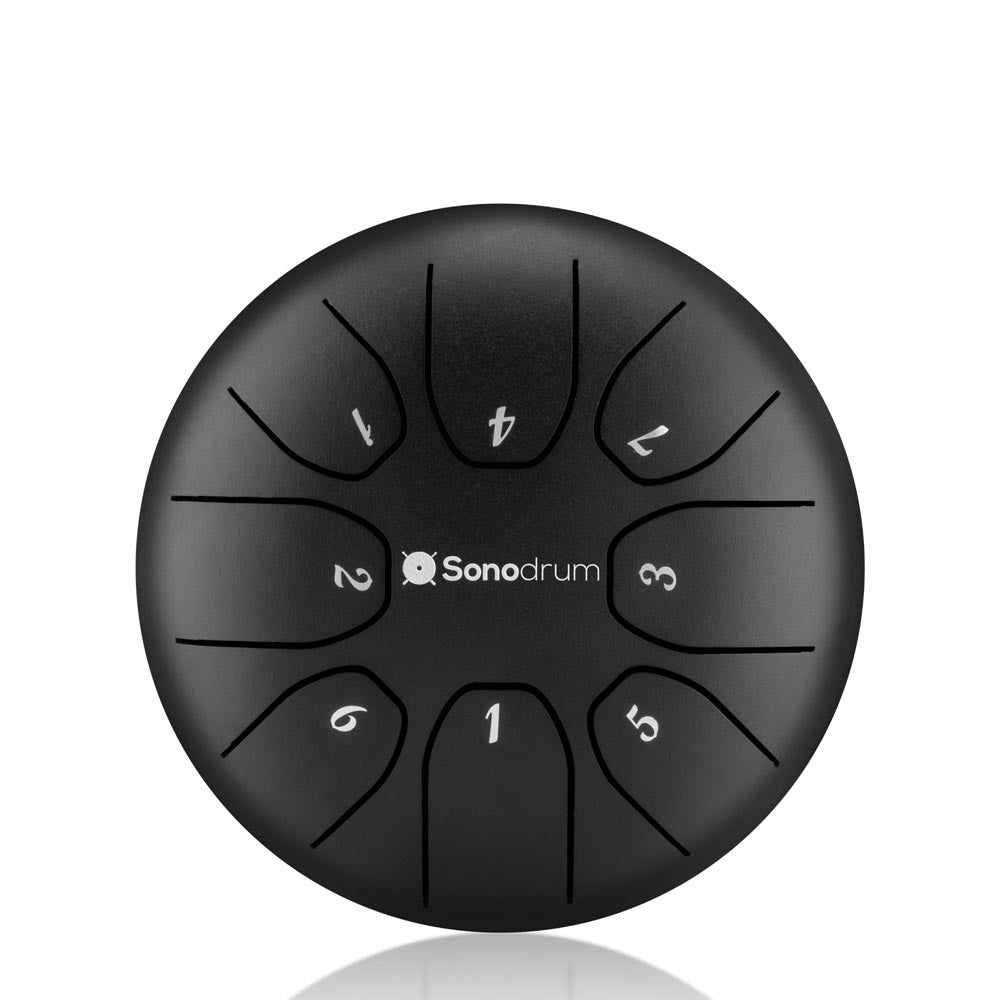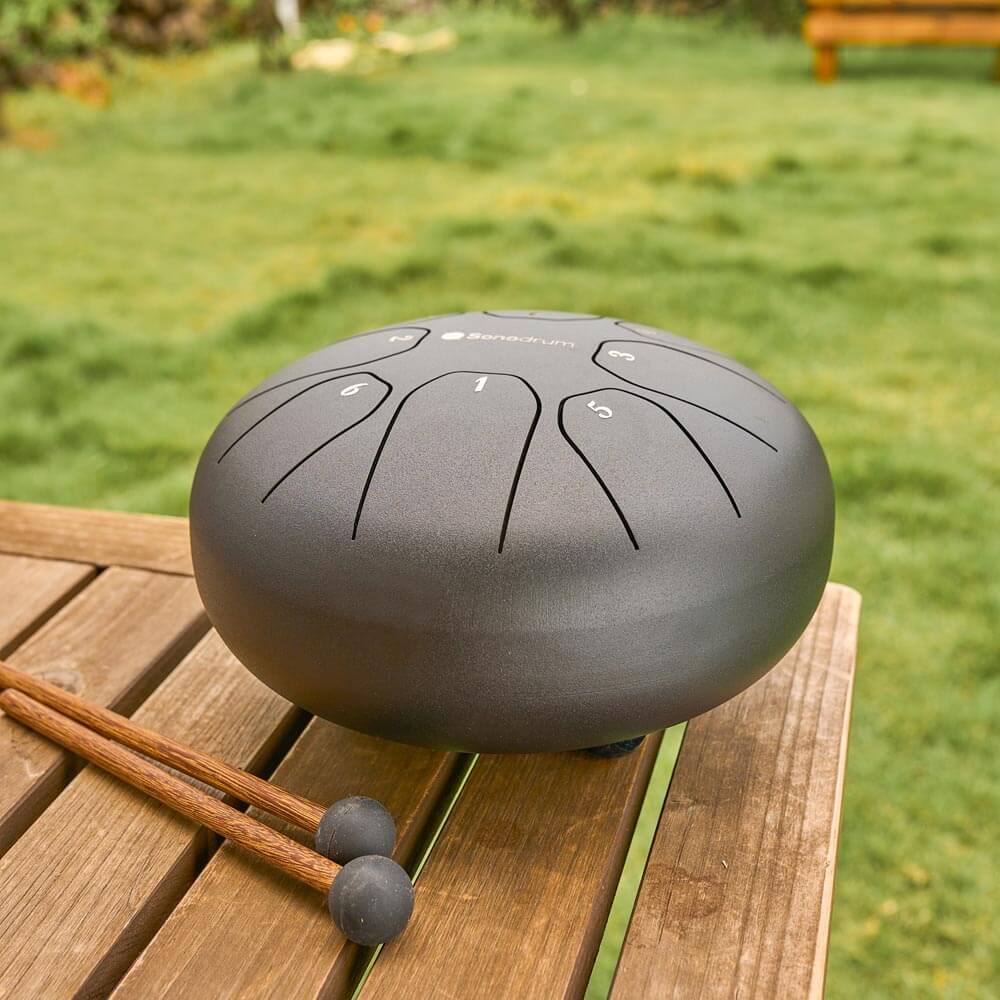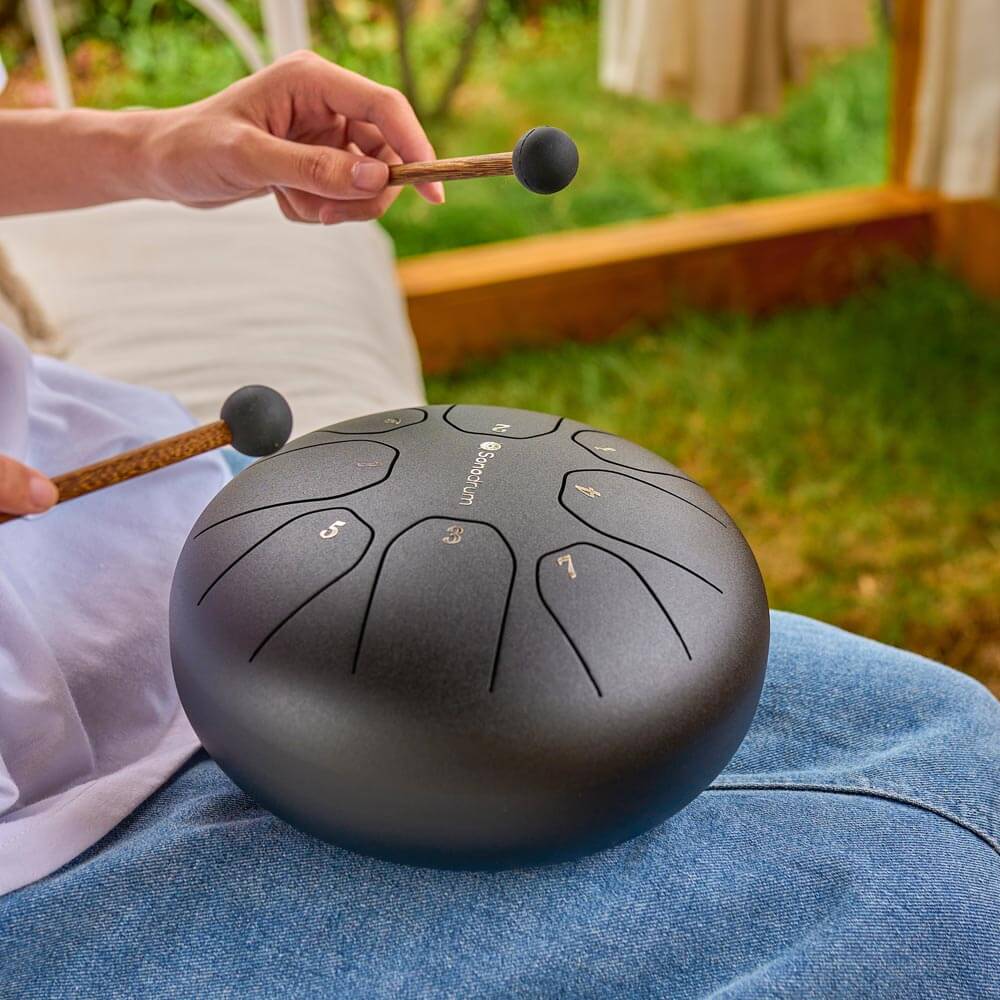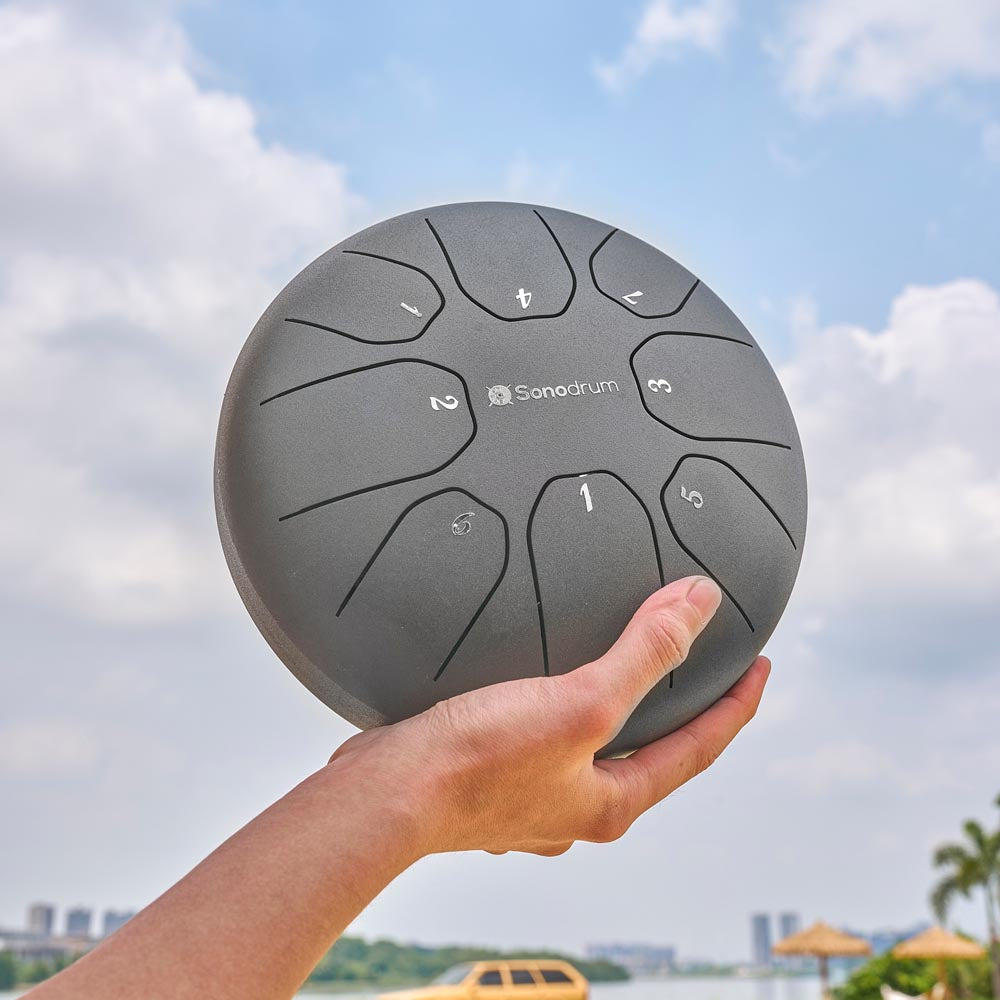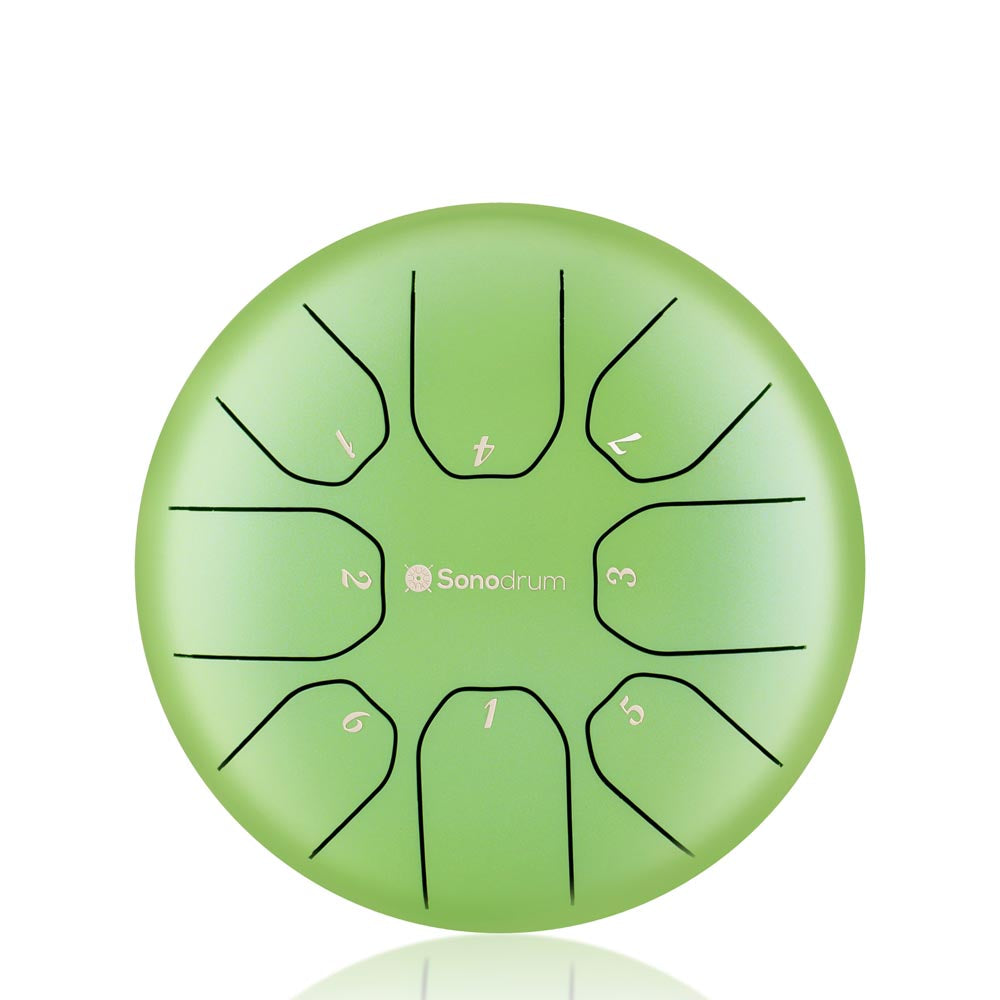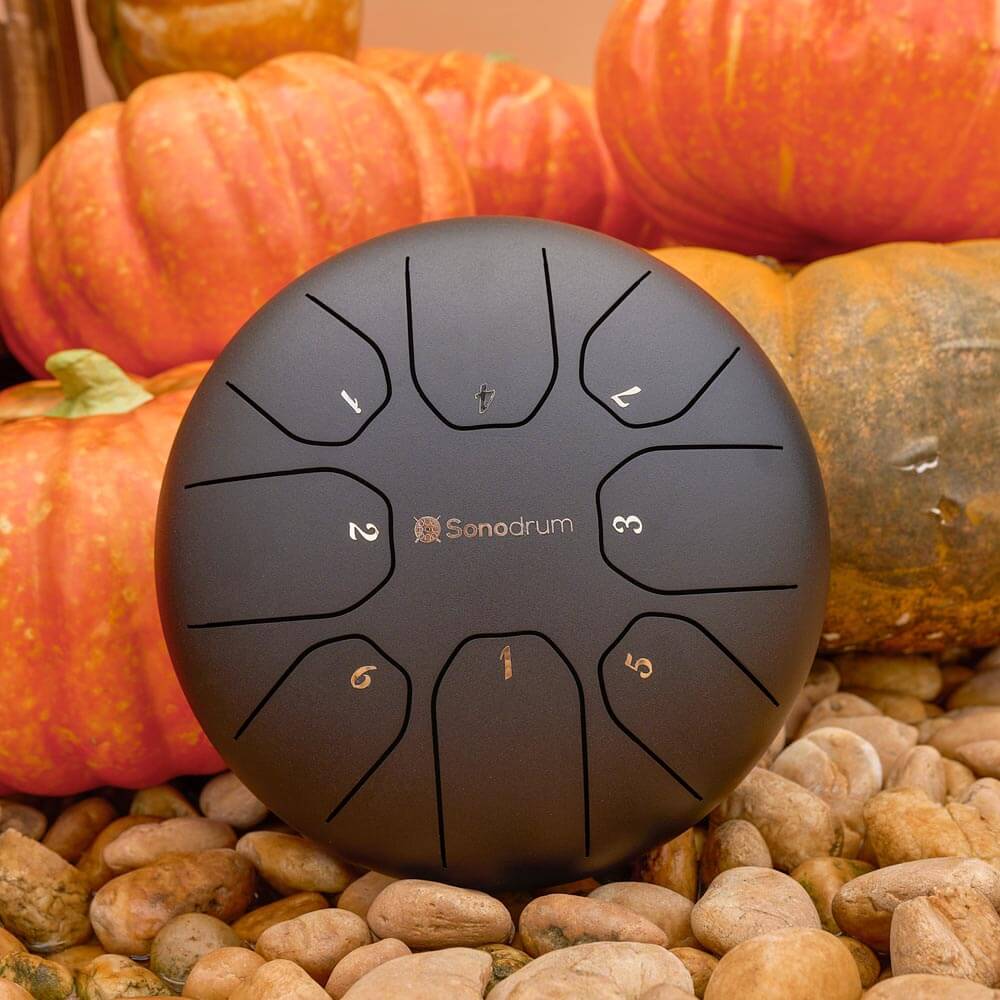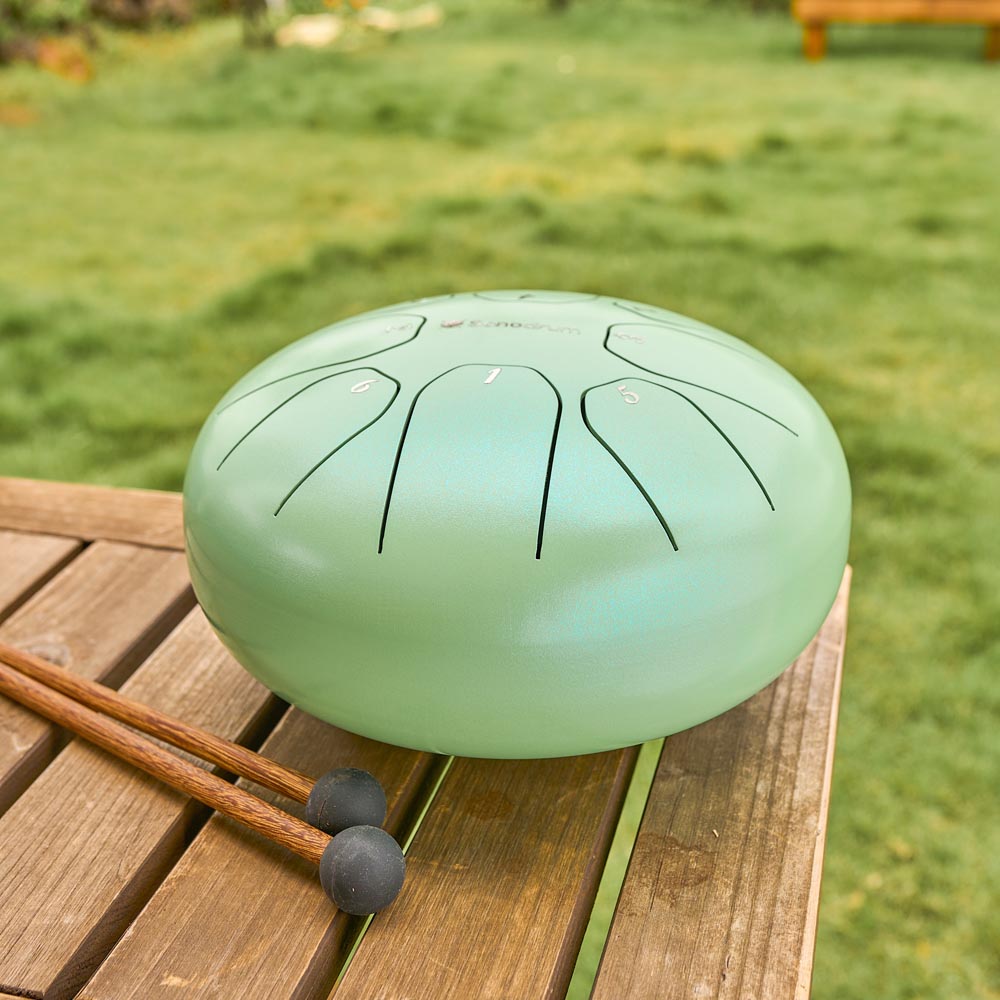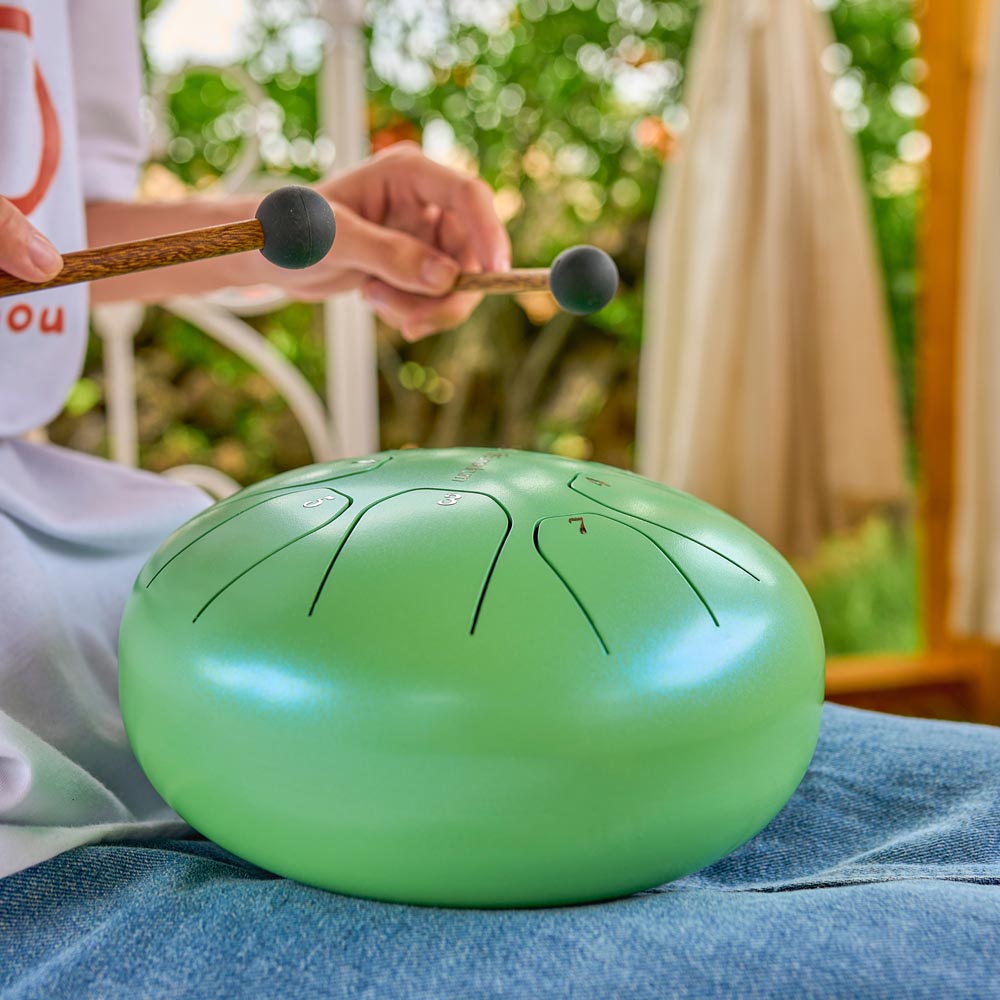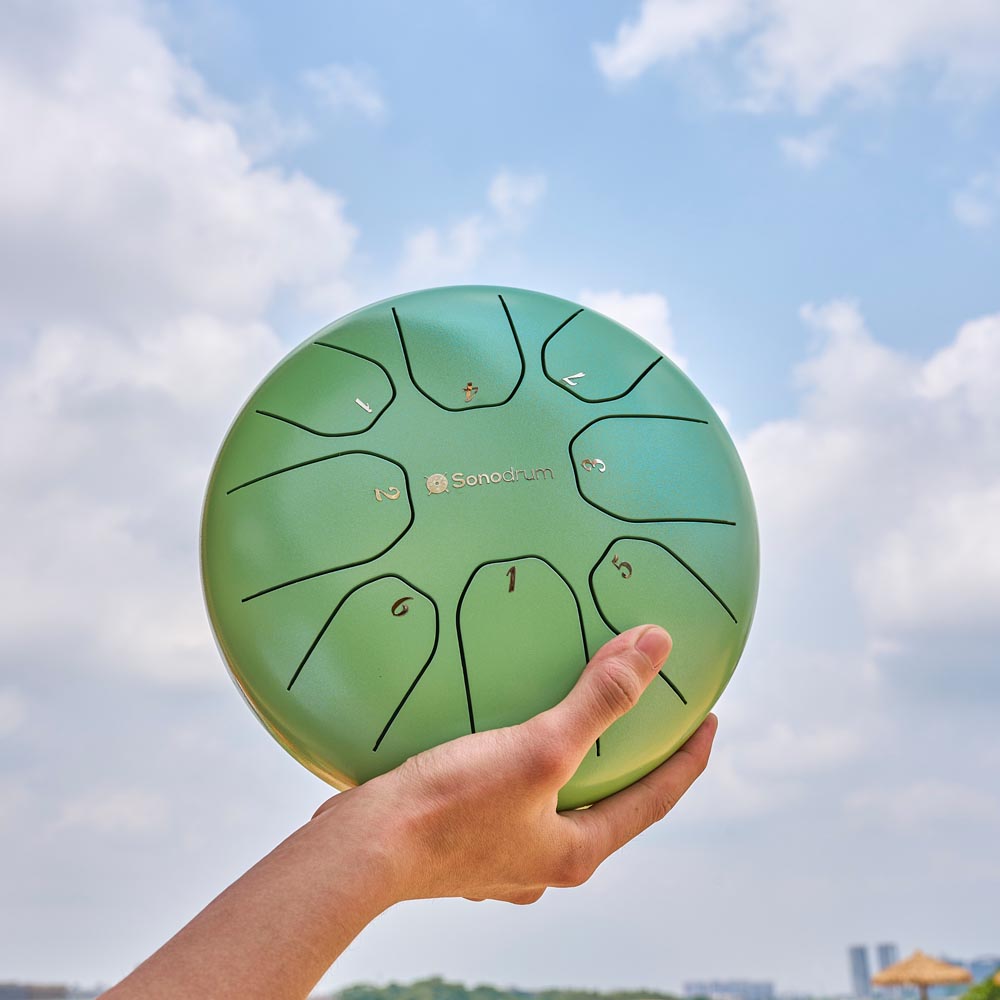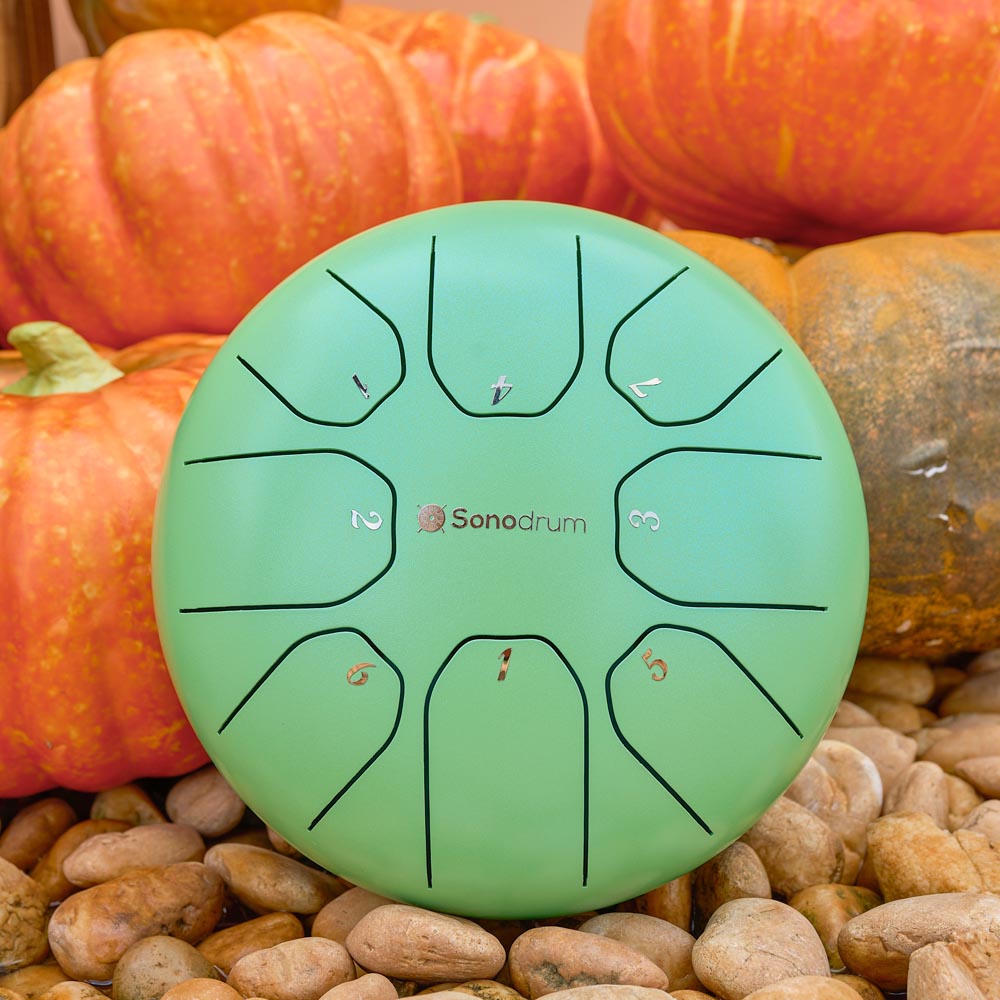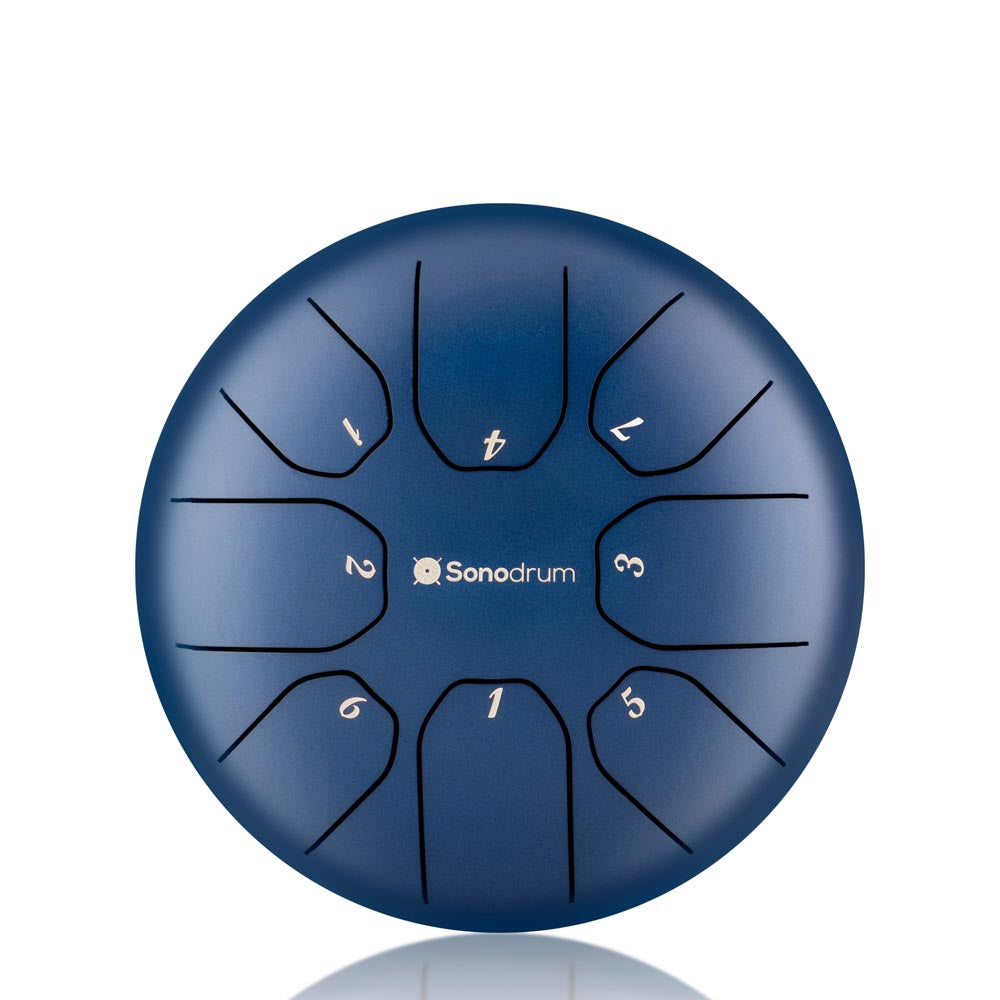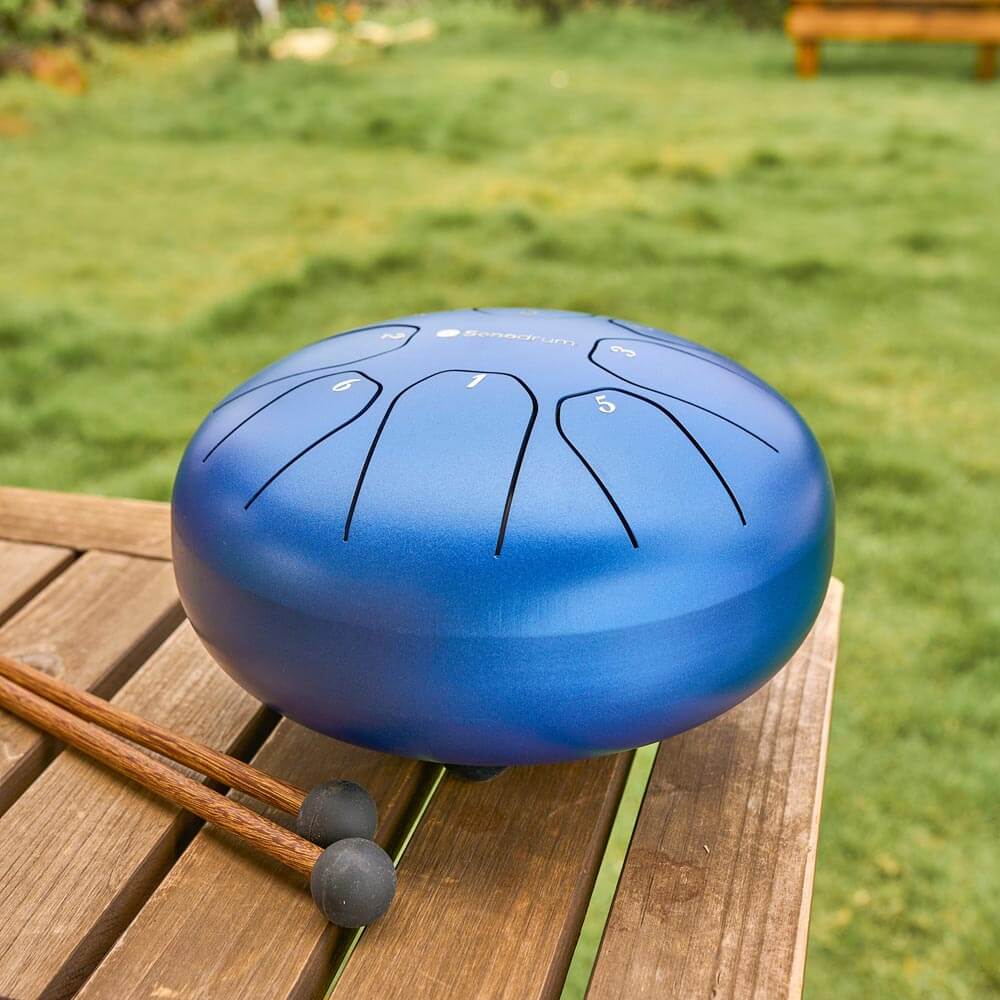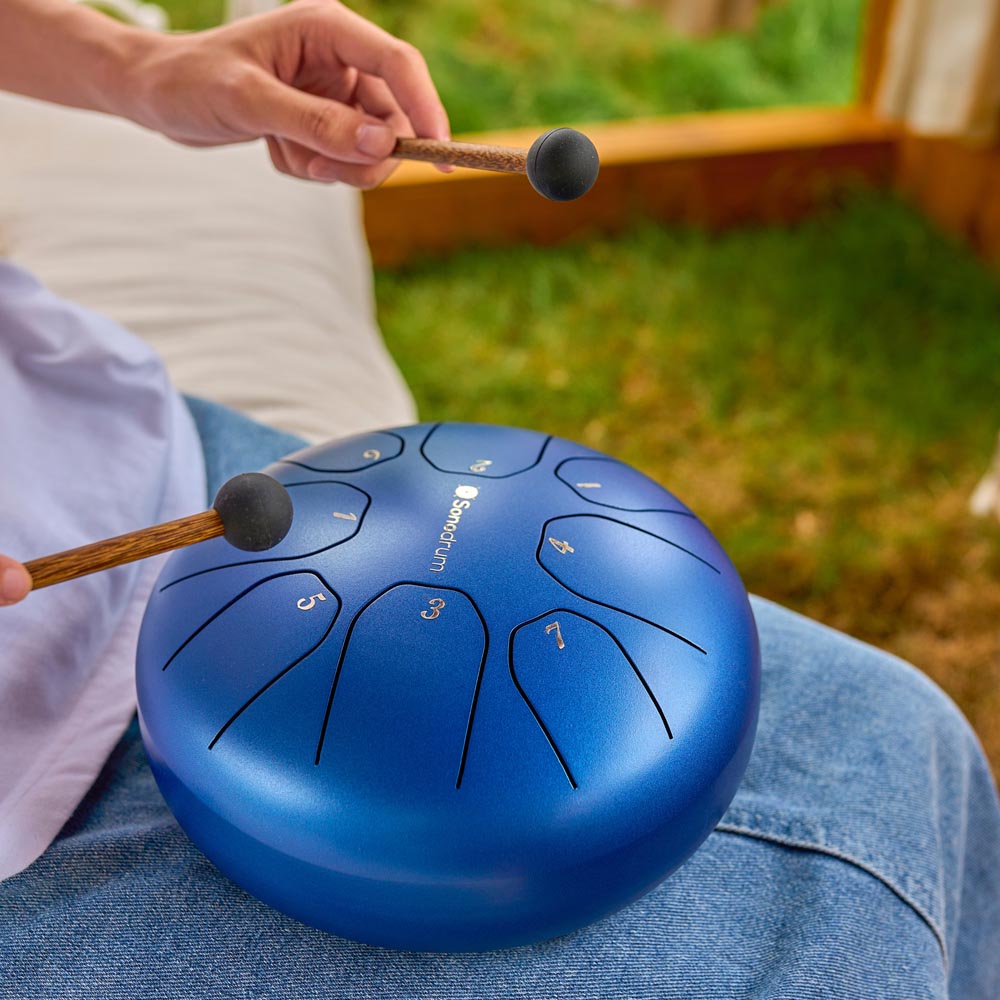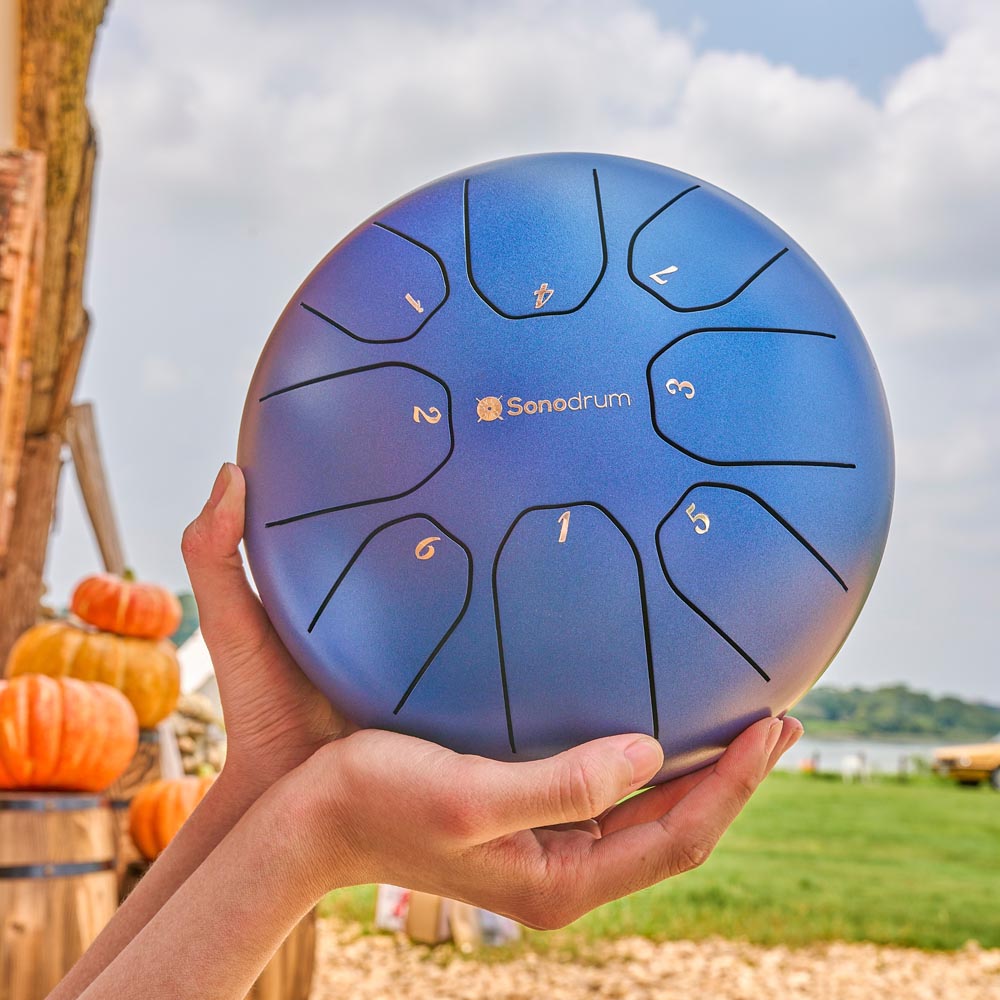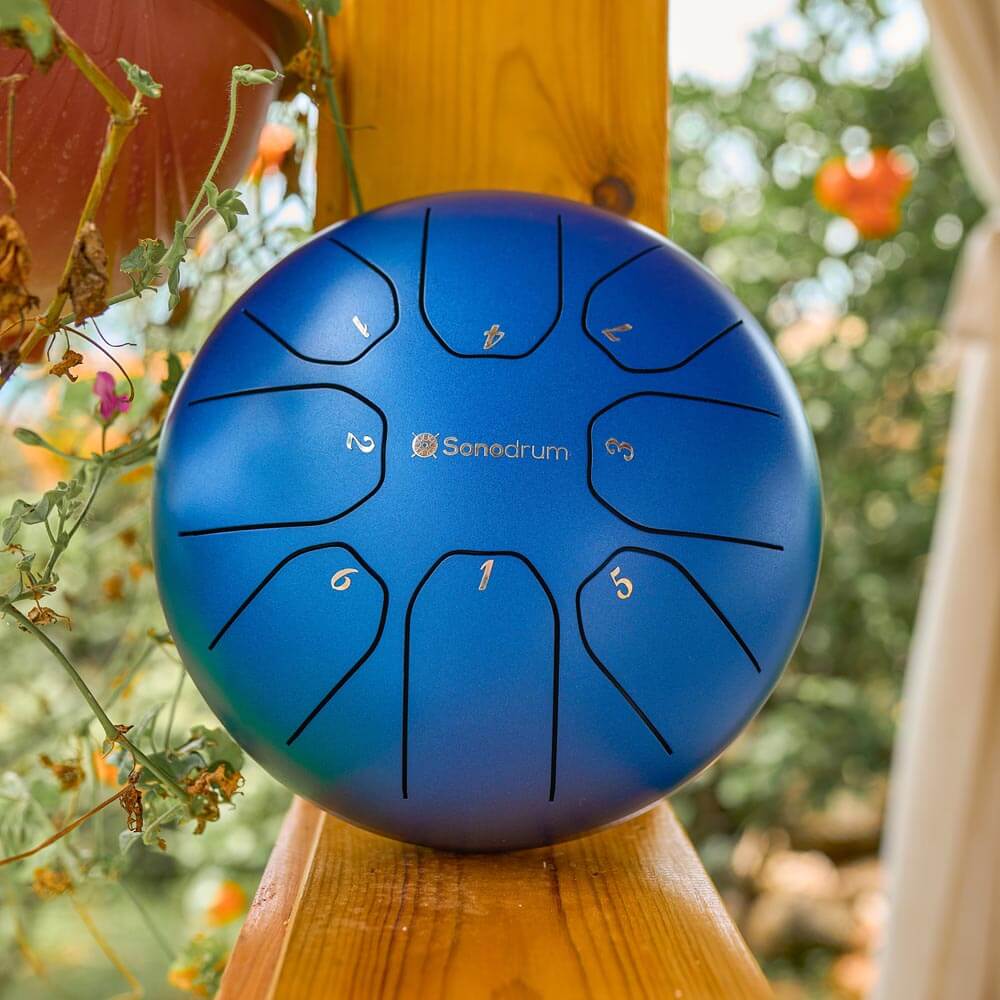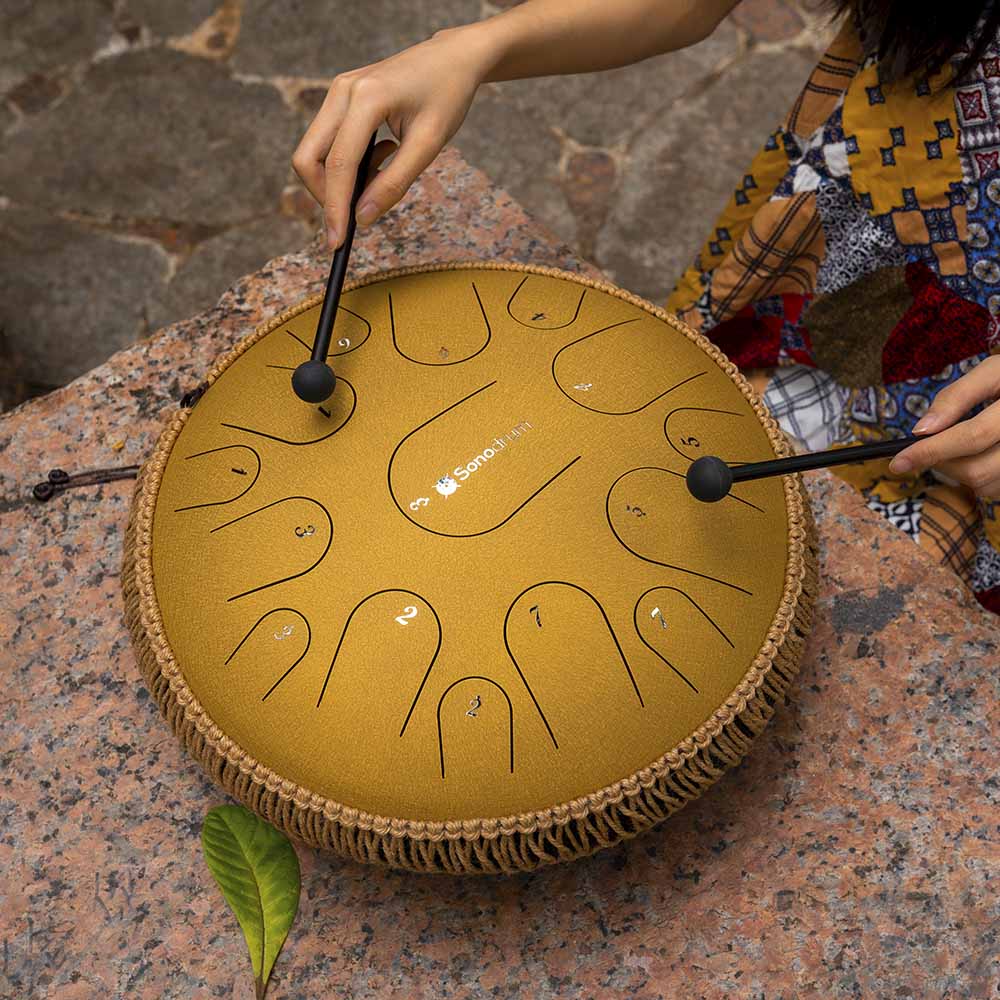 Handmade to Perfection
Each of our Sonodrum tongue drums is meticulously crafted from high-quality materials through an intricate manufacturing process. A special surface coating not only gives them an elegant look but also protects them from wear and tear and adverse influences. Our skilled craftsmen tune each product by hand to produce the distinctive sound cherished by music enthusiasts.
Experience Relaxation
Discover the world of relaxing melodies - even without prior musical knowledge! Immerse yourself in harmonious and meditative sounds that offer moments of relaxation and tranquility after stressful days. The Sonodrum tongue drum allows effortless play, even for beginners without musical experience. Its easy learnability makes it suitable for all ages, and you'll quickly feel the joy of making music.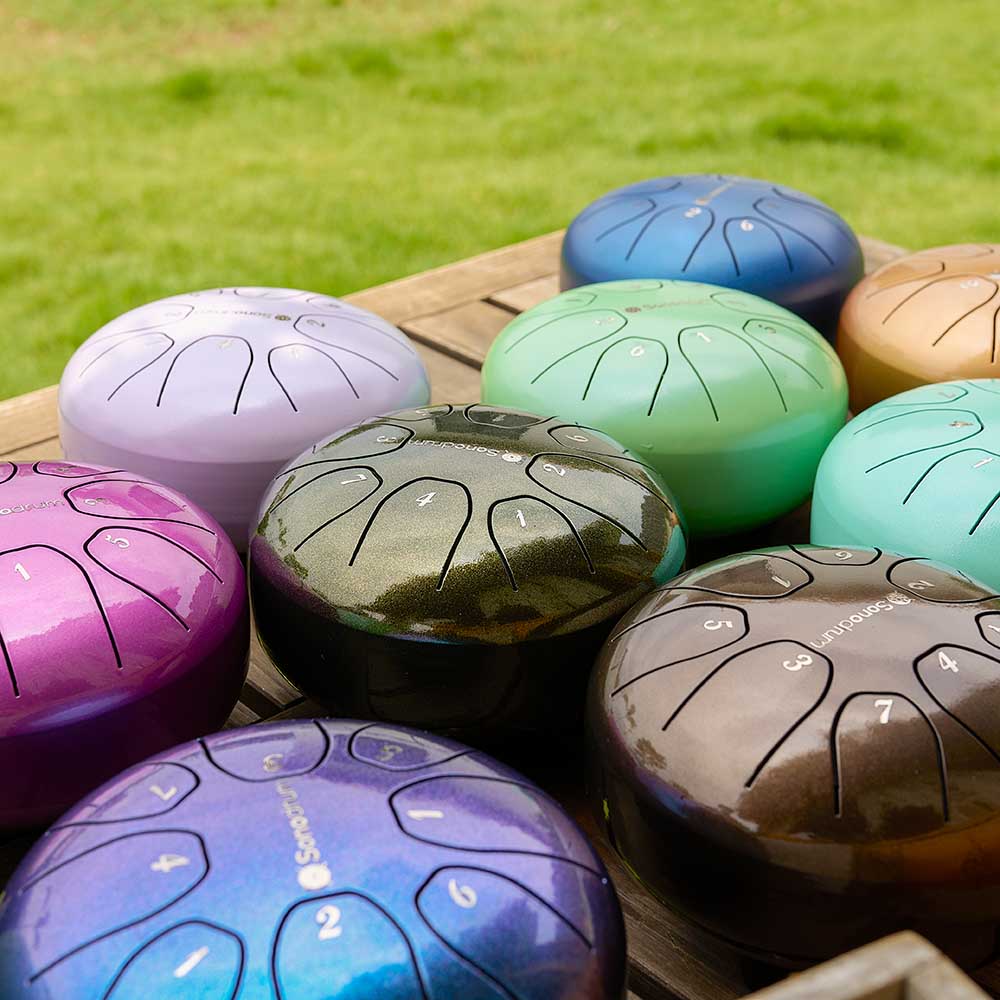 100% Money-Back Guarantee
With our 100% Money-Back Guarantee for your Sonodrum tongue drum, we want to provide you with absolute assurance. Your satisfaction is our top priority. If, for any reason, you're not entirely pleased, you can trust that we stand behind our products. We aim to provide you with a carefree shopping experience and ensure that you can explore the inspiring sound world of our Sonodrum products with full confidence.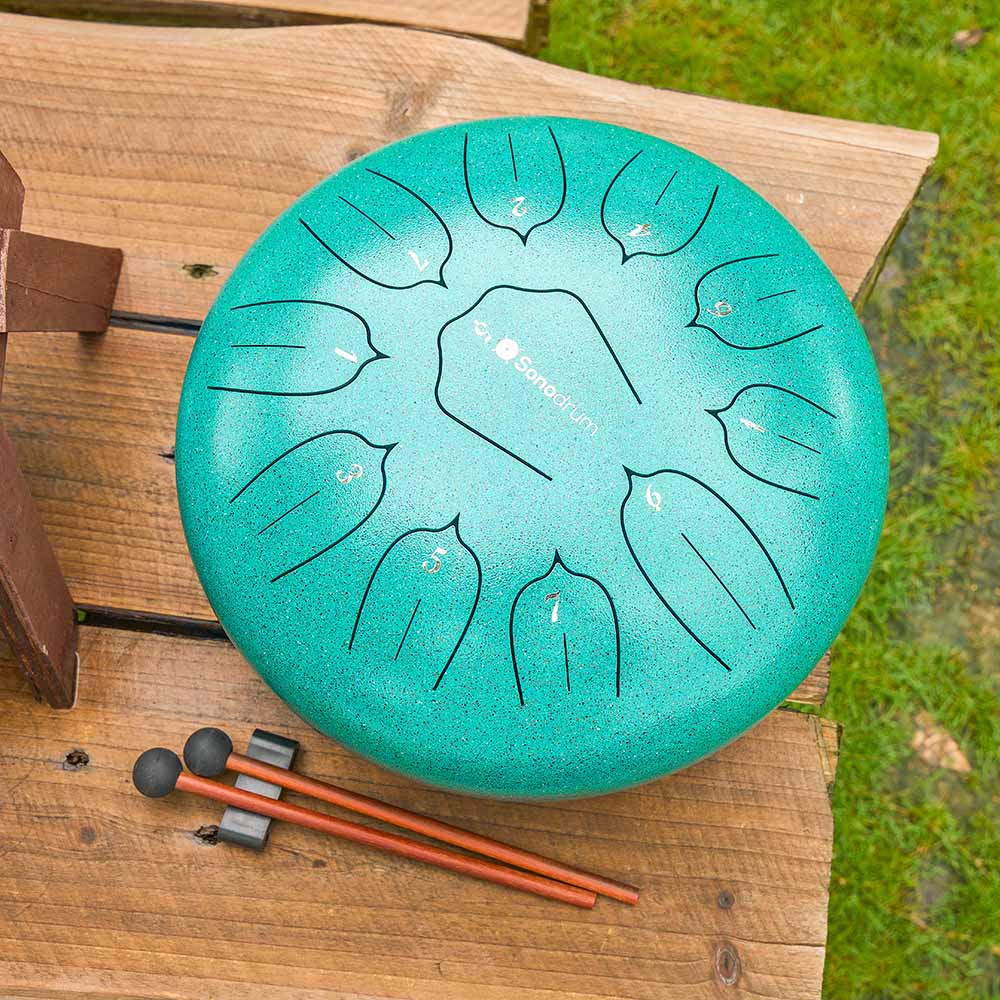 Fast Delivery
As soon as you order, your Sonodrum product is on its way to you. If you're not immediately sure, you can try it out for up to 30 days and return it if necessary.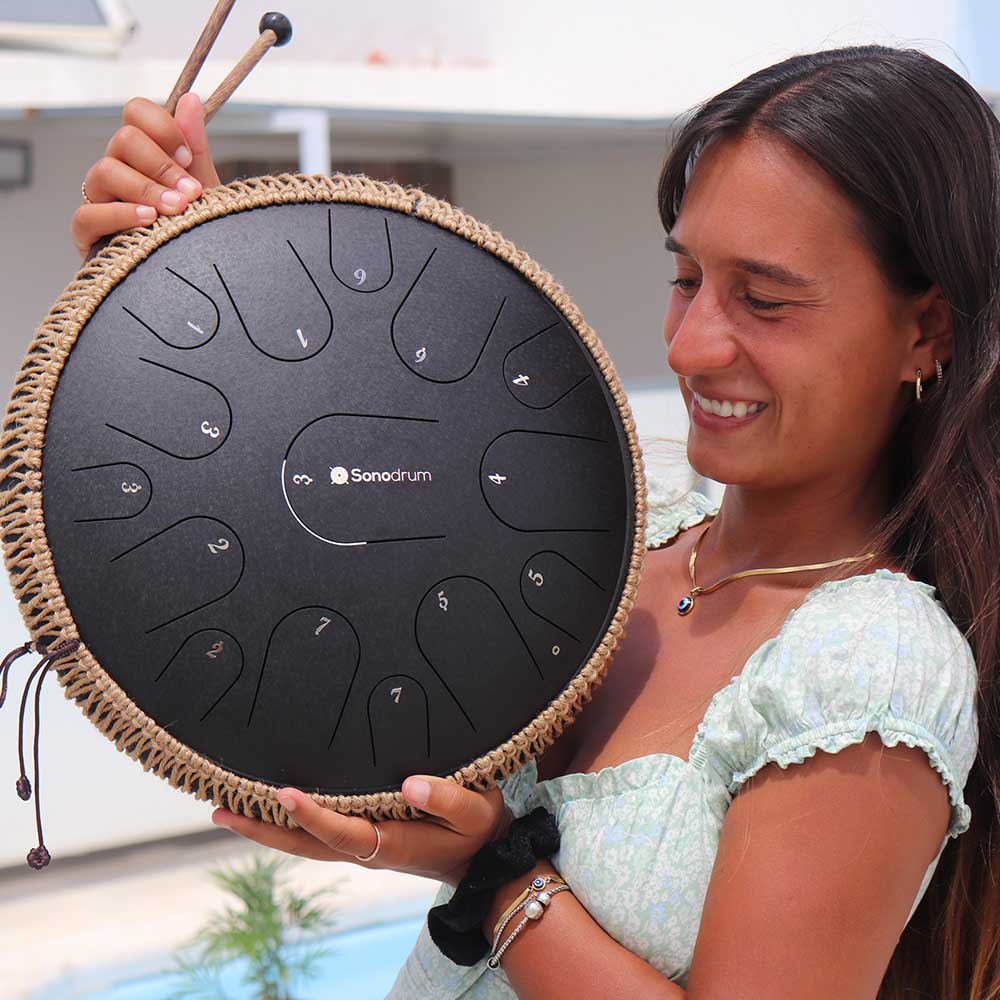 Thousands of Happy Customers
We are filled with pride to be part of a vibrant community of music enthusiasts inspired by the sounds of our tongue drums. The stories and positive experiences of our customers are our greatest motivation to continue creating top-quality products and enriching the world of music in an unparalleled manner.